Recently, my self and my partner, Gabe, went to watch Disney on ice in Nottingham. Since we were already heading into the city we thought why not make the most of it and get some food too. We wanted to treat ourselves a little and go somewhere new and a bit different to what we normally do. (Chiquitos is a firm favourite of ours!) So I searched all over the internet for somewhere for us to go. It's pretty difficult to find somewhere for us to eat as I'm a pescatarian (eats fish but not other forms of meat) and all Gabe eats is burgers. Eventually, we agreed to try George's Great British Kitchen and we couldn't of been happier with our decision.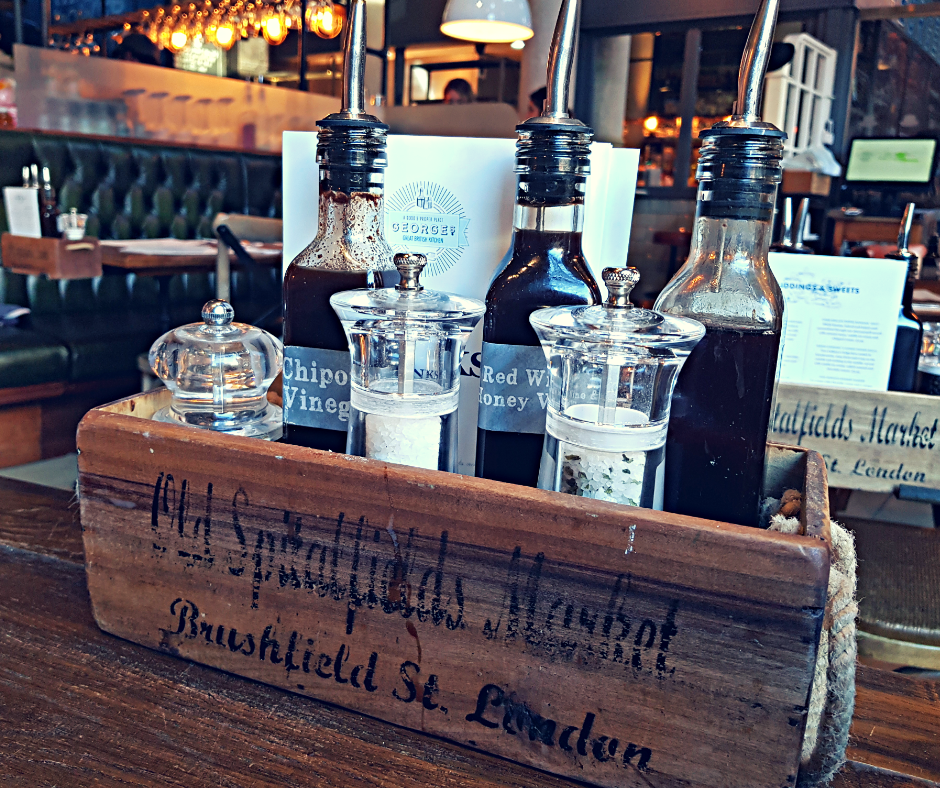 George's is open from 11.30am to 9.30pm every day and untill 10.30pm on Friday and Saturday. You can book tables online or over the phone but they also save a few tables for walk in visitors. We decided to book a table since we were going on a busy Saturday afternoon so we didn't want to risk having to wait a while to be seated. Unfortunately we then missed our train which would of made us late to the restaurant but a quick phone call sorted that all out. The staff were really friendly and helpful and were happy to change our table booking to a slightly later time.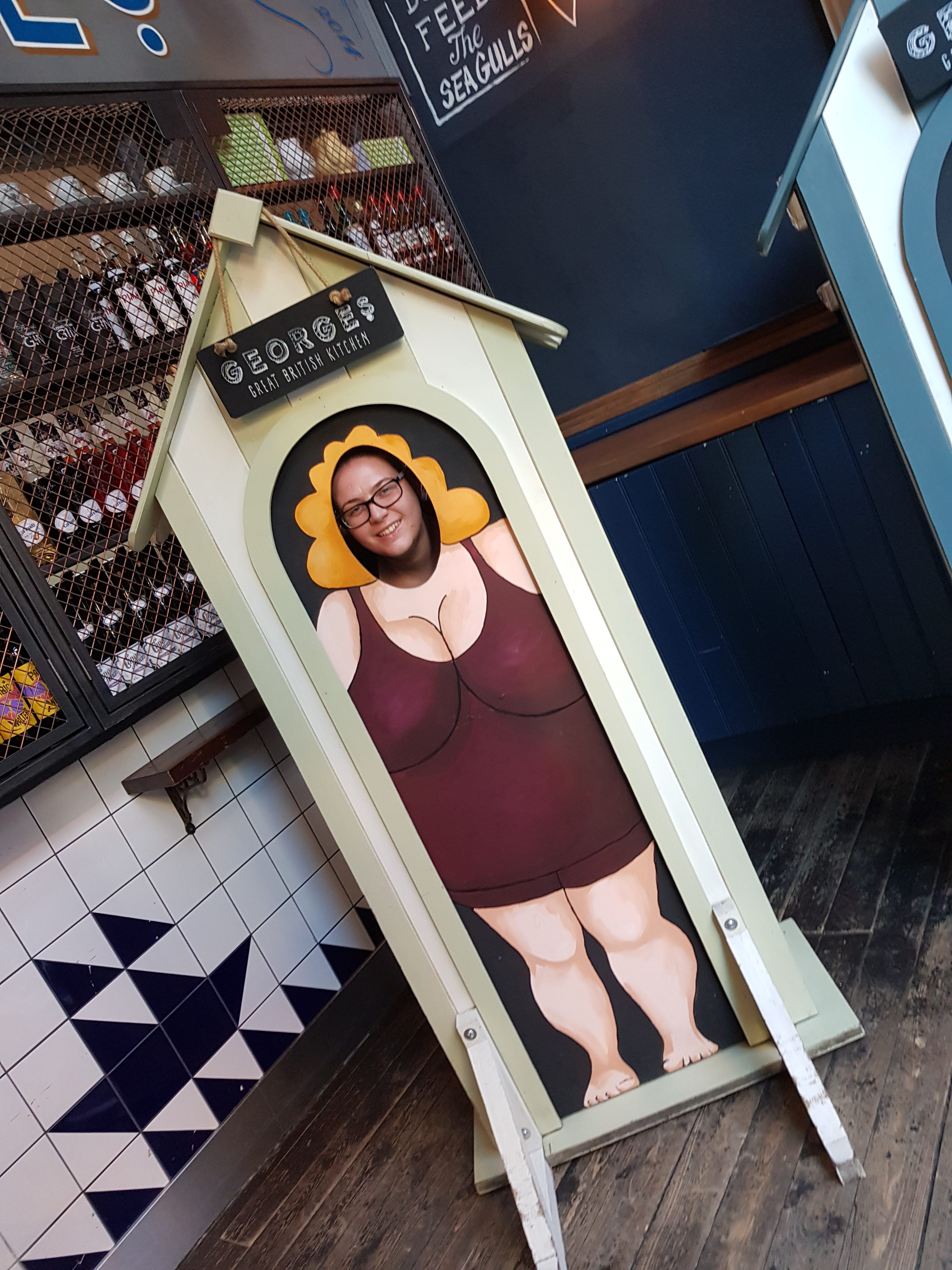 The decor of the building is supposed to be reminiscent of a jolly holiday to the seaside and the place definitely gives off the beach vibes! From the cute little beach huts you can sit in to eat to the seaside themed cut out photo op near the entrance. The place could easily fit in on a traditional British Sea Front but it still had a few modern twists.
It was a lovely atmosphere and the staff were great although I found it a little loud in there. We went about 4.30pm on a Saturday afternoon so it wasn't massively busy but the music playing meant it was a bit difficult to hold a conversation without shouting. I think it would be the perfect place for a catch up with the girls but maybe not the best for a first date. Although this may have only been because it was a Saturday as I've been again since and it wasn't so loud.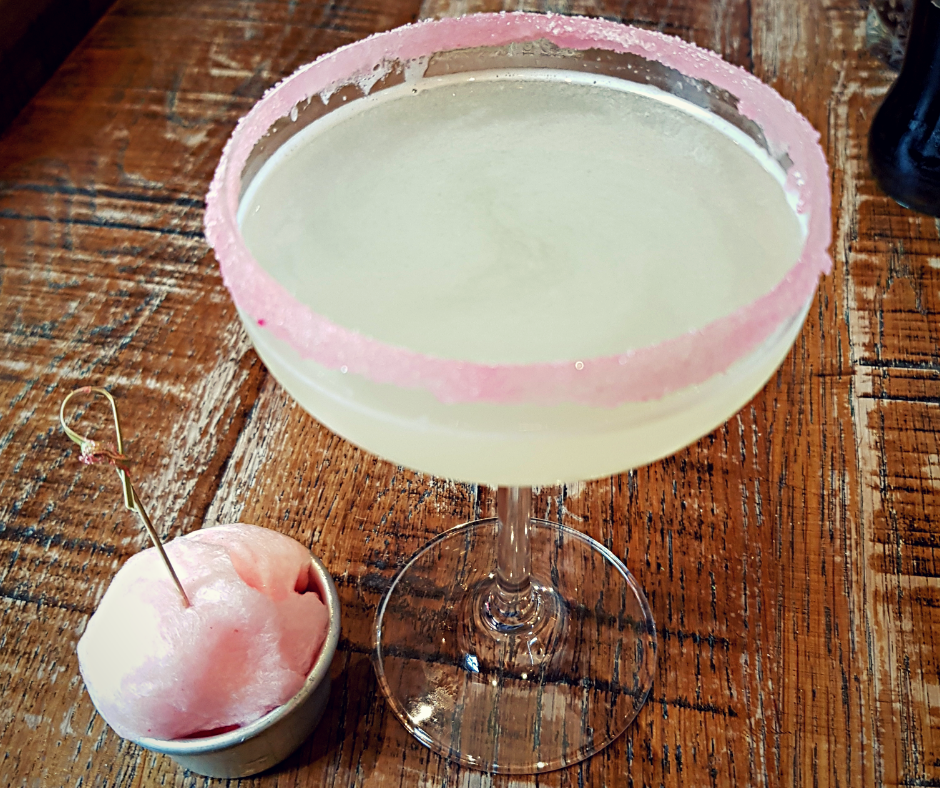 I don't drink very often since I'm usually the designated driver but since the easiest way to get to nottingham from ours is the train, I used this an excuse to have a cheeky tipple. The bar at George's is famous for their gin and that's really what they specialise in but they also have a wide variety of drinks including mocktails. They even have their own range of soft drinks made using only natural ingredients.
I went for the lemon sherbet cocktail, a vodka based, pink lemonade infused with candy floss. The vodka flavour was a little strong for me (not necessarily a bad thing but I prefer my alcohol to not taste like alcohol) but the drink overall was nice especially when the sugar from around the edge of the glass mixed with the drink. Since this trip I have also had the Parma violet cocktail off the sweet shop drinks menu. It is a gin based drink that tastes almost exactly like the sweet!
For the main meal I went for the 'Proper Scampi' and Gabe had the 'Proper Dirty Double Burger'. I asked him how his burger was and all I managed to get out of him was that it was really good. So if you fancy a burger it'll be good but I can't tell you what makes it so good! Both the burger and the scampi were served with twice fried chips which were delicious! Exactly the sort of thing you'd find in a chip shop at the beach! I've never been to a restaurant that does these kind of chips so perfectly!
Now like I said earlier George's Great British Kitchen specialises in some of the nation's classic meals but with a modern twist. The scampi is a great example of this and it works perfectly. It has a slight kick to it. Not enough to be considered spicy by any means but there's a hint of black pepper in the batter. Just enough to give you a full flavoured meal without overpowering it.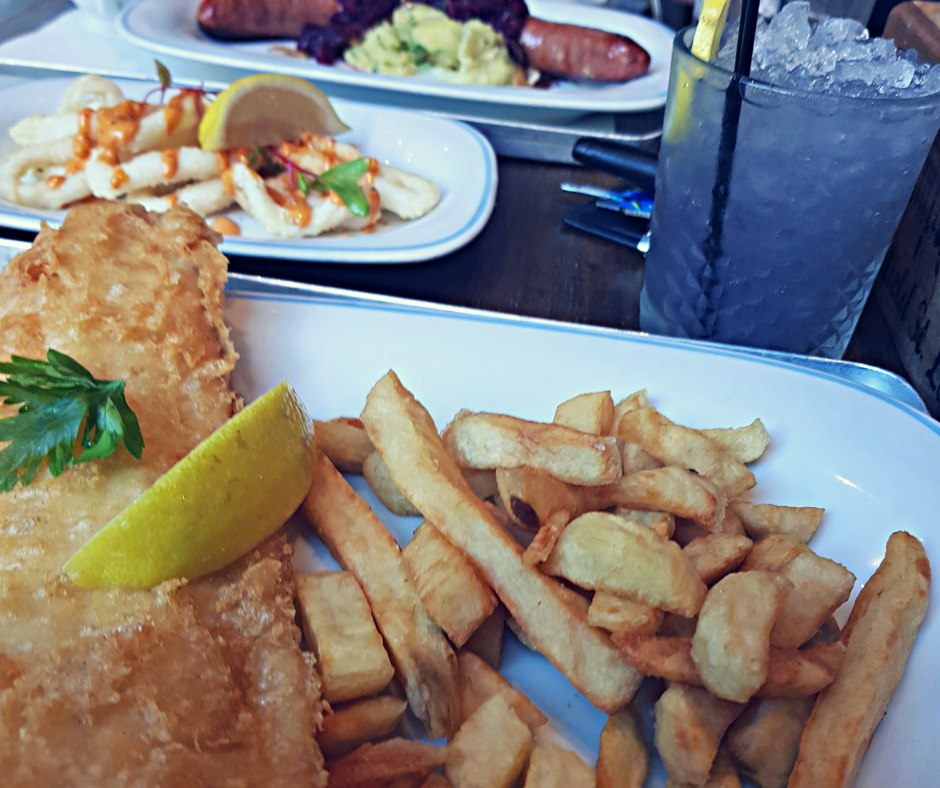 I can also highly recommend the Traditional Wild Ocean Cod. Since I came home from Australia in 2015 I have found it difficult to find a fish that I have truly loved. But George's was cooked to absolute perfection. Even better than the fish at my local chip shop (sorry Theo!). The flavour and texture were beautiful, it almost melts in the mouth! All round, the food there is absolutely gorgeous And anyone who visits would manage to find something that they loved. The portions aren't huge but there's still enough to fill up on.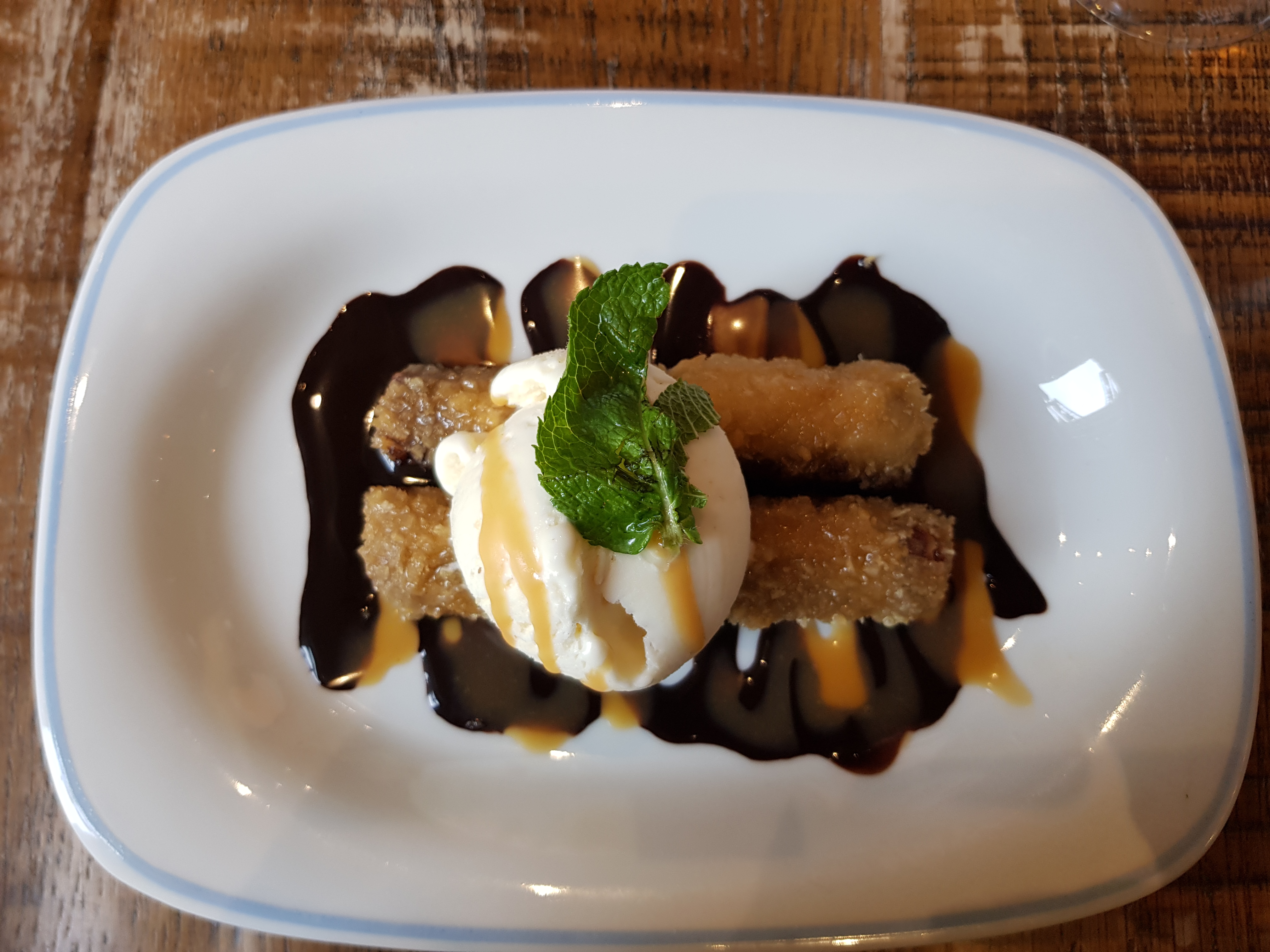 For desert I had the 'Warm Cadbury's Fudge Finger rolls' and Gabe had the Ice Cream. He got a fairly large helping of locally sourced ice cream which is served with Chantilly cream and a unique topping depending on the flavour you choose. The fudge finger rolls were 2 Cadbury Fudge fingers battered and deep fried.
Now I know to any of our international readers that might sound a little odd but it is a very common snack found in chippies up and down the country. I've heard the stories of deep fried mars bars before but I've never felt the need to try one myself. That night I was feeling brave and decided why not try something new? To my surprise, it was actually very nice! It was sweet with a warm gooey center but it was a little sickly. It was definitely worth trying and it was very nice but I probably wouldn't order it again as there's plenty of other things on the menu that I think I'd prefer.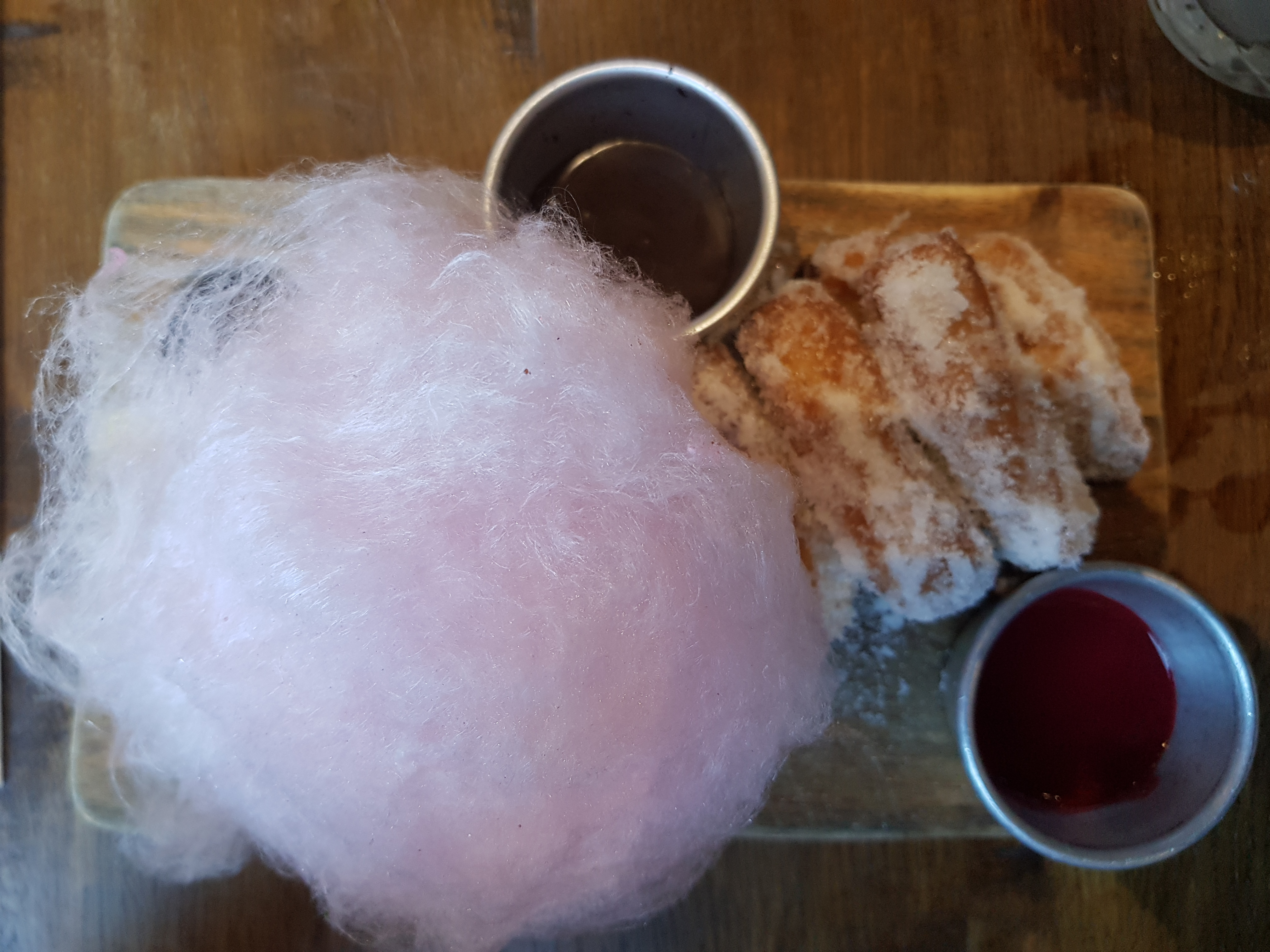 The doughnuts are also really good. Although they don't look like the traditional ones they taste exactly like the doughnuts you could buy at a fairground or beach food stand. It's also served with candy floss which in another seaside staple!
Overall, we loved George's Great British Kitchen and would definitely go back again! The atmosphere is great, the staff are helpful and the food is amazing. There are four George's restaurants which are in Nottingham, Newcastle, Liverpool and Leeds. I haven't been to the others but if they're anything like the Nottingham restaurant I'm sure they'll be great too! It is a real taste of Britain and I would definitely recommend eating here if you ever visit any of the cities George's Great British Kitchen is located in.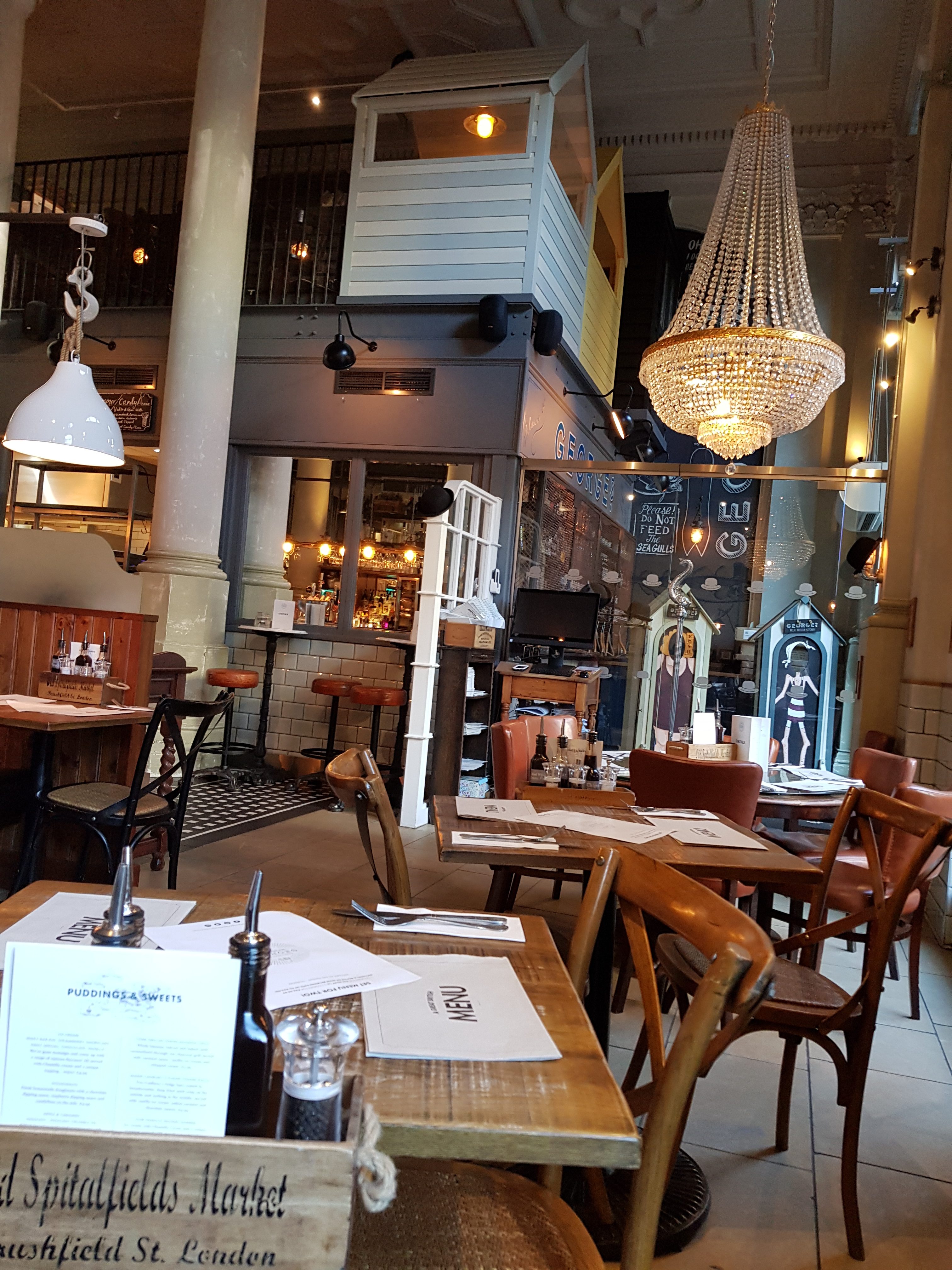 Have you ever visited George's Great British Kitchen? What did you eat and how did you find the experience? Let us know in the comments!
Pin it!