I have been wanting to go to Iceland for a very long time, for as long as I can remember. I have kept looking into it but the cost of a trip there has always put me off so have never actually booked. I don't know why, but it has always been a dream of mine to go there for my birthday which is in January. For holidays in January, I feel like you either need to go somewhere where it's going to still be warm or you need to head to somewhere that is going to be a real winter wonderland meaning Iceland is perfect. So last year, we made the decision to go for 5 days in Reykjavik for my birthday and we booked it and never looked back.
If you google 5 day Iceland itineraries, most of the search results will give you self-driving tours around the whole country and if you ask a travel blogger most of them will tell you that you need to rent a car to see the country properly. Now, while I don't doubt that there are many beautiful places around the country that you can't visit from Reykjavik on a day tour, I really did not want to rent a car. I'm not a confident driver and didn't really want to drive in a country I'm not familiar with, on the opposite side of the road to what I'm used to, mostly in the dark and in bad weather. And that is ok. You don't need to rent a car and drive over there to visit Iceland. So here is our 5 day Iceland itinerary without a car, staying in Reykjavik.
*Disclosure* This post may contain affiliate links which means we get a small amount of commission on purchases made through our links at no extra cost to yourself. However, we would never recommend something we have not tried and loved ourselves and all opinions are our own.
How we spent our 5 days in Reykjavik, Iceland without a car in winter.
Day 1

Arrive in Iceland
Visit the petting zoo

Day 2

Extreme Iceland South Coast and Glacier Hiking tour

Day 3

Free Reykjavik city walk
Blue Lagoon

Day 4

Game of Thrones tour
Northern lights tour

Day 5

Settlement Exhibition
Hallgrímskirkja Cathedral
Go home
Day 1
Our flight arrived at Keflavik Airport at 11am after a very stressful journey to the airport back home. We almost didn't even make it! I always recommend checking Skyscanner for flights as they can compare lots of different options to get the best flight for you. We had pre-booked airport transfers with Gray Line so we collected our baggage and headed to the location we had previously been told to catch the bus. I had a booking confirmation and e-ticket on my phone but I like to print one out too just in case my phone runs out of battery or there's no signal but they actually didn't check in the end just ran my name through their list to confirm the booking. If you book with Gray Line you can get hotel drop off/pickup but we decided to just go to the bus terminal instead which made it cheaper since we couldn't check in till later in the day anyway. I do not recommend you do this. This option is only really there for if you're going straight onto a coach tour from there. There is not really an easy path from the bus terminal and the pavement leading up to it are not cleared of snow and ice so it can be pretty difficult going.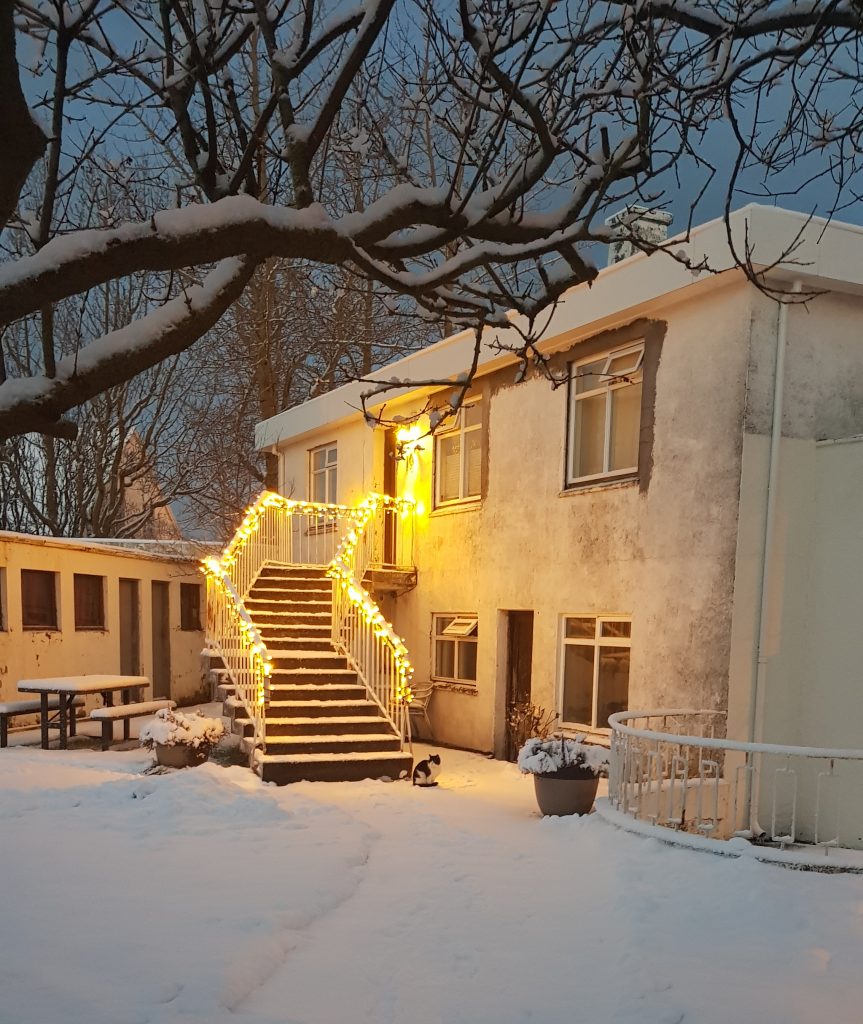 We had booked an Airbnb instead of a hotel to make our trip cheaper so we headed there to drop our bags off just after 1pm but couldn't check in till after 5pm. The Airbnb was beautiful, comfortable and always really warm after being out in the cold of Iceland. It was on the outskirts of Reykjavik about a 25-minute walk away from the city centre. A guy called Rudolph ran the Airbnb who was really friendly and helpful but we didn't see him on the first day and his daughter Emma ran the website for it.
After dropping our bags off, we went to the Reykjavik petting zoo which was not far away. It was a pretty small zoo and very quiet since it was afternoon on a weekday but it was nice to walk around. There were a few different animals including reindeer, foxes, seals and farmyard animals but our favourite was the sleepy ginger cat that was chilling in the admissions office. Attached to the zoo, there is also a family park. On the map, there were things to do here such as go-carting and Segways but when we walked over nothing was open, I assume because it was winter. We watched the seals being fed then headed back to the Airbnb about 5pm. It had been a long day and we had to be up early the next day for our tour so we pretty much just unpacked our bags and headed straight to sleep.
Day 2
We woke up early for an 8am start on our South Coast and Glacier Hiking tour and headed to the nearby Hotel Cabin which was our nearest pickup location for the duration of the trip. If you book a tour check with the operator whether the time they give you is the time you get picked up, the time pick up from all hotels start or the time the tour starts and hotel pick up must be done by. Different operators have different systems and you could be waiting around for a long time or miss your tour completely if you're not sure which one it is.
Our tour was booked through Extreme Iceland/Arctic Adventures and with them, the pickup time started at 8am. It's always best to get there a little early though just in case you're the first pick up on their list. Unfortunately, we were the last to be picked up on our tour which meant as well as having to wait for quite a while outside the hotel, there were no seats left together in the bus so we had to sit separately.
The first stop of the day was a small service station on the South Coast. There was nothing very exciting about it but it is the first stop for many day tours and road trippers so it was super busy. One of the guys on our tour even said it was like a zombie film in there with a load of tourists wandering around in the dark bumping into each other. This is, however, a great place to go to the bathroom and get some snacks for the day or some bottled water if you're silly and forget to bring your own like us! As we drove between the stops our tour guide (I have no idea how to spell his name and don't want to completely butcher it, I'm very sorry) told us about the places we were going past and general things about Iceland and its culture.
From there, we headed to Skógafoss Waterfall which is one of the most visited sites in Iceland. Even in winter, it's pretty busy with lots of tourists. There is a steep set of stairs going up the hill beside the waterfall to a viewing platform. It is pretty rough going if you're as unfit as me but it is well worth the view when you get to the top. Just be sure to take plenty of short breaks if you're out of breath, no one will mind as there is plenty of room to overtake on the steps and several platforms where you can rest a little. Legend has it that there is a treasure buried behind the waterfall but I wouldn't recommend you go searching for it unless you want to spend the rest of the day very wet!
After this, we drove to Reynisfjara, the black sand beach and our tour guide told us about some of the folklore in Iceland, especially about the trolls that are said to have been frozen to stone here. The Black Sand Beach is another popular tourist destination and was even used as a filming location for Game of Thrones. It's not really surprising when you see the area. From the huge basalt columns, sea stacks and stone caves, the beach is a stunning place to see. If you do go here, be careful not to go close to the water as sneaker waves with strong currents can go further up the sand than you expect and drag you out to sea. At the black sand beach, there is also a small cafe which serves full meals or snacks if you want to get out of the elements for a while. I recommend the chocolate muffins there.
Leaving the black sand beach, we headed to the main attraction of the day, the glacier hike. At this point, it started to snow and pretty much didn't stop for the rest of our trip. It has been a pretty warm winter this year in Iceland so this was the first proper snow they had had this year. There are many glaciers throughout Iceland but the one we visited was the Sólheimajökull glacier which is part of the Myrdalsjökull ice cap. The glaciers in Iceland are rapidly depleting with the guide telling us it has retreated around 600 meters in about 10 years. Hiking a glacier is one of the things you need to do in your life before it is too late and they disappear completely. When I booked, the website said the hike was about 1 hour however it was a little longer than that for us. This could vary though due to weather and other contributing factors.
To hike the glacier, we had to be kitted out with full gear including crampons, harness, helmet and ice axe. Crampons have to be fitted to proper hiking boots so try to be prepared and wear these but if you don't have any, you can also rent them from Arctic Adventures as well as waterproof jackets and trousers. The hike is a little intensive but don't worry as the guide will keep the group together so no one gets left behind. It was so amazing walking on the glacier and seeing all the strange and unusual features the frozen ice makes. We even managed to catch an ice arch which can be pretty rare as they collapse so quickly after forming. It was like walking on an alien planet.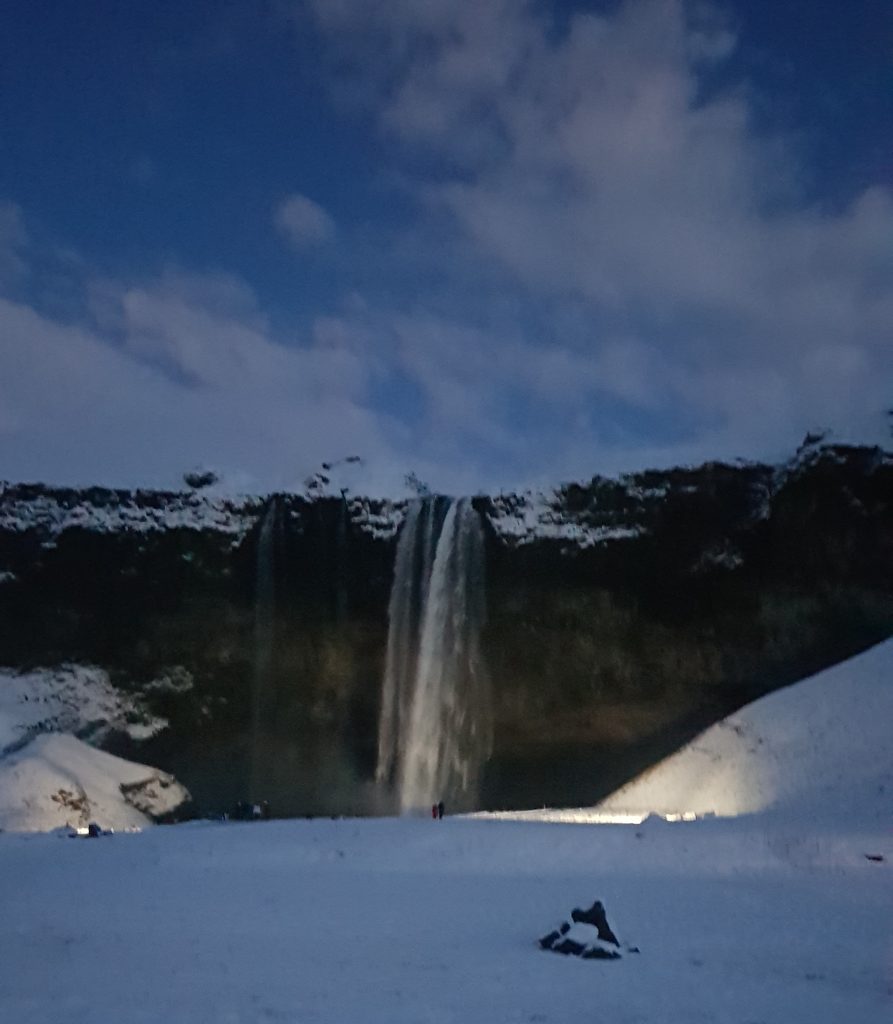 After the hike, we started driving back up towards Reykjavik with one last stop of at another waterfall. This time it was the Seljalandsfoss waterfall which apparently was made very famous when Justin Beiber filmed a music video there. By the time we reached this area, the sun had set so it was pretty dark but there is artificial lighting here to brighten up the waterfall. There is also a path which goes behind the waterfall into a kind of cave area, but the path is quite muddy and with the snow now falling too it was pretty slippy. We did go round the back but didn't follow the path all the way as the way out was longer than the way we had come in and we didn't really have time before the tour guide wanted us back. There is also a small snack bar here selling hotdogs, doughnuts and hot drinks so you can grab something for the bus ride back to Reykjavik.
We got back to Reykjavik around 7pm and were supposed to go for our Northern Lights tour which was included in the Sensational Iceland combo tour (with the South Coast and Glacier hike from earlier). However, as the weather had turned pretty snowy by this point, it was cancelled and we had to rebook for another night. We decided instead to head to a local swimming pool as we had been told these are truly Icelandic experiences if you want to see the city as a local but by the time we got back to the Airbnb we were pretty exhausted so just headed to bed instead.
Day 3
We woke up a bit later this day, leaving the Airbnb around 10am for a 10.30am meet at the main square Austurvöllur in Reykjavik city centre for the "Free" walking tour with CityWalk. This is a really great tour and I recommend you do this early on in your trip as the tour guides will point out the best places to visit and give suggestions for where else to go during your stay. The tour starts at the main square, visits the city hall, winds around the old neighbourhood and into the modern main street before finishing at the Harpa concert hall and convention centre. The route is adjusted based on weather or construction work so may not always cover the exact same path and in winter includes more indoor stops.
Our tour guide was Tómas who was actually born in America but has lived in Reykjavik since he was 1 year old so knows plenty about the city and country despite not having an Icelandic accent. He was a great guide and as a history graduate could cover a lot of information about Iceland but also kept the tour fun. The walk covers approximately 2km and takes about 2 hours. There is no set price for the tour so technically it is free however tips are greatly appreciated as this is the only payment they receive for running these tours. You pay what you see fit based on how the tour went which means the tour guides need to present quality tours to get paid. They even accept payments in any exchangeable currency or you can pay by card online. As a guide, the price of a walking tour with a competitor company is about 6000ISK, the average price of a museum entry in the city is 2000ISK and the average price of a beer is 1000ISK.
After the walking tour had finished, we headed back up to Hotel Cabin ready for our pickup for the Blue Lagoon. I had booked our transport through the Blue Lagoon's official website at the same time as booking our tickets as I thought it would make it easier and there was not much of a difference in price going with another company. Personally, I wouldn't recommend doing this, as while there wasn't anything wrong with it particularly I think the transfer could have gone a lot smoother. We had booked our transport for 1.30pm as this was the suggested time on the booking website for our entry at 3.00pm.
Several different bus companies turned up going to the Blue Lagoon before ours finally got there at nearly 2pm. The minibus then took us to a bus station where we had to wait for another little while before transferring onto another larger bus and then heading over to the Blue Lagoon. I had wanted to arrive there a little early as I had heard there was a nice area to walk around nearby but by the time we got there it was almost 3pm so had to go straight inside. I'm not sure if other companies will do the same as this but it just seemed like quite a lot of faff and waiting around before actually leaving to go although the Blue Lagoon must know this as they suggested the perfect time to get there for our entry.
By the time we had got booked in, changed, showered and ready to enter the Blue Lagoon it was about 3.30pm. Before entering any public swimming area anywhere in Iceland, you must shower fully naked with soap by law. There are shower cubicles in the changing rooms so you don't have to get naked in front of people if you don't feel comfortable but when I got there the only one available was one without a door and as other people were waiting and someone had already offered for me to go before them, I felt like I had to use that shower. Honestly, there is no one actually checking if you do fully remove your bathing suit or not (apparently in the local pools there are shower guards who do check and yell at you if you don't) but the reason they ask you to do this is because they don't use chlorine in the water so you should be fully clean before going in. In the showers, there are body wash dispensers and conditioner. Make sure to use the conditioner before you go into the Blue Lagoon and leave it in your hair to stop the silica in the water making your hair hard and brittle.
After leaving the changing rooms, you come to an inside area where you can hang up your towels and an inside bar. Upstairs from here, there is also a relaxation area with sun lounger type seats. To get into the water, you can either go outside into the freezing cold (at least when we were there) or there is a slope straight down into the water from inside. We chose that option, obviously. The water felt very hot when we first got in, almost burning hot but once your body was in it felt just nice and warm. At first glance, the Blue Lagoon looked smaller than it seemed on the pictures but we soon realised there were lots of nooks and crannies to explore. There are several areas that have seats carved into the rocks to relax but also some of the pool walls are just slopes and I did stub my toes a few times on some of these. It is quite a busy (and touristy) place but the pool is large enough that you will always be able to find an area away from other people.
Other than just swimming around, there are plenty of other things to do at the Blue Lagoon. There is a sauna, steam room and even a steam cave that you can use free of charge, as well as a waterfall and several drinking water fountains around the edge of the water. Included in your comfort ticket, you get a free silica mud face mask which you can pick up at the mask bar in the water which also has several other types of masks that you can pay for. For the silica mask, you are given a scoop of the mud which you rub onto your face (or full head like several bald guys we saw) leave for about 10 minutes then wash off straight into the Blue Lagoon water. There is also a swim up bar in the Blue Lagoon which serves drinks including slushies, smoothies, wine and beer. You get one free drink with the comfort ticket and you must use this in the lagoon or the inside bar but you cannot save it to use in the restaurant later. You can only have a total of 2 alcoholic drinks whilst in the water and they are registered on your wristband so will be cut off after this for health and safety.
If you want extra perks, you can upgrade your ticket to the premium for an extra mud mask, use of a bathrobe and slippers and free sparkling wine if you eat at the restaurant or you can buy a retreat spa ticket for special features including access to a different pool, restaurant, changing room and spa treatments included. I enjoyed our time at the Blue Lagoon and I think it was definitely worth doing at least once but I probably wouldn't visit again if I return to Iceland and instead look for a more natural and less touristy hot spring.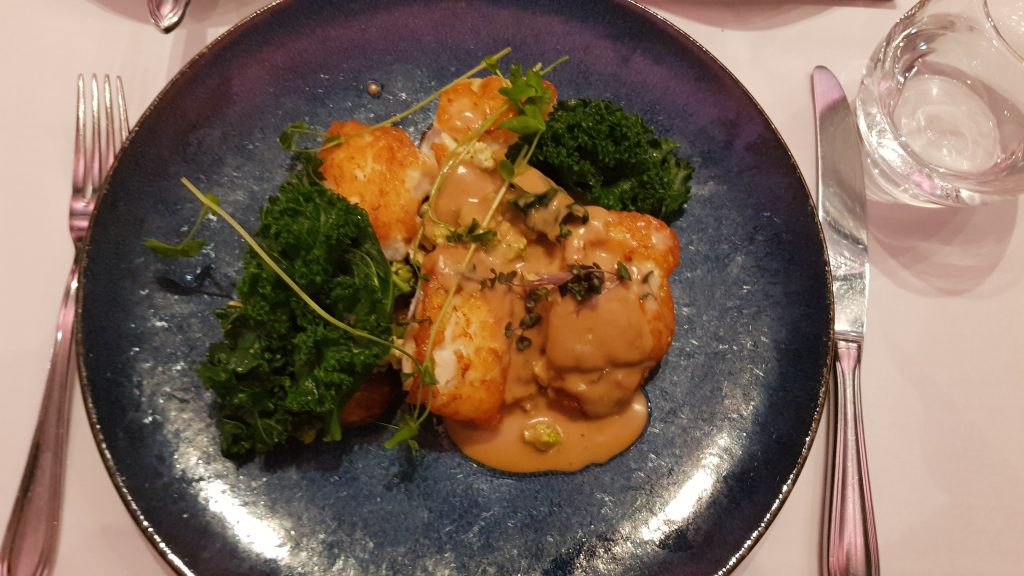 After getting out of the water, we then went to the Lava Restaurant as we had booked here at the same time of buying our Blue Lagoon tickets. The Lava Restaurant was really good and was definitely the best food we ate in the whole of Iceland although it doesn't have a huge amount of choice. Gabe had the lamb fillet and shoulder of lamb and I had the fish of the day. Both meals were so tasty and cooked to perfection. The secret to the great tasting lamb over there is that they naturally graze on grasses, berries and mosses since birth which means they actually season themselves. For dessert, we both had the "Ástarpungar" and caramel which is kind of similar to a doughnut with a chocolate caramel mousse, Skyre ice cream and salted caramel. This was also delicious, although the mousse was a little rich on its own it blended so well with the ice cream.
Finishing our meals, we headed back to the coaches to be dropped off at the hotel. Again this was a little messy as the bus dropped us off surrounded by a bunch of different minibuses and read out a load of different place they could drop us off. It wasn't very clear which minibus was going to which place so we were just wandering around in the dark asking every driver which places they were going to. In the end, we got home safely but again it could have been a lot smoother. We got back about 9pm and headed straight to bed.
Day 4
For this day, we had booked a Game of Thrones tour with Gray Line Iceland through Expedia. The tour stated it started at 10am but with Gray Line, the pickup starts half an hour before this. We made sure to get there with plenty of time but again, we were the last people to be picked up so didn't need to worry so much. We were taken to the Grey Line bus terminal where we were greeted by the guide, Theo, and moved into a different and much bigger bus. There were only 16 people on the tour with an interesting mix of people but the bigger bus was needed because at this point there was a lot of snow on the ground. I won't go too much into detail about this as we have an entire post dedicated to the Game of Thrones tour but I would highly recommend this for anyone who is a fan of the show.
We were dropped back in Reykjavik without a hitch and headed back to the Airbnb for a bit. We had rebooked the Northern Lights tour for this night and had had a message to say the forecast was looking good so the tour would be running. We had a bit of time to kill so just had a bit of food at the Airbnb before returning to Hotel Cabin to be picked up. This time we were not the last people to get picked up for the tour and had a bigger bus anyway so could actually sit together. As we started out on the tour, it was still snowing pretty heavily but our guide had an idea of where to go where the sky should be clear just 20 minutes outside of the city. Unfortunately, we had no luck here as it was still cloudy so the guide started heading somewhere else. As we drove the guide pointed out some of the landmarks we could just about make out and told us some facts about the country.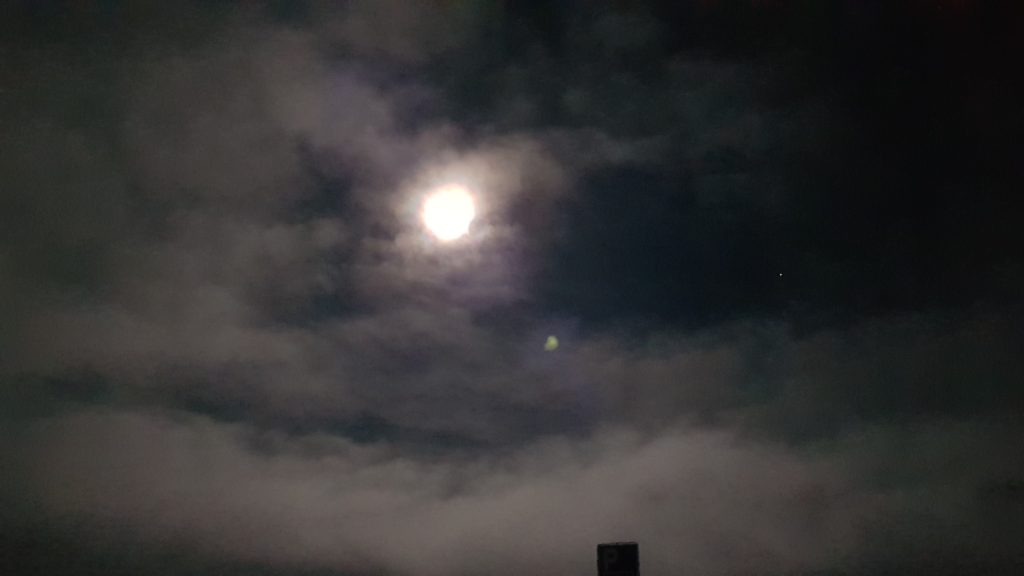 After quite a while of driving round in the dark and the snow, we started heading back to Reykjavik as the weather didn't seem to be getting any better. All of a sudden, the snow stopped and the sky started to clear up. We headed to an outdoor recreation area just outside of Reykjavik and got out the bus to look for the lights. After about 15-20 minutes the clouds closed back over again so we all got back on the bus and started driving again. The sky cleared up again so we headed to another area where the sky was much clearer so we waited longer here. There was almost a full moon so had quite a bit of light so we hunted for the lights in the sky and the guide took a few photos but unfortunately the northern lights never showed up. It was a shame we didn't get to see them but the snow and clouds were completely unexpected and unforecasted for that night. We were told we would have the option to book the tour again on another night since we didn't see them but as it was our last full day in Iceland we couldn't. We were also told that the photos the guide took of us would be uploaded to the myadventures portal on the Arctic Adventures website but so far I have not managed to find them. I will keep looking though and if not there is a contact address on the website so will have to ask there. It was definitely worth a try to look for the northern lights even if they didn't show and not seeing them just gives me an excuse to go back but this time maybe when it's a bit warmer. The best times to see the northern lights are March and September.
Day 5
This was our final day in Iceland and as our flight was at 5.45pm we wouldn't have a full day there. We had left it clear of any tours or prebooked tickets so it would be a little less stress on the last day. We woke up about 9am and headed to the local swimming pool near our Airbnb which had luggage lockers available. We had to check out at 12 noon and didn't want to be wasting time in the middle of the day moving everything out. From the swimming pool, we walked down the path along the harbour into Reykjavik. This is part of the sculpture and shore walk so along the path there were plenty of interesting sculptures to look at including the famous Sun Voyager statue which is designed like a Viking long boat and is an ode to dreams and the sun, a promise of undiscovered territory, hope, progress and freedom. If you are staying in Reykjavik city centre be sure to check this out as it's not far from there, close to the Harpa building.
There were a few museums that we wanted to check out in Reykjavik but we knew we didn't have time to see them all so decided to go to the Settlement Exhibition. Other museums in Reykjavik include the Saga Museum, Árbær Open Air Museum, Whales of Iceland, the Icelandic Punk museum and the Icelandic Phallological Museum as well as plenty of others. If you want to head to a few of these (or several other attractions and local pools) check out the Reykjavik city card which might make it cheaper than buying tickets individually.
The Settlement Exhibition contains the archaeological remains of the oldest structure that has been found in Iceland so far. The museum tells the story of the first settlers in Iceland and shows how they would have built the structures and used them. This structure was a farmhouse and would have looked similar to the recreation we saw on Day 4 during the Game of Thrones tour. The museum also goes through life in the early days and has a special exhibit which when we were there was about animals in Iceland.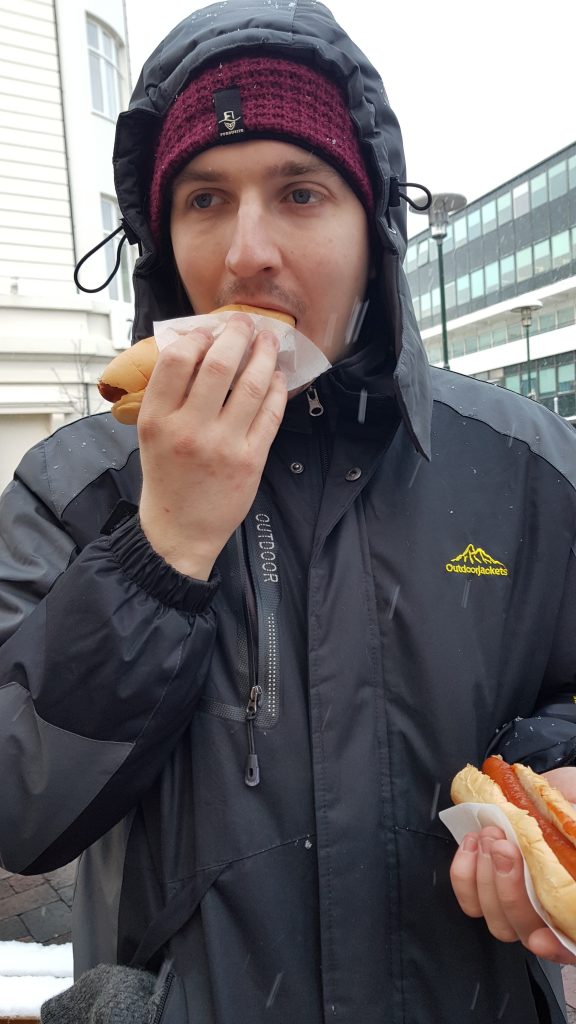 After leaving the exhibition, we headed to the most famous hot dog stand in all of Iceland, Bæjarins Beztu Pylsur. They only sell hot dogs and drinks and the lady running the stand seemed to get a little confused with Gabe's order and ended up giving him 3 hot dogs and nearly 2 drinks when he only asked for 2 hot dogs and a drink. The main reason it is so famous is that former president Bill Clinton once visited and declared it was the best hot dog he'd ever tasted. The trick is that the main ingredient they use is actually lamb with a bit of pork and beef mixed in. There was a large queue so we had to wait for quite a while and Gabe didn't rate the hotdog that highly in the end. He said he prefered the ones found in many of the small shops and service stations around Iceland as they had more flavour but as one of the cheapest places to eat in Reykjavik, it is at least worth a try.
After this we went in a few shops and did a bit of souvenir shopping for friends and family back home. There is a great Christmas shop near Ingólfstorg Square which sells traditional Icelandic Christmas ornaments. They had a lot of ornaments with a scary black cat on them and as we have a black cat at home we had to ask what the importance of it was. The Black cat is a representation of the Yule Cat which is said to eat anyone who doesn't recieve new clothes for Christmas. Apparently, it was invented by farmers to get their workers to help out with the wool production. Anyone who helped got new clothes for Christmas, anyone who didn't got eaten by the Yule Cat.
From there, we followed the main shopping street up to Hallgrímskirkja, the cathedral. It is one of Reykjavik's most famous landmarks and tallest buildings, but is of no real significance as a religious building and isn't even the main cathedral in Reykjavik. However, the main reason many people visit it is that there is an observation tower at the top and on a clear day you can see all of the city. The church itself is free to visit but it costs 1000ISK to ride the elevator to the top. It is well worth it for the views that you get up there.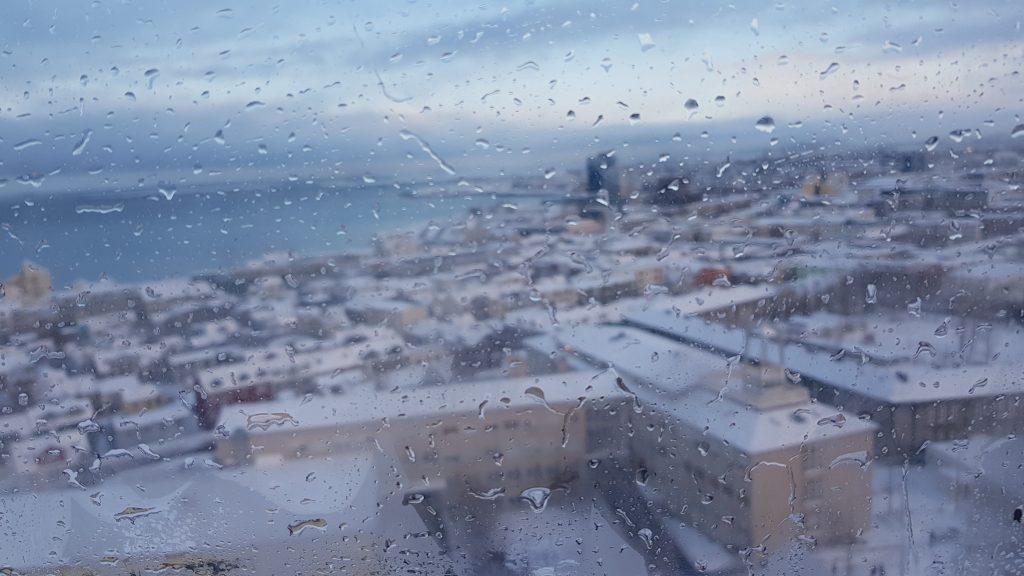 After visiting the cathedral, we headed back to the swimming pool to collect our luggage from the lockers and return to the Gray Line bus terminal. Like I said earlier I do not recommend you get the airport transfer bus from here as it is really difficult to get to when walking and the paths don't get cleared leading up to there. In some places, the snow was up to our knees so wading through this with suitcases was giving us a tough time. We were running a bit late for the bus at this point (whilst we had an open return the next bus time would have been cutting it close for our flight) ao we worked up quite a sweat by the time we got to the bus station and only just managed to make it in time. The driver had literally just got in his seat ready to leave as we got there! In the end, we did make it in time but if we ever visit Iceland again we will definitely be getting the transfer from a more central location. Even if you can't be picked up from where you're staying, they do pick up from bus stops and hotels around the city so you will always be able to find somewhere close by.
At the airport, there are plenty of shopping opportunities (including a Blue Lagoon home treatment store) and food areas to look around although there isn't a huge amount of comfortable seating around if you're going to be there quite a while. Our flight left without any problems despite the snow on the ground, although the wings did need de-icing before we left, and we made pretty good time on the way home.
Overall, our trip to Iceland was amazing and despite being one of my most expensive holidays to date, I would definitely do it all again. There were quite a few extra things that I didn't get the chance to do that I would have loved to do such as Icelandic horse riding and snorkelling in the Silfra Ridge but we just didn't have the time to do everything. I also think we could have done with an extra day or two on our trip to explore more of Reykjavik itself since a lot of the time we were off doing day trips and didn't get much time in the city. I would also love to revisit again some time in the summer to see the difference in the landscape and to visit some of the attractions that are only open that time of the year. But all in all, I loved every second of our trip and I highly recommend visiting Iceland, with or without renting a car.