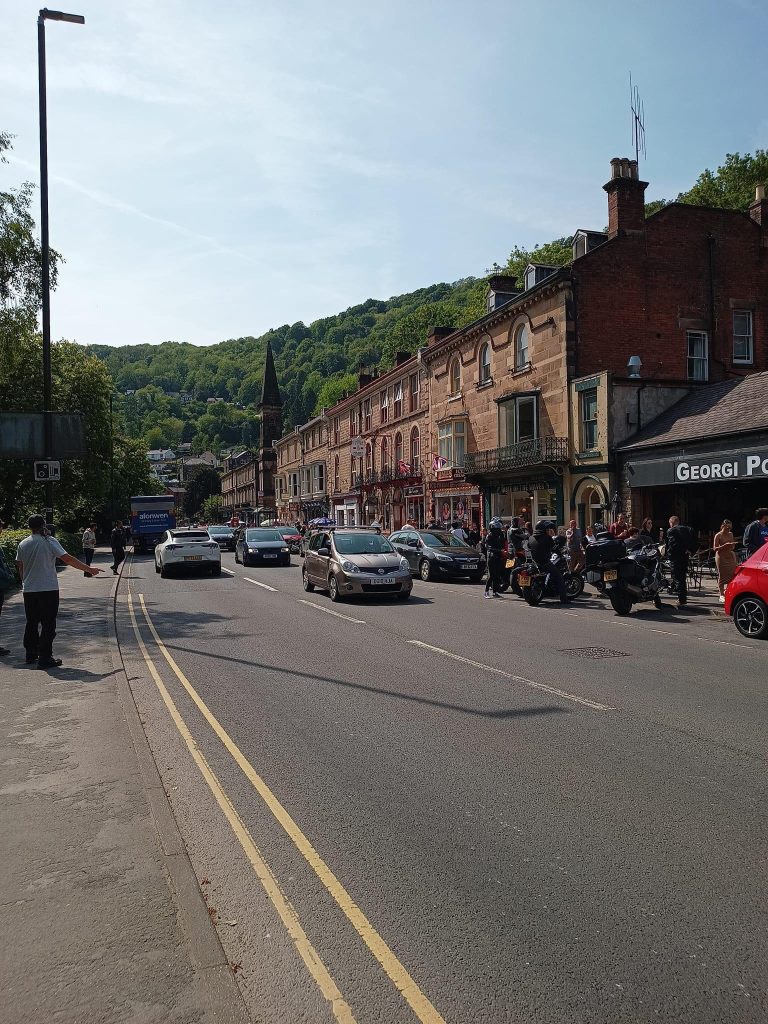 Matlock Bath is a very peculiar little town. Situated in Derbyshire, it models itself on a seaside town. It has, in fact, everything you'd expect to find in a seaside town. Except there's no sea. The river running down the edge is the closest you'll get. It's sometimes jokingly referred to as Derbyshire-on-Sea.
It was first used as a visitor attraction when warm springs were discovered in 1698. A bath house was built to accommodate this. It was later developed into one of England's first true tourist destinations once access was improved. By the 1800s, it became a society venue with fashionable visitors such as Princess Victoria of Kent, Erasmus Darwin and Lord Byron, who dubbed it Little Switzerland.
It's formed from a limestone gorge and the River Derwent runs along one side, with the sort of shops and amusement arcades you'd expect from a seaside town. Cross over one of the bridges and you get a much quieter experience. It's a designated conservation area. They're aiming to keep the town looking like a particular era.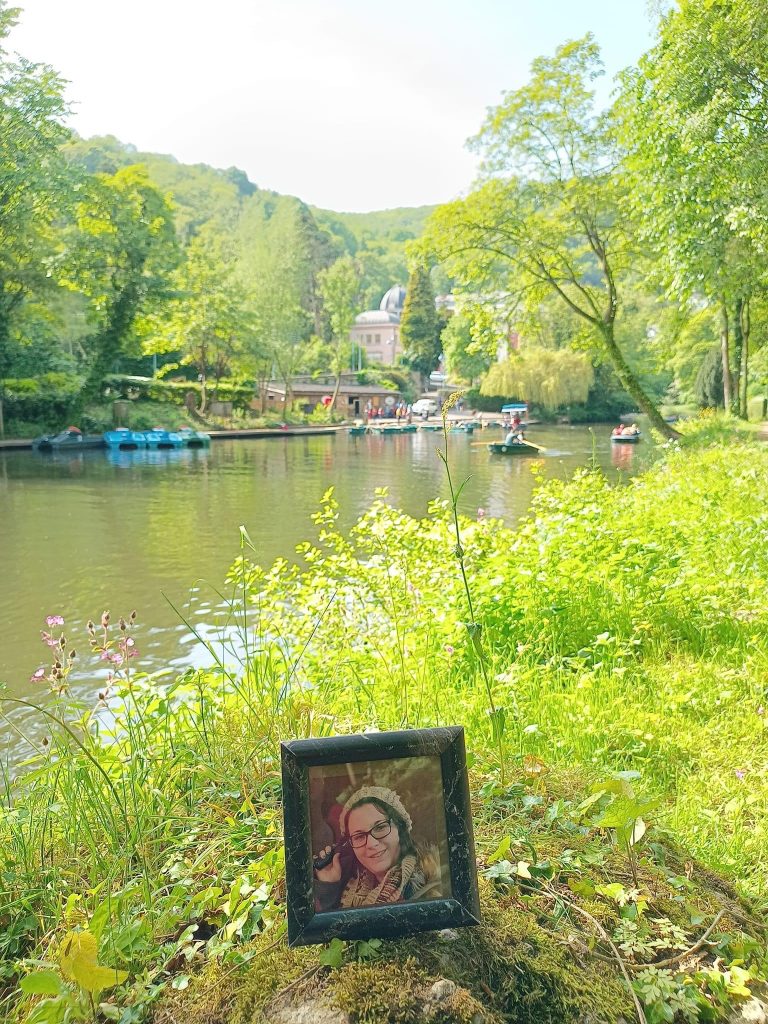 Tips For Visitors to Matlock Bath
Before you go on a visit to this charming little town, here are a few things that you really need to know.
Firstly, during holidays and weekends it gets packed. There's one road running through and there's often gridlock. We were stuck for so long that Himself and his youngest got out of the car and walked so that I was the only one who'd have to miss the visit to the mine that we'd booked timed tickets for.
Which leads nicely to the second problem. Parking. The biggest carpark is at the Matlock end. But that involves a decent walk. I eventually found a space at the other end, but I had to download an app stood in the car park before I could pay by debit card once I'd finally found a space. There's limited disabled parking.
As you can imagine, after a long time stuck in static traffic, then struggling to park, the need for a public loo was rather, er, pressing. That's like finding hens teeth. Some cafes will let you use the customer toilet for a donation. It might seem unkind, but I can fully understand their view. They pay rates and pay to maintain their toilets for paying customers. They are trying to make a living, not provide a service. We didn't even find a loo in the two attractions that we visited. That, I decided was a bit of a black mark for them.
Finally, it's a very popular place for bikers. There are motorbikes everywhere and they roar through the town. Quite exciting for some, but if you have an autistic member of the party, or use a hearing aid, you may find it unsuitable. Personally I rather like it and they're a friendly bunch.
Peak District Lead Mining Museum and Temple Mine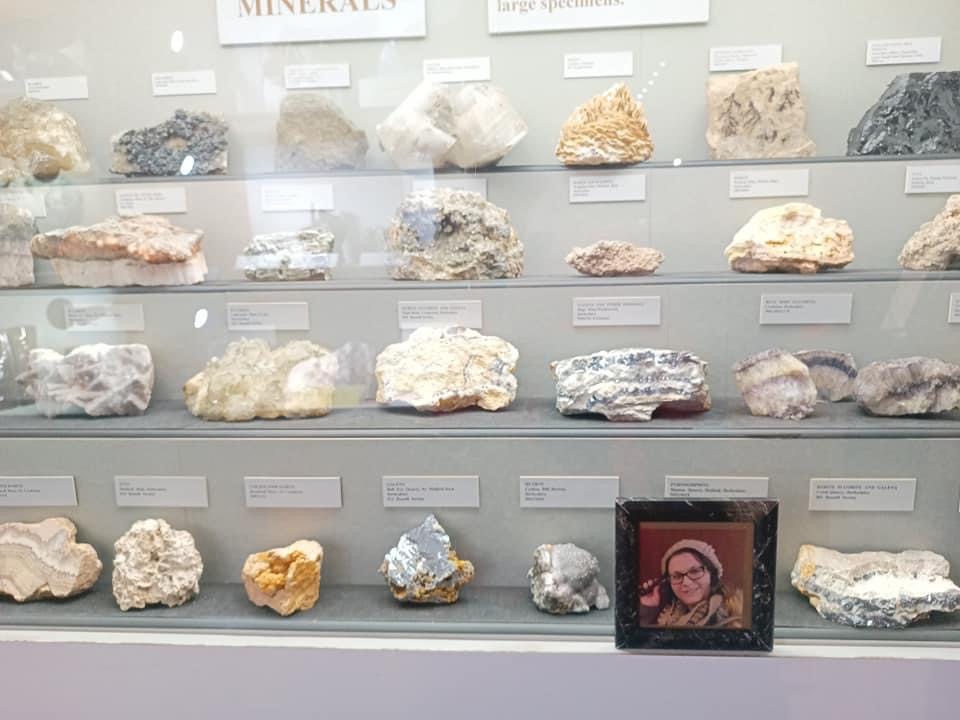 Located inside the former grand pavilion, it provides an insight into the history of lead mining in the Peak District right back to Roman times. There's also a mock-up of a lead mine so that you can experience what mining would have been like safely.
Because of the traffic, I didn't get to go down the mine (you can just drop in to the museum, however visits to the mine are on timed tickets), but the other half and his youngest did and rather enjoyed it. They even panned for gold (fools) and were given what they panned. I'll admit, I was a bit grumpy by the time I arrived, but the lady greeting me couldn't have been sweeter. She even insisted on not charging me for my ticket down to the mine, even though I was fully prepared to pay. It wasn't their fault that the bank holiday traffic was so horrendous. Apparently it's notorious for causing problems for the people who book with them. And the people who work in Matlock Bath.
The museum is quite well laid out. They have a great collection of minerals (literally hundreds) and make the most of the displays. There's disabled access to the upper floors and a small shop. Their toilets weren't working, and they had a lot of people coming in asking for a loo. They pointed out the café next door, who, to be fair, only ask for a 20p donation into their collection tin for a charity per person. It might seem unkind, but while I was waiting for Himself and his son to finish in the mine, I must have seen 25 people asking for the use of the loo. It wasn't even a long wait. They'd never be able to accommodate the customers if it was open to the public too.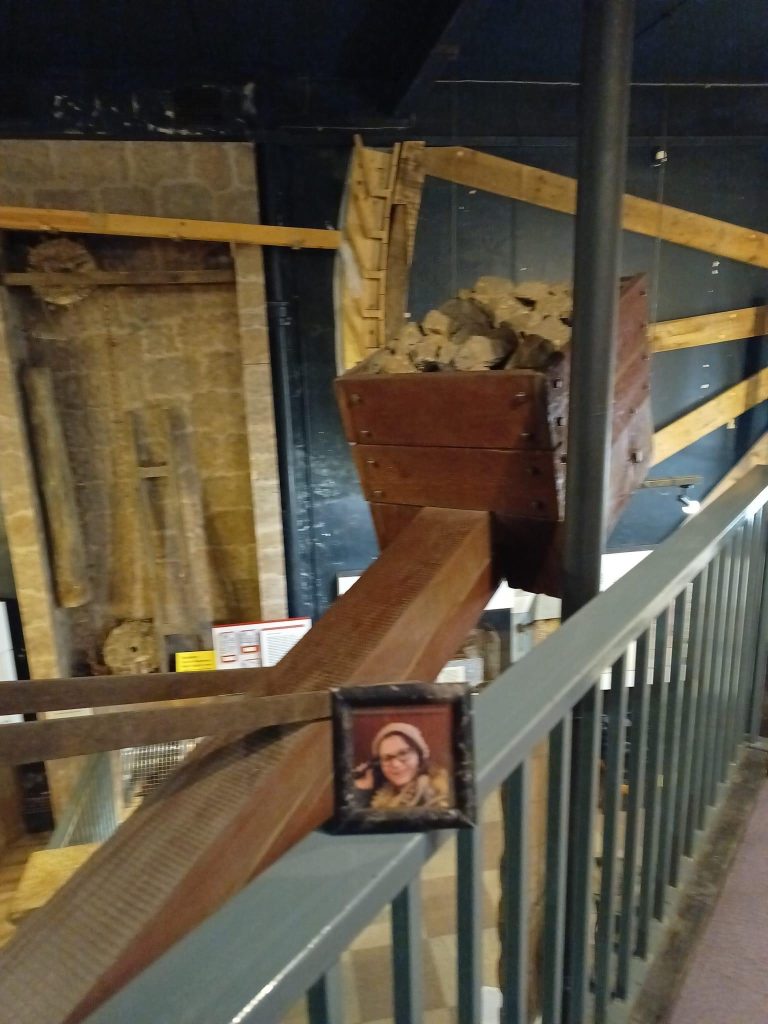 Matlock Bath Aquarium
No visit to Matlock Bath would be complete without a trip around the aquarium. The prices are very reasonable. It's situated in a Victorian building above an arcade. It feels a little old-fashioned, but for me, that adds to the charm.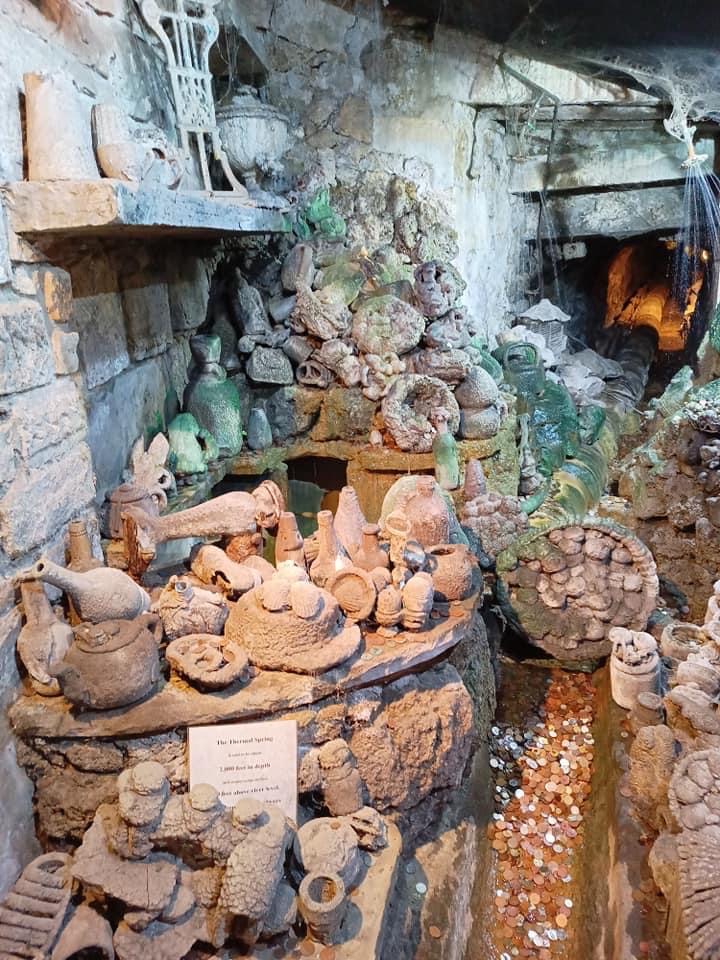 The first thing you encounter is the petrifying well. It's the only surviving working well in Matlock Bath. Water from the well is sprayed onto a range of objects. Minerals and calcium from the local limestone are deposited when the water evaporates. Some of the items in the well date back from Victorian times, but it's clear that more recent items have been added as they're in various stages of, for want of a better term, becoming petrified.
For a little aquarium, which by no means compares itself to sea life, there's quite an astonishing array of fish. About 50 species. They also have some axolotls. Once you walk out of the aquarium, you encounter the thermal pool, which is now home to an astonishing array of carp. The water is rumoured to come from a spring 2000 ft below ground and is always 20°. You can buy a tub of food and feed the fish. From the reaction when a human walks out, they'd be delighted if you did. They swarm towards you. They huge!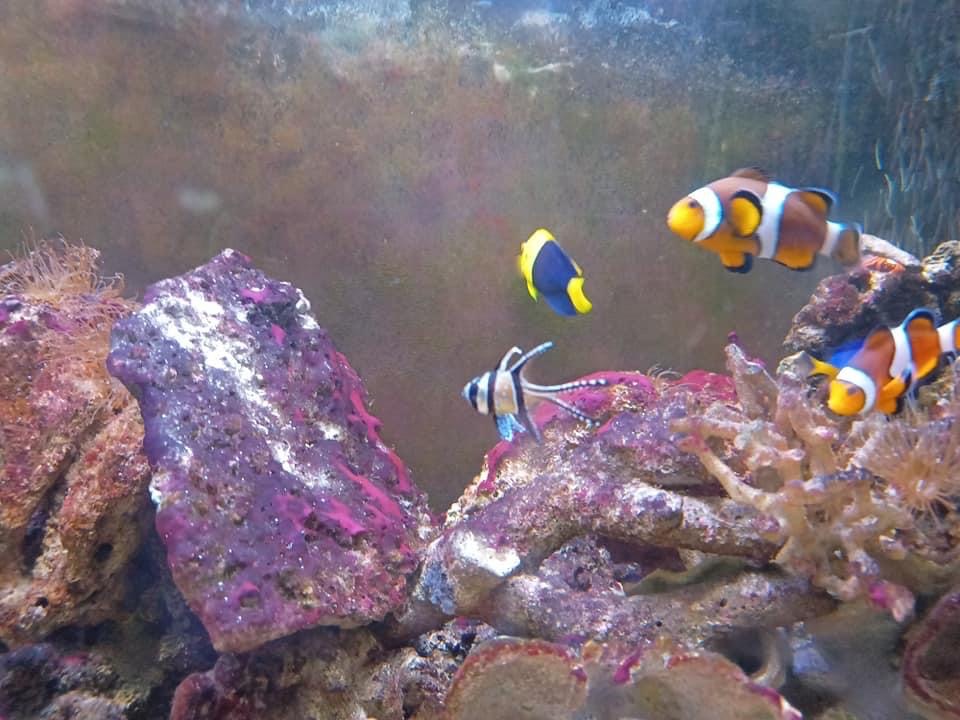 In through the next door and you're facing the last thing you'd expect to see in an aquarium. They have one of the largest collections of holograms in Europe. You have to go around twice to make sure you've seen them all. They're fascinating, although some may not be popular with people who have phobias. Clown and spider are amongst them.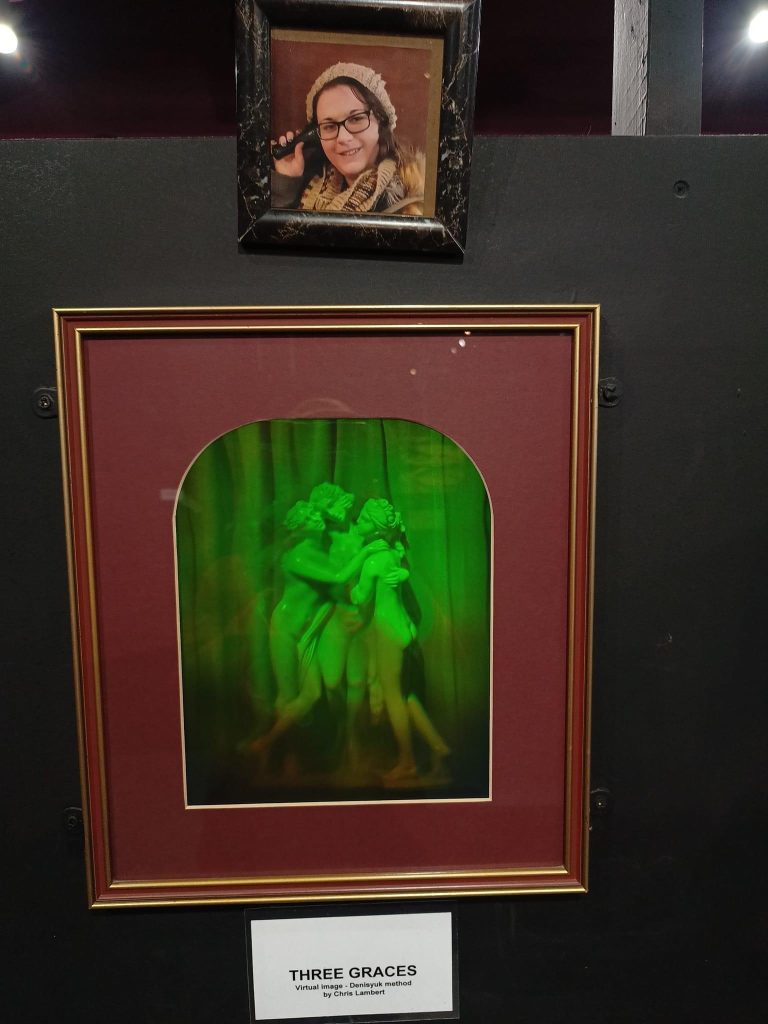 As you head out, you walk past distorting mirrors. Young children would love them. A new display is a walkway of mirrored lights. I love it. It's like standing in infinity. We went around several times to experience it again and again.
Alas, no toilets here either.
The street is lined with quirky shops, cafés, a small indoor market and chip shops. The shops are fun to browse around and there's quite an eclectic assortment. I was getting quite desperate for a loo by this point. We all were, so we popped into a pub. The Midland is at the end of the main section. As usual, signs that toilets were for customer use only.  No  worries, we fancied a half too. I'm pretty sure that you can only get a smile if you pay. Not a single pleasant face. The woman serving us poured a lemonade, not cola, and was quite grumpy at having the mistake pointed out. Really surly service and the beer wasn't much good. We even accepted the lemonade rather than insisting on what we'd ordered, but not even an acknowledgement that we had. One to avoid, although the outside seating is right on the river. When we left, we spotted what must be the only public toilet. Typical.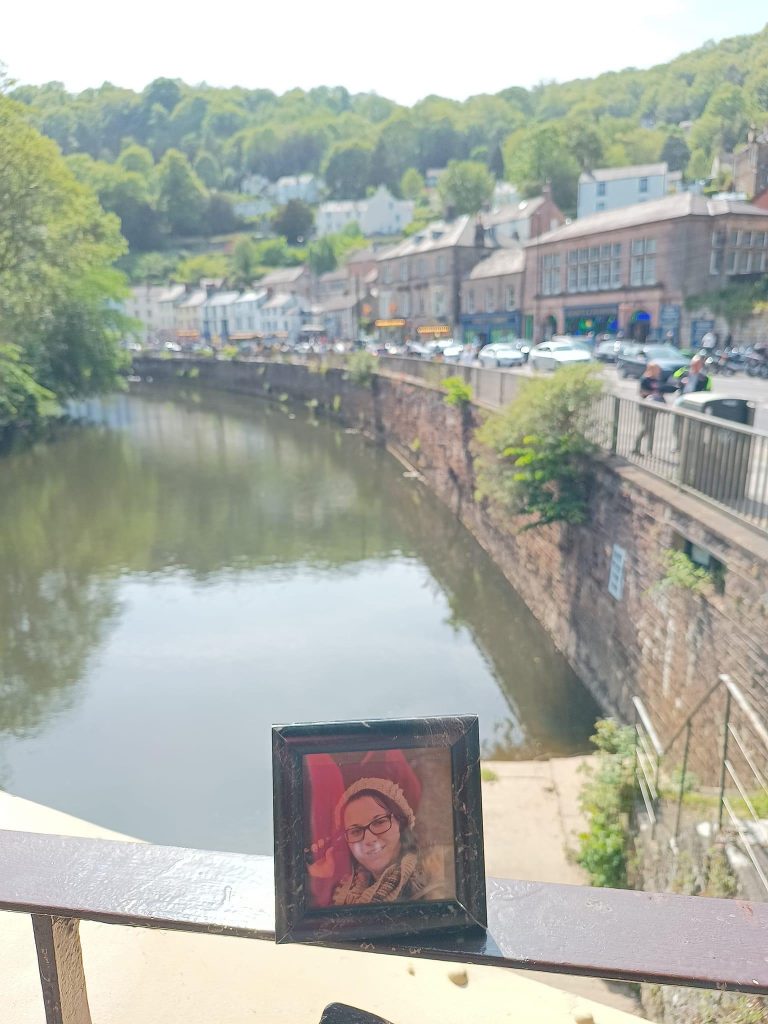 We made our way back along the river, walking with the cliffs on one side and the river on the other. It's very peaceful and a lovely walk. Back at the car park and we stuck our heads into the Fish Pond, named for the very nice, you guessed it, fish pond in the beer garden. A much friendlier pub and with a good choice of beers. Decided against staying for a drink in case traffic out was as bad as the journey in.
Despite the dour reception at the first pub, not to mention the dire traffic it was a pleasant day. Plenty to keep you busy, prices for the mining museum and the aquarium especially, are very reasonable. The shops are quirky and fun to browse through. But if you do go, aim for a day that's not a holiday, be prepared for a traffic jam, a struggle for parking and an even bigger struggle to find a loo at England's landlocked "seaside" town.