Or what to make your boyfriend take to Iceland when he says he'll be fine.
I recently went to Iceland with my boyfriend and wanted to prepare a packing list early so we could hit the sales. However, when I asked him what he would need to get before we went he said 'nothing, I'll be fine with what I've got.' Bearing in mind he pretty much lives in shorts and t-shirts, has a single hoodie (which he then forgot to bring anyway) and his only fleece doesn't even have a hood! I knew this wouldn't be a good idea so I started looking around and built up this winter Iceland packing list for men. AKA what to make your boyfriend take to Iceland when he says he'll be fine.
This list is all the things he did end up taking so these are tried and tested and he didn't have too many complaints about being cold. Remember though, how well you cope with cold weather can vary greatly depending on where you're from. The UK is pretty similar in climate to Iceland (although not quite as cold) so this list did us just fine but if you're coming from somewhere warm like Australia or Texas you might want a few extra layers.
*Disclosure* The Travel Fairies are participants in the Amazon Associates program. As an Amazon Associate, we earn from qualifying purchases but all opinions are our own.
This is the most important thing to bring with you to Iceland. Even if you forget everything else, make sure you have a waterproof coat which is why I recommend you wear it on the way there just in case your baggage gets lost. In Iceland, it rains over 300 days a year so whatever time of year you go a waterproof is a must and even on nice days you may want one if you're visiting some of the waterfalls.
In the winter, it is especially important to bring a coat as the weather there is very unpredictable and there is a high chance of rain or snow at some point in the day and it's just another layer for warmth. I got Gabe this jacket which had a built in fleece layer. It did keep him very warm but some of the zips broke quite early on in our trip.
Another must-have item for visiting Iceland year round but especially in winter are waterproof hiking boots. If your feet get wet, you will feel the cold for the rest of the day and with the weather in Iceland, there is a good chance your feet will get wet. You need to make sure these are waterproof and not water-resistant as those are only for a bit of rain and small puddles and will not be enough to cope in Iceland.
A lot of the best activities in Iceland also include going out in nature and walking a lot so hiking boots are the most practical footwear to bring. If you do the glacier hiking like we did, you need hiking boots with proper soles to attach crampons and you will be required to rent some if you don't bring your own. Gabe did already have some hiking boots at home but they were pretty old and had holes in them so I got him a new pair. These were really great and he found them comfortable even when walking a lot and still uses them back home too. Make sure if you're buying new boots to wear them in before you leave. There's nothing worse than getting blisters on holiday!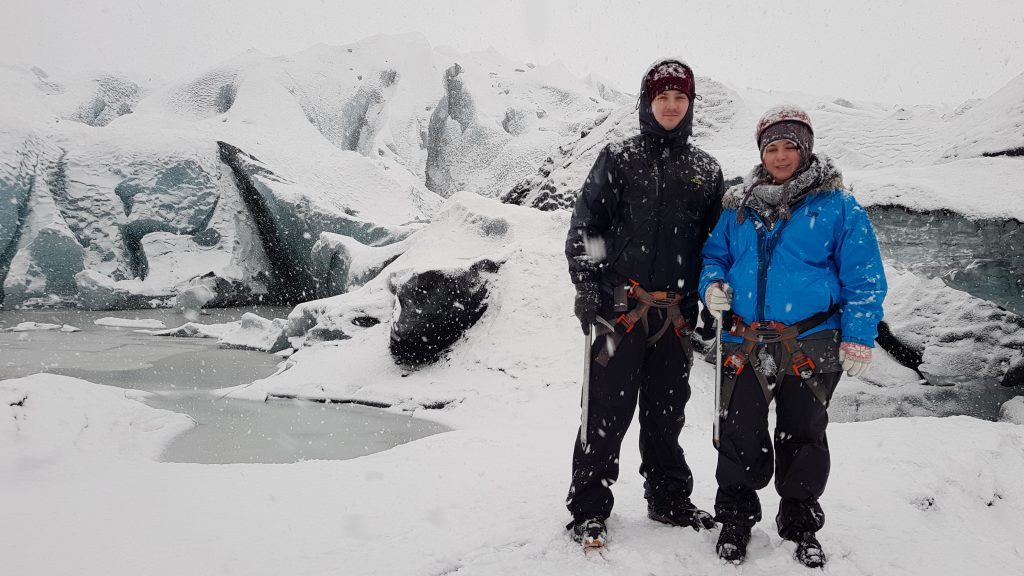 Another item you will definitely need during winter and probably summer too, are waterproof trousers. These are great for walking round in the snow, rain or even just in muddy areas. They're also just an extra layer to help keep the heat in during those cold winter nights. You can even roll them up and put them in your pack to add or remove when needed and they can be pretty cheap too.
Gabe was very against these when I first suggested he should get some thermals, especially the leggings, as he said he would be fine without. However, after a day in Iceland, he was pretty glad I'd packed them for him. If you wear thermals as a base layer underneath the rest of your clothes, it'll keep you warm and toasty all day.
Woolen hats and gloves are really good as an extra thermal layer and waterproof gloves might be a good shout if you're visiting Iceland in the winter when it is likely to be raining or snowing. However, any hat and gloves will have a big impact on your warmth. Your extremities like your fingers and head lose the most heat and the wind can also be bitterly cold so it's best to wrap these up to prevent it.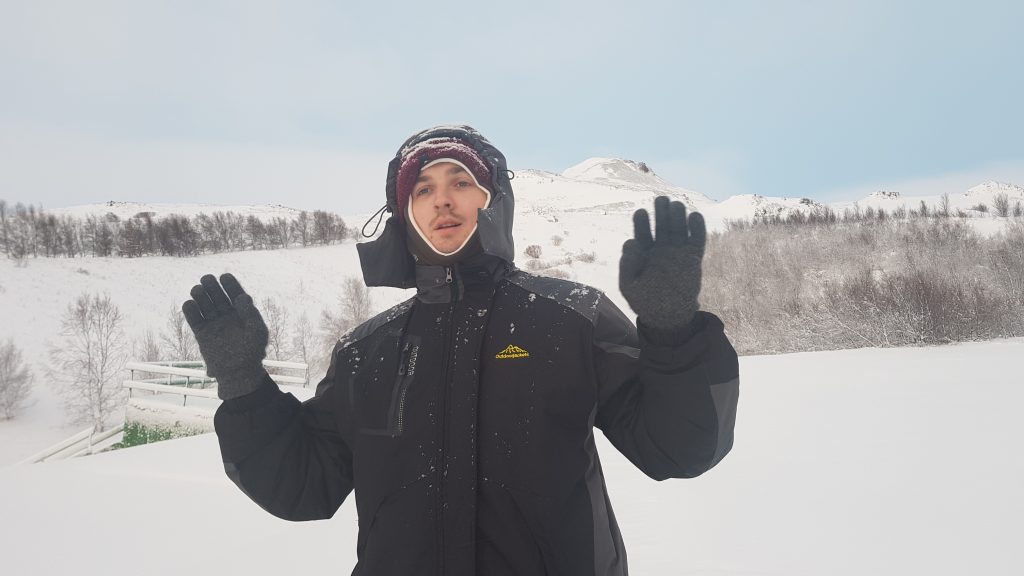 On top of a hat, you could also take a snood. These wrap all the way around your head and neck, kind of like a hood, which further prevents and heat loss from areas that aren't covered by your clothes. Gabe loved his and it kept him very warm and protected from the snow and wind.
Another place that the body loses heat from very easily, are the feet and toes. You should pack several pairs of socks so you can double layer them and also invest in some thermal or woollen socks. These should be worn against the skin to keep in the most amount of heat with other pairs of socks over them. On top of keeping your feet warm and toasty, thicker (or double layered) socks will also make your shoes a little more comfortable if you're doing a lot of walking.
Undies
This is a pretty obvious item for a packing list but also seems to be the easiest thing to forget sometimes! Don't forget to pack enough clean underwear to last for your trip.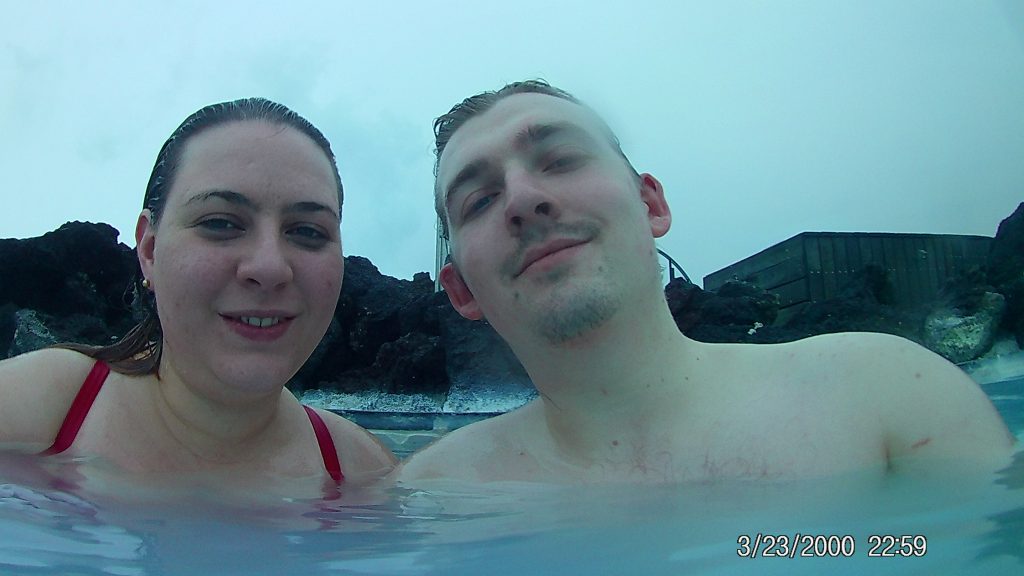 Swimwear and Towel
Iceland is famous for its hot springs so I'm sure at least once over your trip you will need your swimwear. We went to the super popular (and very touristy) Blue Lagoon but there are several others around the country as well as the local swimming pools around the cities. Most of the bigger places will lend you a free towel whilst visiting but if you plan to head to more off the beaten track places it's probably best to bring your own. If you plan to stay in smaller guest houses or Airbnb's you will probably need your own towel for showers too.
Joggers
Since Iceland is such a wet place, jeans are not great for exploring in. By all means, if you want to go somewhere a bit more upscale or if jeans are just your preference, bring some of those with you but I would definitely recommend joggers instead. These don't soak up so much water and are a lot easier to dry when they do get a bit wet.
T-shirts
I recommend you take plenty of t-shirts or other tops, jumpers and jackets. These will provide extra layers if it's cold and gives you spares to change into if you get wet or dirty. Gabe did manage to forget his hoodie and fleece which meant all he was left with was his thermals and a coat so laying up his tops gave his core extra warmth.
Backpack
Most of your trip to Iceland will probably be spent out on day trips and even if not you don't want to keep heading back to your accommodation throughout the day so it's really useful to have a backpack to store all your things in. Always use caution and keep your valuables in a secure place, but Iceland is really safe compared to many other countries so you don't have to worry about pickpockets getting into your backpack so much. We took one backpack between us and took turns to carry it with all our snacks, drinks, waterproofs and anything else we would need during the day.
Other Useful items