We have just been on our first cruise, and we chose to go to Norway. Apparently, it is the favourite destination for most first- time cruisers, according to our Travel Agent.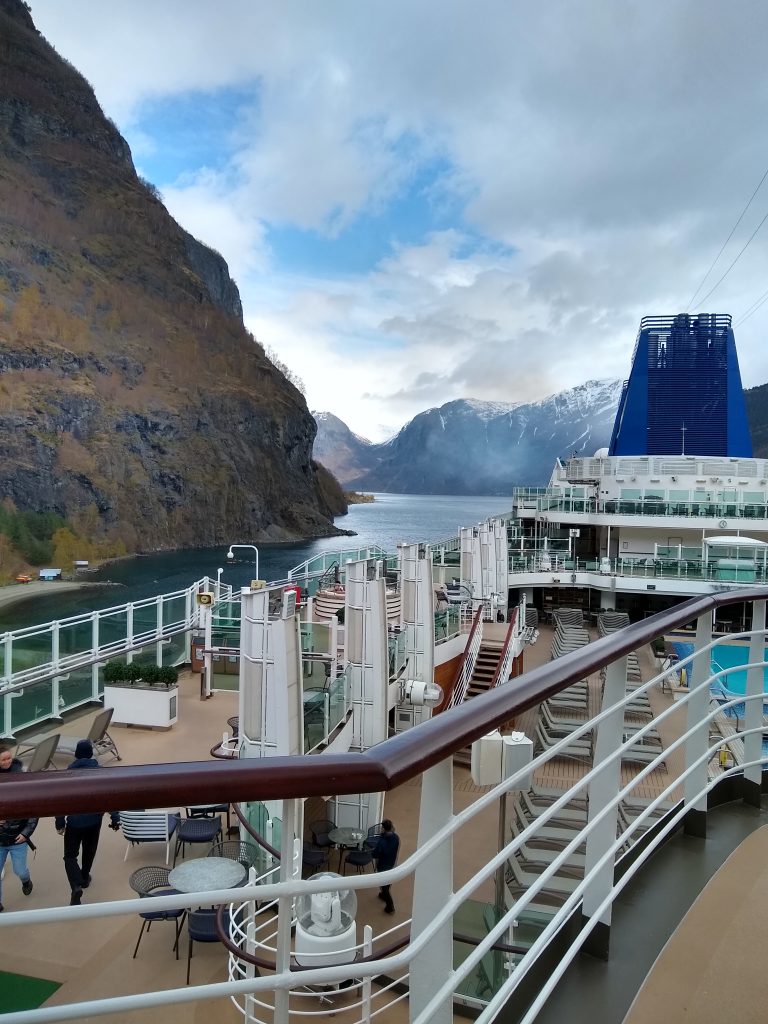 We booked through a Travel Agent to make sure that we got the best deal and had all the necessary paperwork. It was very easy and they did everything necessary. You check in two weeks prior to embarkation, register a credit card and send a passport type photo. Also, the agent booked the coach to Southampton, as that was our preferred method of travel. They printed out our luggage labels and boarding passes, so we were all set to go.
I can honestly say that the coach was a great idea for us. It was great to put the suitcases on the coach and not see them again until we were on the ship. Porters at Southampton take care of everything, and we only waited a couple of hours for them to arrive at our cabin. We had to go through security, which was so easy, much faster than at an airport. It's basically the same procedure, bags, electrical goods and so on in a tray, whiz through the scanner, and there you are, ten minutes later getting on the ship.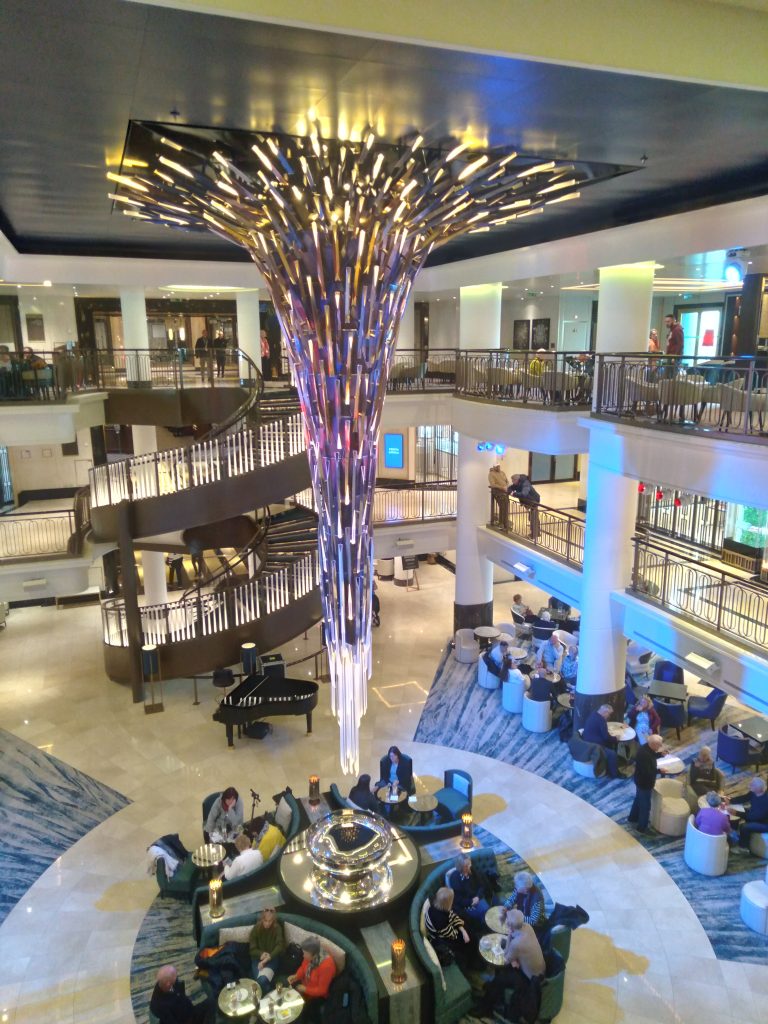 We went for a week at the end of April, beginning of May, on the fond hope that the weather would be kind to us, and on the whole it was, but it was COLD! T-shirt, jumper, cardigan, coat, hat and gloves cold. Not to mention ski socks and scarves. You get the idea. We had previously checked the weather forecast, so thought we had packed sensibly, hmmm, could have done better, so if you fancy going, take thermals for when you get off the ship to visit the different ports etc.
Whilst we were on board the ship, it was nice and warm inside, but you need to wrap up if you go out on deck etc.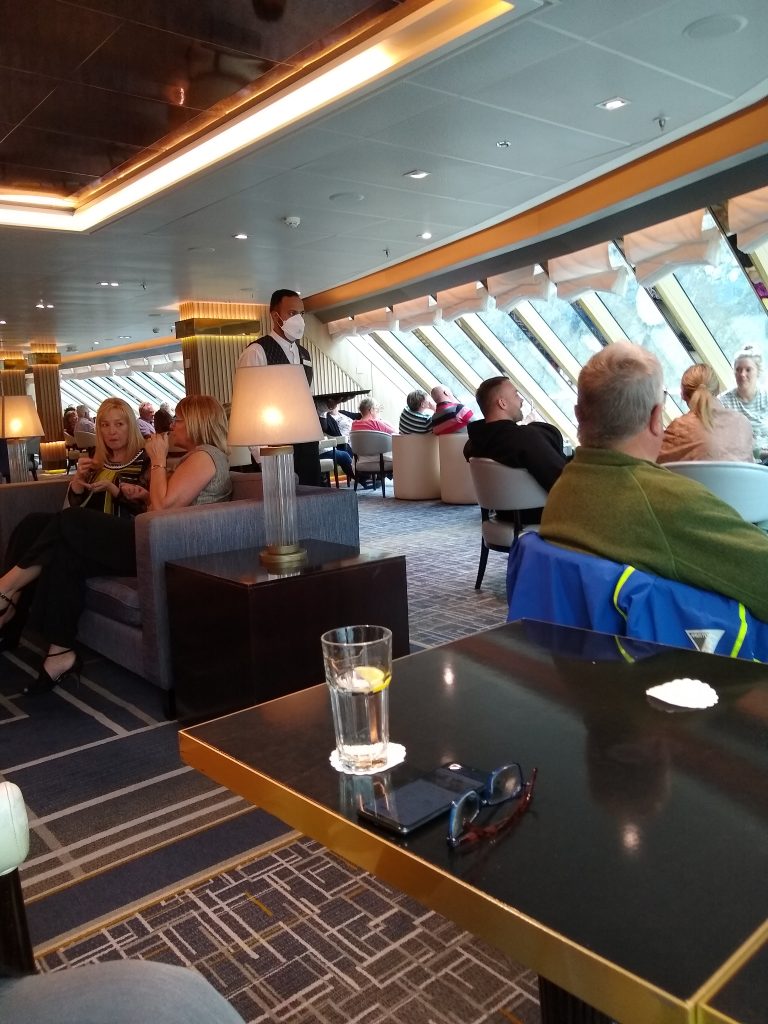 So, what did we get up to. The first day was a 'sea day', which means you sailing to your first destination port. Good job too, you need that time and longer to get to know you way around the ship, sort out your dining preferences etc. We were aboard a ship that had a holiday app for you to connect to, which we had a bit of a problem with, but a quick trip to reception and that was sorted. It had a few glitches during the week, but in the main, it worked okay. The app is there for you to book your meal times, entertainment and things like that. We also received a daily programme giving information of the ship's activities, which I preferred.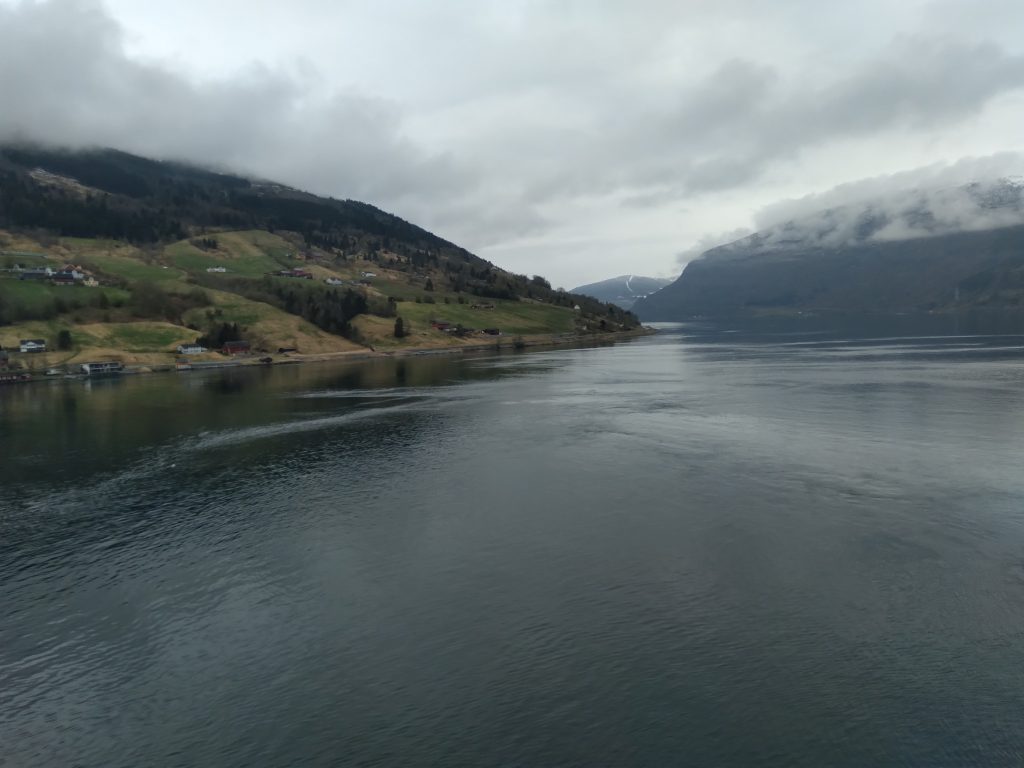 We had trips to Stavanger, Flam, Olden and Haugeshund. Each place had a different activity to offer, and depending on your mobility, whether you are an adrenalin junkie, like hiking, you could find something to do. Obviously, the cruise line offers a range of excursions, but these can be quite pricey and are often booked up prior to sailing. I suggest that each to their own, and so do your research before you decide to go. Another thing we noticed was that the weather is very changeable, so if you have booked, for example, the hike up the glacier, you may find that by the time you get to the top it's cloudy and raining, so you won't be able to see or do much. By all accounts, it is amazing, so if you are fit enough, give it a go. Or you could try zooming down the fjord in a Rib! We would have liked to try that, but as I said before, they were booked up.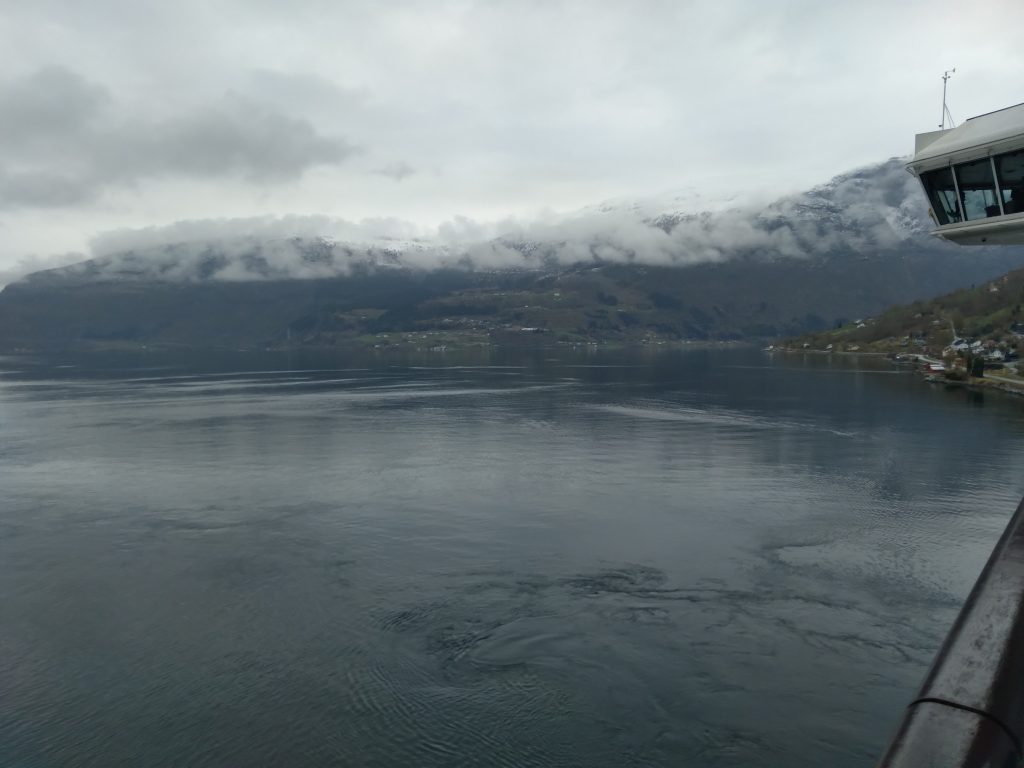 We decided to take the easy options at each port and found that for us the best was the Road Train. It cost about £30 each for an hour round the local area. The train in Olden had a commentary, the train in Flam did not. Most ports are really geared up for tourists and shopping is expensive. Get this, we checked out some souvenirs and the labels read 'made in China'…. we didn't bother. You don't get a sense of Norway from these places,  but we expected that.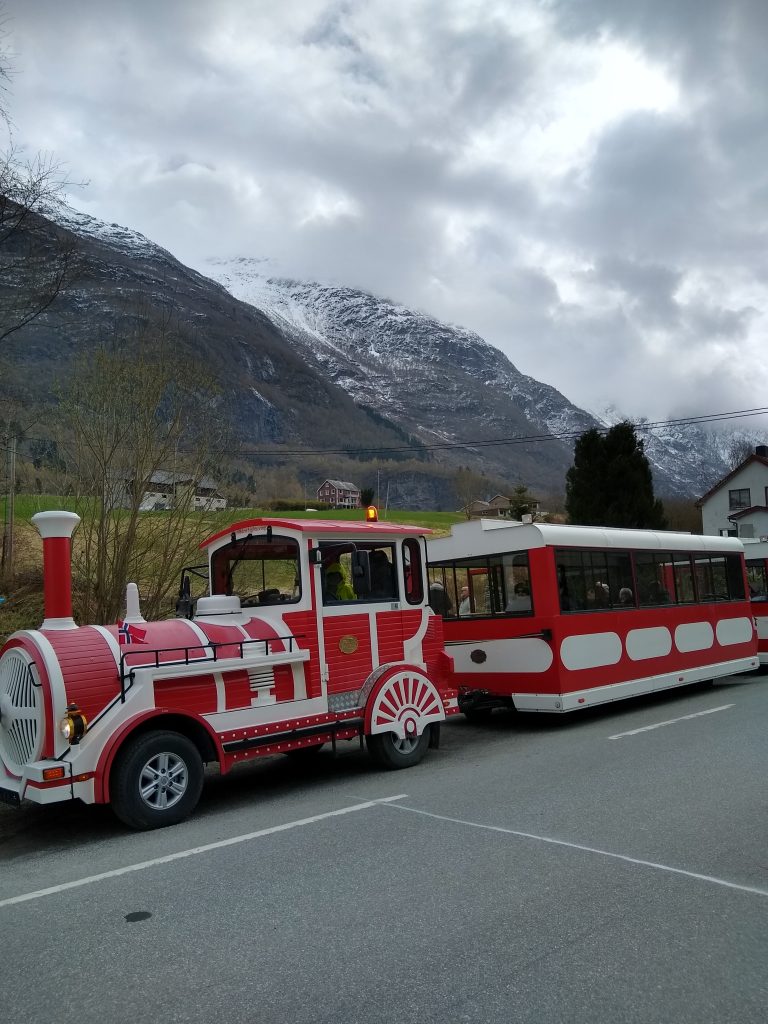 Now for the ship. When we were sailing there were approximately 3500 passengers and over 1200 crew on board. It really is a massive floating hotel, but we didn't find it claustrophobic. The cabin we chose had a balcony, which was very much appreciated so that we could have some great views as we travelled. Saying that, the ship moves from port to port overnight, so you have to be up early to see the sail in to port, and loads of folk do just that.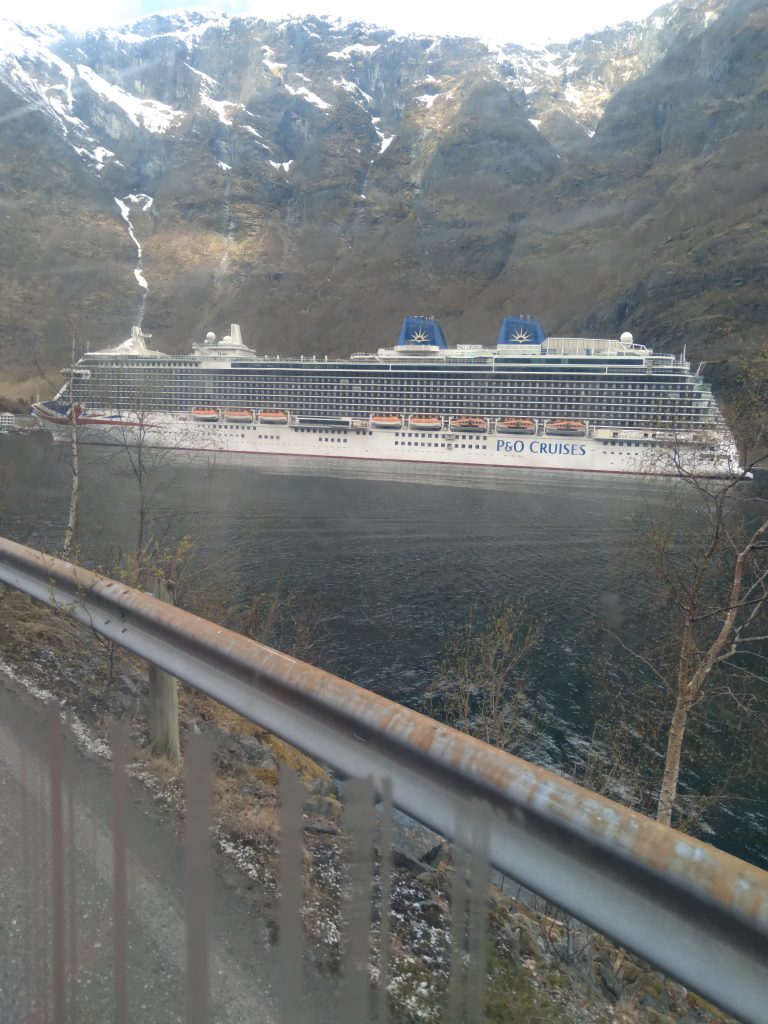 Because we only had 7 nights on our cruise, we did not use all the facilities on the ship, but did try a couple of the speciality dining options. Not that impressed to be honest as the main dining rooms were very good.
If you want to cruise, it is best to check out what entertainment is on board to the ship you want to cruise on. Each line has a lot of similar activities, but as you would expect, some are better for children than others. Some are massive, some are small, some specialise …. you get my drift.
Would we cruise again? Yes, but after doing a lot more research and working out the budget. Checking the deals and destinations is a must, and going somewhere a bit warmer.