For Chris' 60th birthday treat we booked ourselves a couple of nights away in the Hay Loft suite at Dannah Farm Country House. This advertises itself as Luxury B & B Boutique Accommodation, and it certainly fulfilled all our expectations. Take a look at the website at dannah.co.uk where there is a full description, price list and photographs of all the suites available.
We arrived on Sunday afternoon. The farm was fairly remote and although we followed the map, we needed to phone en route to find the property. We were actually very close, but Joan was able to direct us from where we were and then we found it quickly.
On arrival Joan showed us our suite and the outdoor area which came as part of our booking. She explained how to operate the hot tub and the sauna, offered us a welcome cup of tea and coffee, and then left us to settle in.
The Suite
The suite was absolutely beautiful. Although the property was clearly very old, everything inside was very new, modern and in pristine condition. The facilities were stunning! Our room had a seating area with a comfortable leather corner sofa, a TV. It also had a table and chairs for dining, a coffee machine and kettle with tea bags, coffee, sugar, and hot chocolate sachets. The huge wooden bed was also in this room, with a stool at the side because it was so tall. The room had low beams, which I could easily walk under, but Chris had to be careful not to bump his head! The room was very tastefully decorated with co-ordinated soft furnishings and lamps.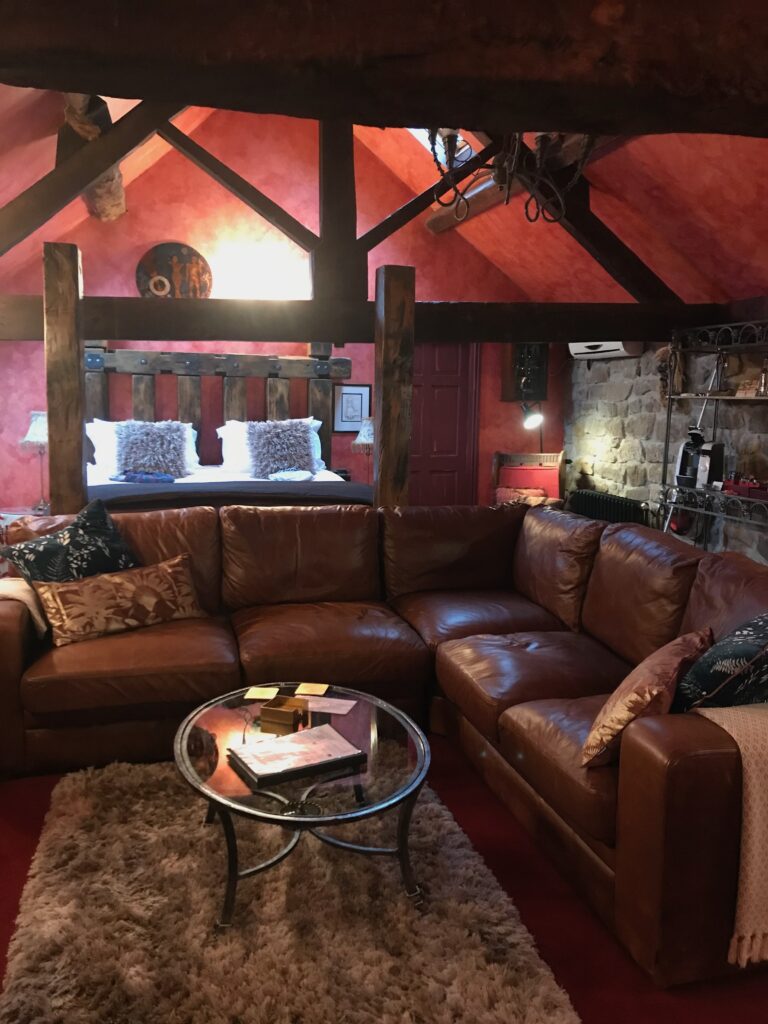 Off the main room was an ensuite bathroom with a state of the art modern shower and an enormous free standing bath. Towels, robes, slippers, and toiletries were all included for our use.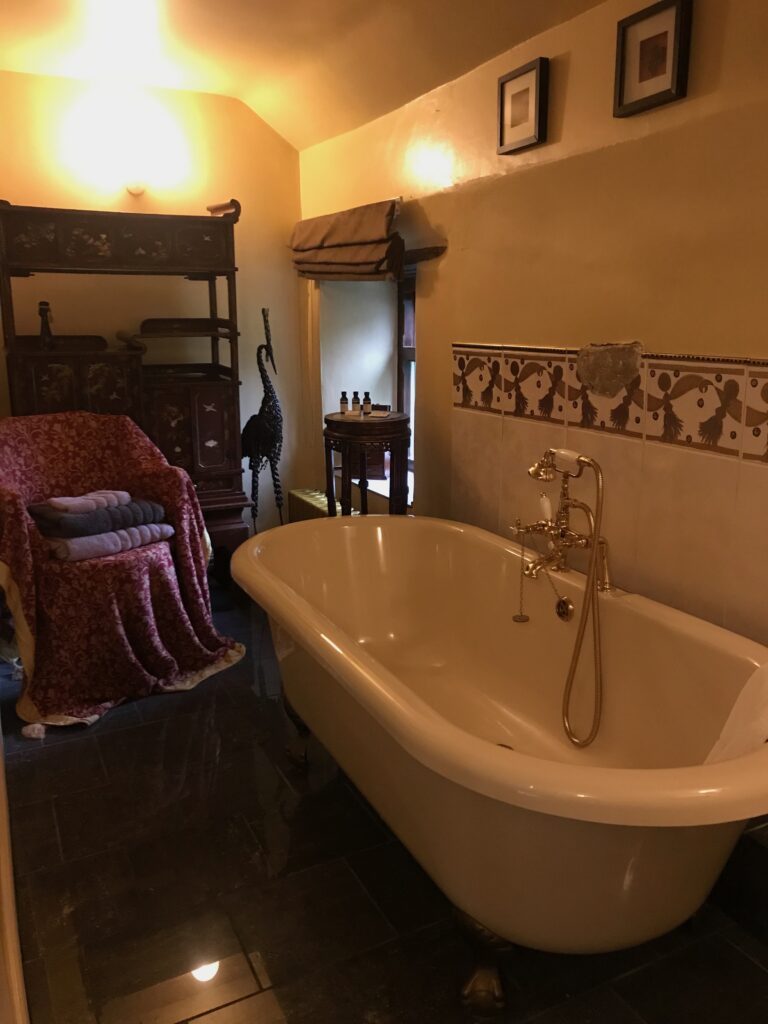 Just outside the suite there was a mini fridge. This had milk for our drinks and also a large selection of wines, soft drinks and snacks which could be purchased separately.
Again, outside our suite was a door which took us down stone steps into our private garden area. Here there was a large cabin, with comfy sofa, TV., tea and coffee making facilities, mini fridge, shower room with a toilet, and a sauna. The cabin was tastefully furnished and had more bathrobes, towels, and toiletries for our use. Outside the cabin was a large hot tub, a natural wood table and chairs, an outdoor heated shower and sun loungers. The hot tub was checked daily between 9.30-10am and that was the only restriction on its use.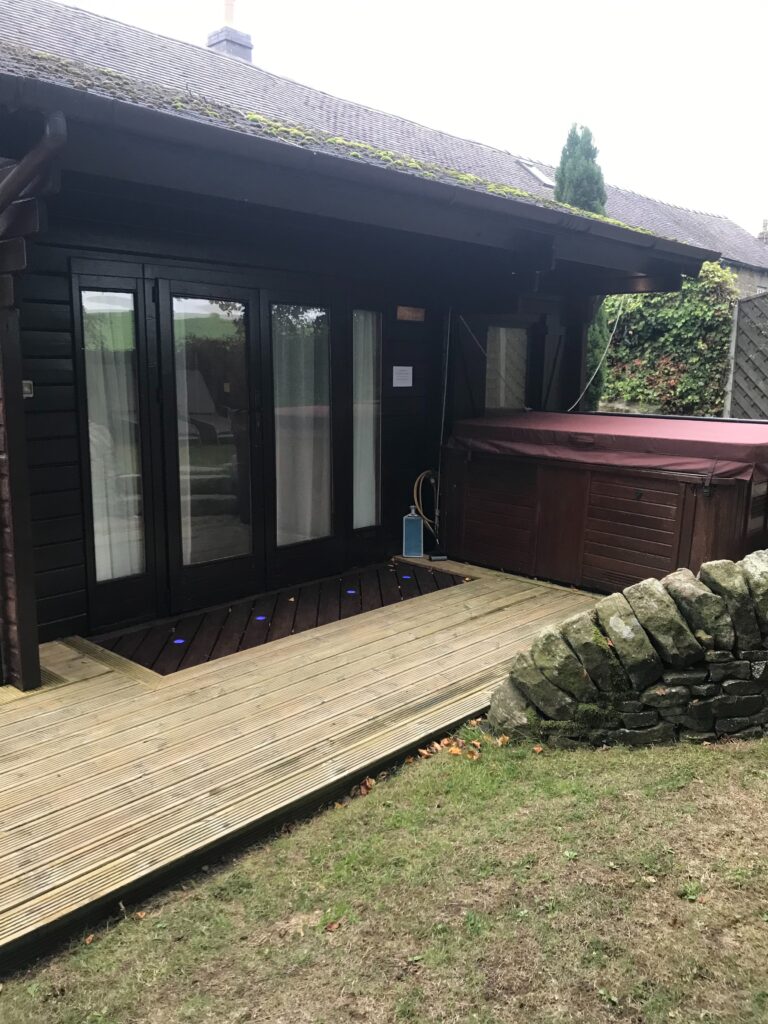 Information Booklet
The information booklet in the suite listed local pubs and restaurants that were within a fairly short radius, with basic information about menu and booking options. It also listed local takeaways that would either deliver or where food could be collected. In the room there was a box with plates, bowls, cutlery, and even serviettes, should you wish to eat in your room.
Breakfast
Breakfast was served 8.30-10am each morning and was a culinary delight. There was a table with cereals, fruit, yogurts, and cheeses to help yourself to. Toast and tea cakes were served hot at the table while we waited for the main breakfast to be cooked. Fruits and hot drinks were brought to order. There was an enormous choice of cooked breakfast items to choose from, again cooked to order. The breakfast was very filling, so mush so that we didn't feel the need to eat lunch on either day that we stayed there. We were offered refills of drinks and toast, as well as supplies for our rooms, while we had our breakfast.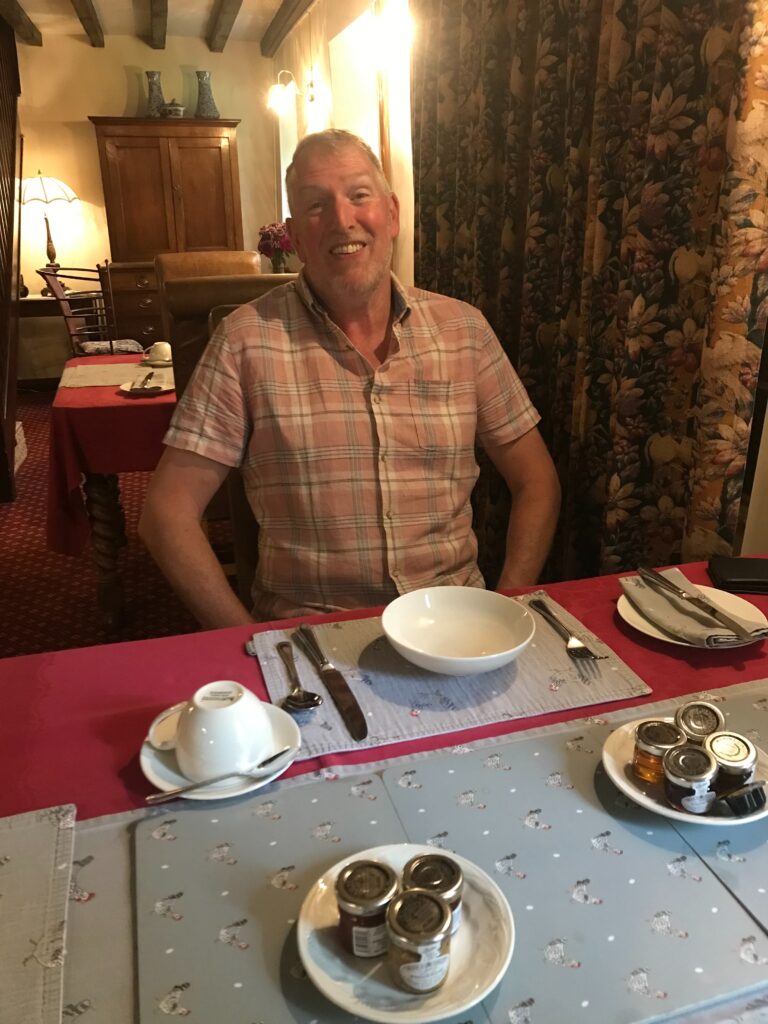 Location
The farm is quite remote and the lanes very narrow as you drive closer to it. I wouldn't like to try travelling there if it was snowy or icy, so something to bear in mind when choosing a date to book. Also, the Hayloft suite was accessed via stairs from the dining area, and the outdoor area was reached using stone steps, so to be considered if you have any accessibility issues.
We had a wonderful, relaxing stay at Dannah Farm. The staff were all friendly and helpful, and we felt totally at ease throughout our stay. Definitely not a cheap option for a place to stay, but well worth the money for a special occasion or a well deserved treat. We have already recommended it to several friends and hope to visit again next time we have something special to celebrate.