So if you're anything like me, you'll love a good scary story and have watched pretty much every paranormal investigation tv show going! But would you dare to spend a night in a haunted hotel? With so many places around the world said to be haunted there are plenty for you to choose from. Whether you want to spice up your Halloween or just fancy a spooktacular trip away. I asked a few travel bloggers if they had ever visited a haunted hotel and what their experiences there were. Read on to find out which hotels around the world are definitely haunted and a few that we're not so sure about too!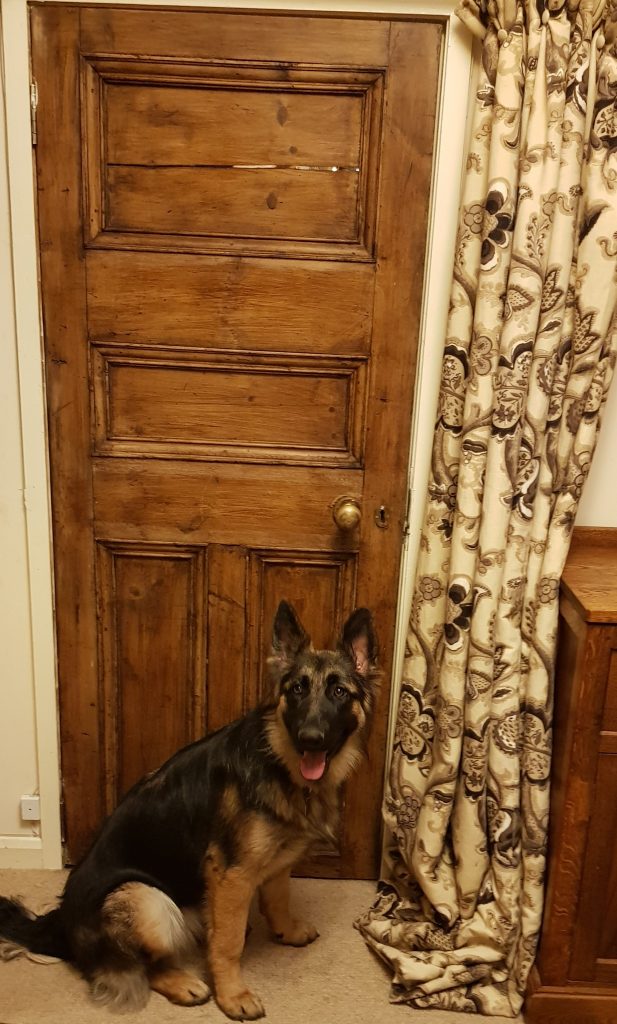 Halsham House – Yorkshire, England
I booked an Airbnb in Halsham, Yorkshire for a short break in the countryside with our dog. Halsham House was a 16th century listed property full of character and out in the middle of nowhere so I was really looking forward to our trip. It was only when I went to google the place to find out where we were going that I found a bunch of articles about the place being haunted! It had even featured in an episode of the British TV show 'Most Haunted'.
Over its history, Halsham House had been used as a school, arms house, hospital, convent, and a private dwelling. To make the place even spookier, a church and graveyard can be found on the grounds of the property which is also said to be haunted. The owner's dog is said to bark randomly at nothing and people have an uneasy feeling like they are being watched. There are several suites available to stay in at Halsham House but we had booked to stay in the Constable Suite which turned out to be located in the attic area. This suite comprises of a bedroom, bathroom, kitchenette, and private access to a sitting area just outside the room, overlooking a balcony into the rest of the house. This sitting room is supposedly the most haunted place in the building and poltergeist activity has been sighted here. In the 1970s when some roofing work needed undertaking in the attic some small bones were found here but they were never analysed to see if they were of human or animal origin. Could these have been from a sacrifice, witchcraft, or just an animal that got trapped in the walls?
During our stay, we didn't experience any ghostly activities ourselves, although we didn't particularly use the sitting room where most activity is recorded. One night, however, I stayed up on my own while my boyfriend had already gone to bed. I was sitting at the table in the kitchenette just playing on my phone with my dog at my feet. Suddenly she got up and stood up at the door which led to the sitting area as if she had been alerted and listening to something on the other side. At that point, I was a little freaked out so went straight to bed although I didn't sleep too well after that! Perhaps she could sense something going on just the other side of the door or maybe she was just telling me she needed to go out to pee! I guess we'll never know…
Amy from The Travel Fairies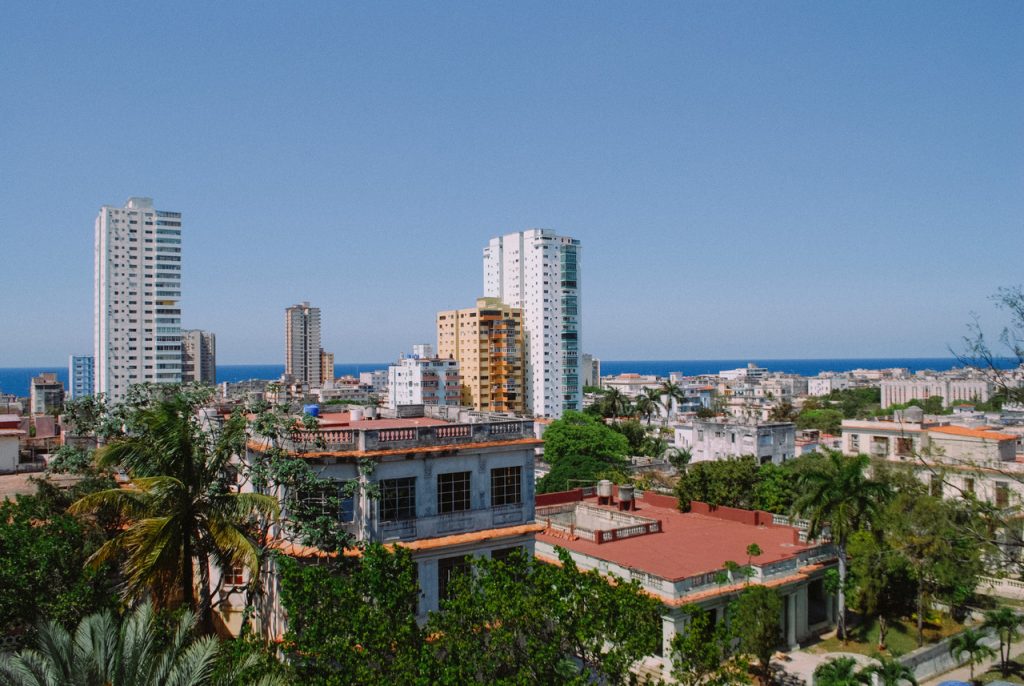 Hotel Nacional – Havana, Cuba
A popular destination for anyone looking to travel to Havana, the Hotel Nacional is one of the city's – and the country's – grandest and most historic hotels, and a powerful reminder of the Cuba from generations past. This historic hotel was once the center of upper-class social life in Havana, and an especially attractive destination for the mafia and mobsters from the United States who ran Cuba's casinos. Still attracting politicians, celebrities, and the rich and famous today, legend says that previous generations' guests continue to walk the halls of the Hotel Nacional and relive their unforgettable memories here.
Legends hold that a variety of ghostly figures have been seen throughout the hotel, including the ghost of Frank Sinatra, who famously performed here to entertain a meeting of some of the United States' most notorious mobsters. Another frequent haunted occurrence includes seeing the antique hands that indicate the location of elevators between floors moving wildly and without reason, adjusted by unseen hands.
During the many occasions that I've visited the Hotel Nacional, I've never seen or felt anything personally to confirm the legends of the hauntings, though even just stepping inside the hotel you'll certainly feel the history of the place immediately. Hotel Nacional does a fantastic job of preserving and highlighting their history with mementos from previous visitors on display – you can even find plaques in the dining room memorializing the meals that their most famous patrons enjoyed when they were in residence.
Despite the fact that the hotel is still in operation, there is a certain aura of faded luxury and grandeur of years past, with ballrooms and dining rooms less occupied and darker than ever before. Even if you don't spot a ghost yourself, perhaps this is what contributes to the legends of the Hotel Nacional being haunted.
Carley from Home to Havana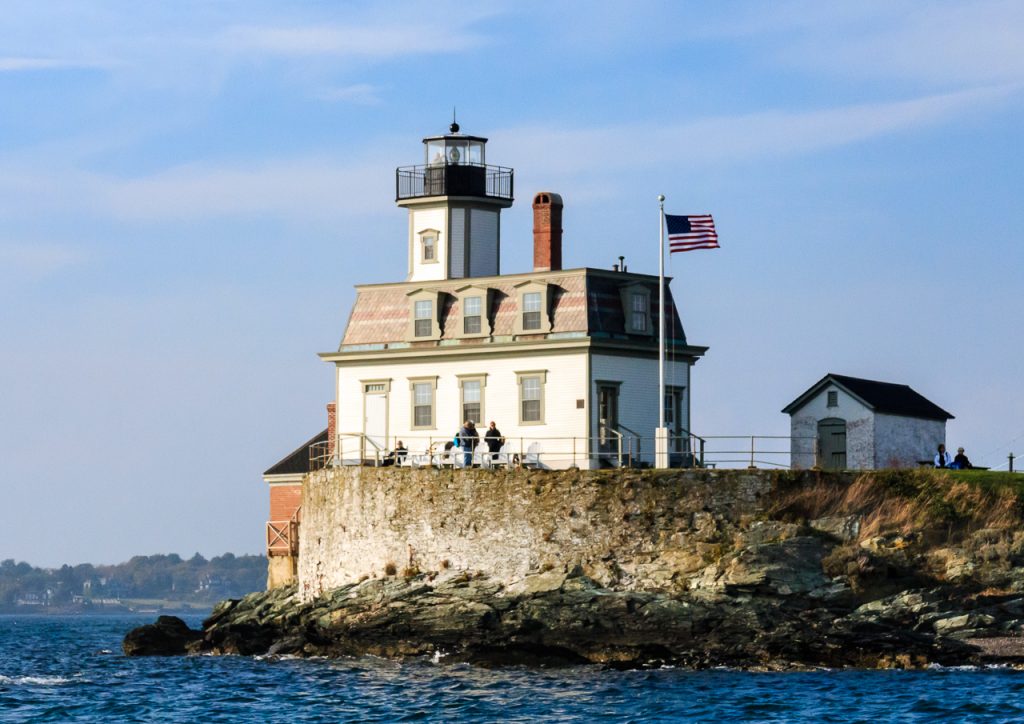 Rose Island Lighthouse – Newport, Rhode Island, USA
It is definitely an unforgettable experience to spend the night at the haunted Rose Island Lighthouse in Newport, Rhode Island. Ghosts are said to haunt this lighthouse, including those of cholera victims banished here and a former lighthouse keeper named Charles Curtis.
There are reports of footsteps and voices being heard from the haunted lighthouse. On-site photos have anomalies that suggest otherworldly presences. The experience here for me was a peaceful, ghost-free one, however not everyone is so lucky.
Among the five accommodation options available at Rose Island, two are known for paranormal activity. Visitors have heard footsteps in the Keeper's Quarters of the lighthouse and one visitor reportedly captured a photograph of what may be an apparition. Guests have heard voices or experienced intense feelings of discomfort in the Barracks Room, where the quarantined cholera patients stayed, as if another presence was present with them.
Much to my dismay, the highlight of my stay in the Keeper's Quarters was nothing more than some creaky floorboards. That's not to say the rumors aren't true, however!
Take the risk of spending the night. The hotel has such a reputation that it was actually featured in an episode of the hit TV show Ghost Hunters!
Spending the night at Rose Island Lighthouse is definitely one of the best things to do in Rhode Island, particularly for lovers of the paranormal, but there are plenty of other things to do here – both in Newport and in the rest of the state.
Jade from The Migrant Yogi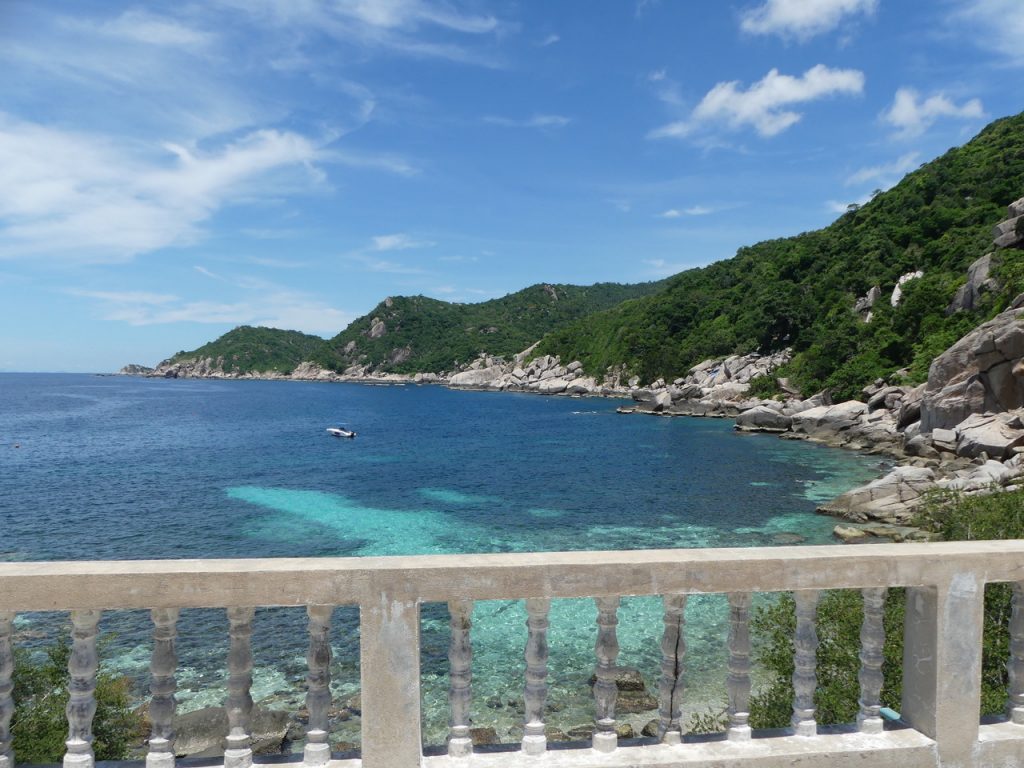 Koh Tao – Thailand
Koh Tao is home to an incredible abandoned hotel that has turned into somewhat of a notorious tourist attraction. The island is one of the most popular in Thailand among backpackers and other travellers. Koh Tao has a lot of dense jungle which is where the abandoned hotel is located. It's quite difficult to access because the road there is incredibly overgrown and the hike takes around 2 hours. The much easier option is to hire a kayak and reach the hotel via the water. Head to Tanote Bay from where it takes just over 15 minutes to get to the private bay where the hotel sits. Not a lot is known about the history of this beautiful resort and why it was abandoned. It's in remarkably good condition considering so many travellers have visited it over the years. You can still see the old wifi password written on the wall and a lot of the rooms still look decently inhabitable. There are also some cabins in the jungle which are worth exploring. Just watch out for lizards and snakes that now make the hotel their home. You, of course, need to bring your own camping gear although you can just sleep under the stars or in an abandoned room if you're not afraid of ghosts. It's a magical place to stay and although slightly spooky definitely a fascinating haunted hotel experience although it might be a bit unconventional.
Victoria from Guide Your Travel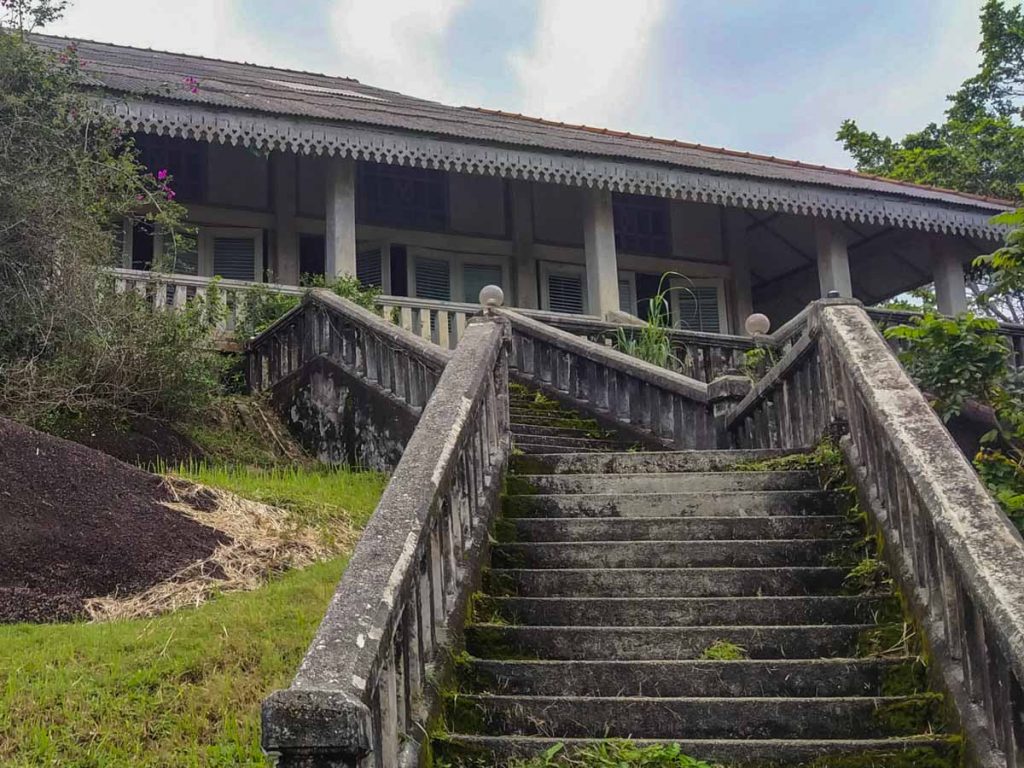 Crag Hotel – Penang, Malaysia
Malaysia's most famous "haunted hotel" (there's even a horror movie shot here, "Irul: Ghost Hotel") is the Crag Hotel. It's an abandoned cluster of bungalows set on a less-visited part of the popular Penang Hill.
The place has been unused and empty since 1977, when the Uplands School, which had boarding quarters in the Crag's building since 1955, moved from the top of the hill to sea level. All these years of neglect have not ruined the building that much, but in typical Malaysian fashion (anything that's abandoned is believed to be haunted by ghosts) have definitely contributed to making the Crag Hotel a "haunted place".
I visited at the end of a hike up Penang Hill: one reaches the green clearing where the hotel's main private bungalows cluster around an old, disused, and frankly spooky stone well after an atmospheric slog along an old water irrigation canal built by the British settlers.
All the bungalows are open and unlocked, some slowly eaten by tropical vines, others in much better conditions, but obviously stained by humidity and frequent rains. I've never visited at night (I don't dare walk the steep trails downhill in the dark, rather than fear any spooky encounter) but even during the day, the place has a surreal atmosphere — almost as if the sounds of birds and animals could not reach these empty chambers.
The Crag Hotel's main hall still conserves its original wooden lobby and a full-fledged kitchen with an old pulley system to move food to the lower ground. The wooden floorboards creak when you walk on them, and large windows and colonial furnishings give the place a sumptuous, old world feel… not a scary one, but it's easy to conjure thoughts of spirits when walking in here. On the way out, many hikers have reported being chased by dogs, so be careful — not much of the dogs, but of the things they see flutter all around you, and you can't…
Marco from Penang Insider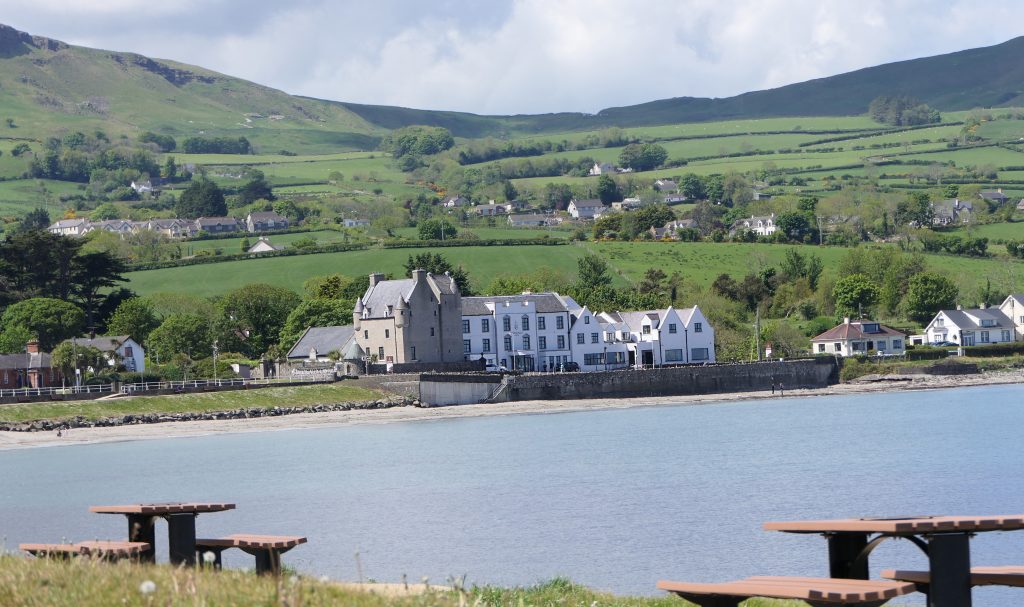 Ballygally Castle – Larne, Northern Ireland
The Ballygally Castle Hotel is a haunted hotel in Northern Ireland located in the town of Larne. The hotel is situated along the Antrim Coast Road and amazing views can be experienced right nearby as the ocean is seconds away.
The castle was founded in 1625 by James Shaw and has a ghost room which you can actually visit if brave enough! This very room is where Lady Isobella Shaw fell out the window to her death after her husband locked her in. She tried to escape and find her son who her husband tried to keep from her. Now, she haunts the hotel and guests have said to feel her very presence to this day.
The hotel nonetheless is very comfortable to stay in and shouldn't scare you away from staying in this remarkable place. There is a restaurant inside called The Garden Restaurant in which you can book for dinner. Breakfast and afternoon tea are also available as well. Prices range at approximately $160 or higher for a room. The location is the perfect place to base yourself if you want to take a road trip through Northern Ireland. You can reach it from the Belfast Airport in 40 minutes as it's only 25 miles away. Staying in this hotel is a really unique experience – the 17th Century building and castle is a once-in-a-lifetime event! The Northern Ireland Tourist Board has also recognized its 4-star status.
Jackie from Jou Jou Travels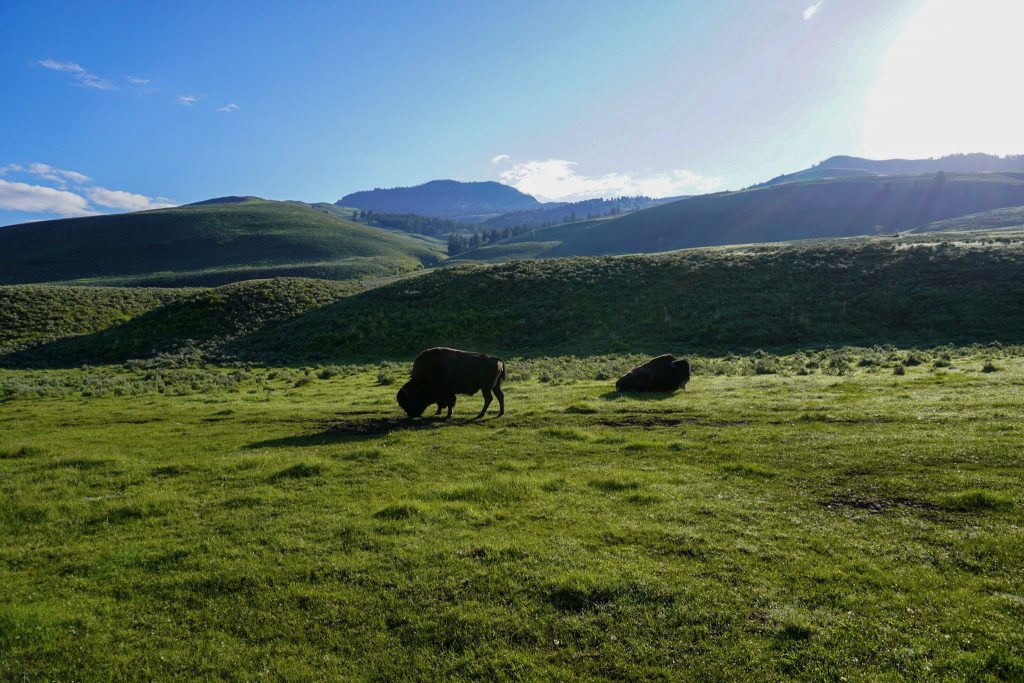 The Range Rider Lodge – Montana, USA
Like most allegedly haunted establishments, the Range Rider Lodge, located in Park County, Montana, right outside of Yellowstone National Park, certainly has an interesting history. The old and sprawling log cabin was constructed in 1938 and was once used for nefarious purposes, from drinking and gambling to prostitution. In fact, one of America's most infamous playboys of that era, Ernest Hemingway, frequented this spot while he spent a few summers living and working on a nearby ranch, boozing and enjoying the Lodge's darker side. Nowadays, the Lodge is much more tame- about a dozen rooms are rented for an affordable rate on Airbnb and the once-raucous saloon downstairs has been replaced by a sleepy wine bar with limited opening hours. Despite its tamer modern reputation, there's rumors that the Lodge is haunted, including ghost sightings of 1940s prostitutes to a young bride in her wedding finest. When I stayed at the Range Rider Lodge on my way to Yellowstone, I hadn't thought much of its sordid past- I frankly was mostly interested in its reasonably affordable nightly price. But having arrived at the dimly-lit and cavernous lodge late in the evening, it was easy to picture this place as a long-ago chaotic adult playground, complete with swinging saloon doors and flickering candlelight. My room itself felt like little had changed since the late 1930s- the tiny chamber only held a rustic bed and table, lit by just a dim lantern hanging from the wall. My stay at the Lodge was uneventful- other than some flickering lights and creaky floorboards, it was a quiet and restful place to stop along my journey west. Notwithstanding my lack of ghost sightings, I very much enjoyed my stay, offering me a tiny peek back at the bacchanalia of when the West was still truly wild.
Jessica from Uprooted Traveler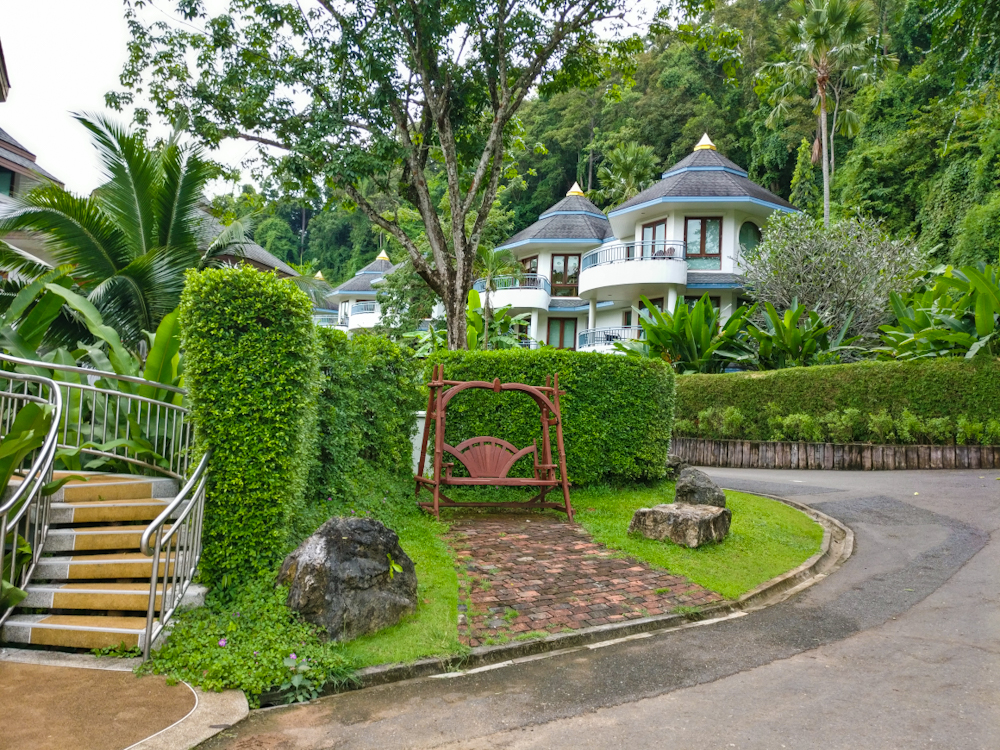 Krabi Resort -Ao Nang, Thailand
Every year my friends and I plan a trip to someplace new to get out of our mundane routines and experience the thrill of seeing a new place. This was our first international trip and we were very excited about it as we were going to the party hub of the world – Thailand.
Our second stop was Krabi and we had booked this luxurious resort namely Krabi Resort on Ao Nang. With a private beach surrounded by fragrant firangi pani plants and coconut trees, it's the last place you would think of experiencing something paranormal.
Our group was split in 2 luxurious villas. In the middle of then night at around 3 am, our friends in the other villa rushed to our room. We were bewildered as they were in a state of shock and scared out of their lives.
After calming them down, we made them tell us what exactly happened in their villa. Apparently from 1 am onwards, the fan in the villa was getting switched on and off on it own. This went on for an hour. They then called the reception who sent someone to check if the connection was faulty. Turns out it was working just fine. After the hotel staff left, my friends experienced the same thing again and this time even the TV switched on and off.
My friends were creeped out to say the least and ran out of the villa straight to us. They ended up spending the night with us, too frightened to return to their room.
The hotel is not known at have any paranormal sightings. To this day we do not know if what they experienced was a paranormal experience or not. Whatever it was, we now laugh and tease our friends about it.
Jesal from Tourist to Travellers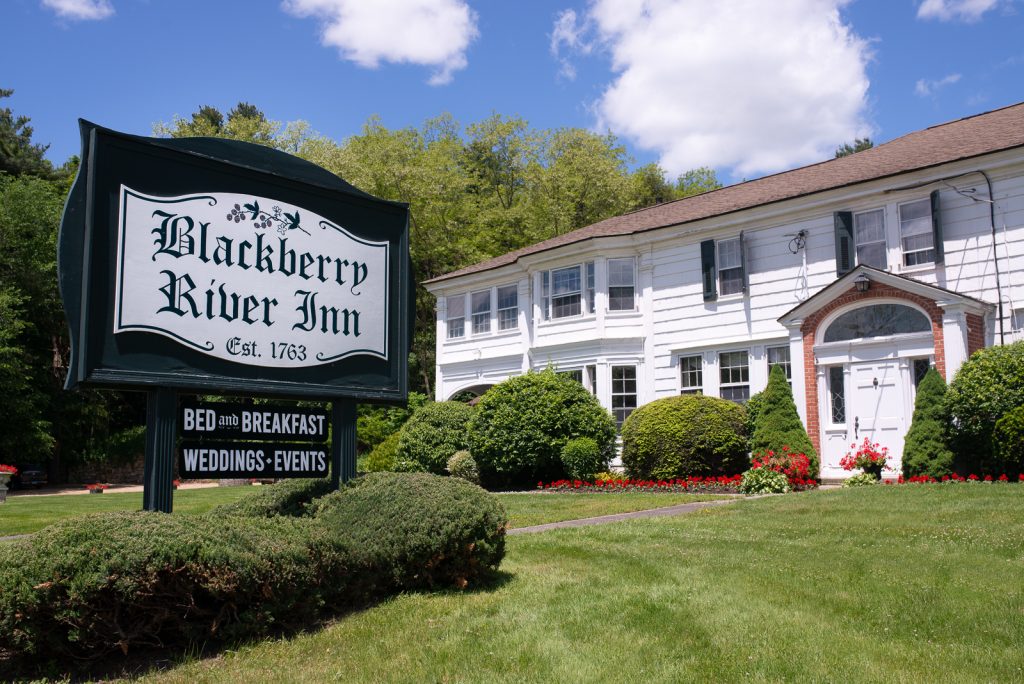 Blackberry River Inn – Canaan, Connecticut, USA
The Blackberry River Inn is a place that I've known my whole life. It's in my mother's hometown, and she worked there as a young adult waiting tables. However, I didn't get a chance to stay there until I was in my forties. My mother had moved into an old folks home, and we no longer had a place to stay when visiting. It was wonderful to finally step inside this grand old inn, with its grandmotherly feel, and the best breakfast around.
My husband and I stayed in the manor house, and we were happy to see the stolid wooden bed that looked so comfy with its frilly pillows and comforter. The only unusual thing was there was a dip in the bed on the bottom right. It looked like someone had sat there and didn't smooth the coverlet afterwards. We didn't think much of it, but we did smooth it out.
We went to visit Mom and have dinner, arriving back at the inn close to dark. As soon as I opened the door, I noticed that the dip was once again in the bed. It was just the right size of someone's backside. Not thinking much of it, and a bit tired, we jumped right into bed to go to sleep. In the middle of the night, I heard my husband say move over, but I was no where near him. The next morning he said someone was pushing him off the bed, and of course he thought it was me.
Well, that was the final straw, we were sure there must be a ghost in the room. We tested our theory by continually smoothing out the dip and switching sides to see if I would get pushed off the bed. I did. Someone didn't like us in his or her space. We never saw the ghost, but I have no doubt it was there.
Corinne from Roving Vails