With Halloween fast approaching, you might be starting to make plans about where you should celebrate this year! With so many options available, I decided to ask a few of my favourite travel bloggers where they think the best places to visit in the UK for Halloween are! Whether you are looking for some family-friendly fun or a genuinely scary experience you're sure to find a few places to add to your Halloween bucket list below!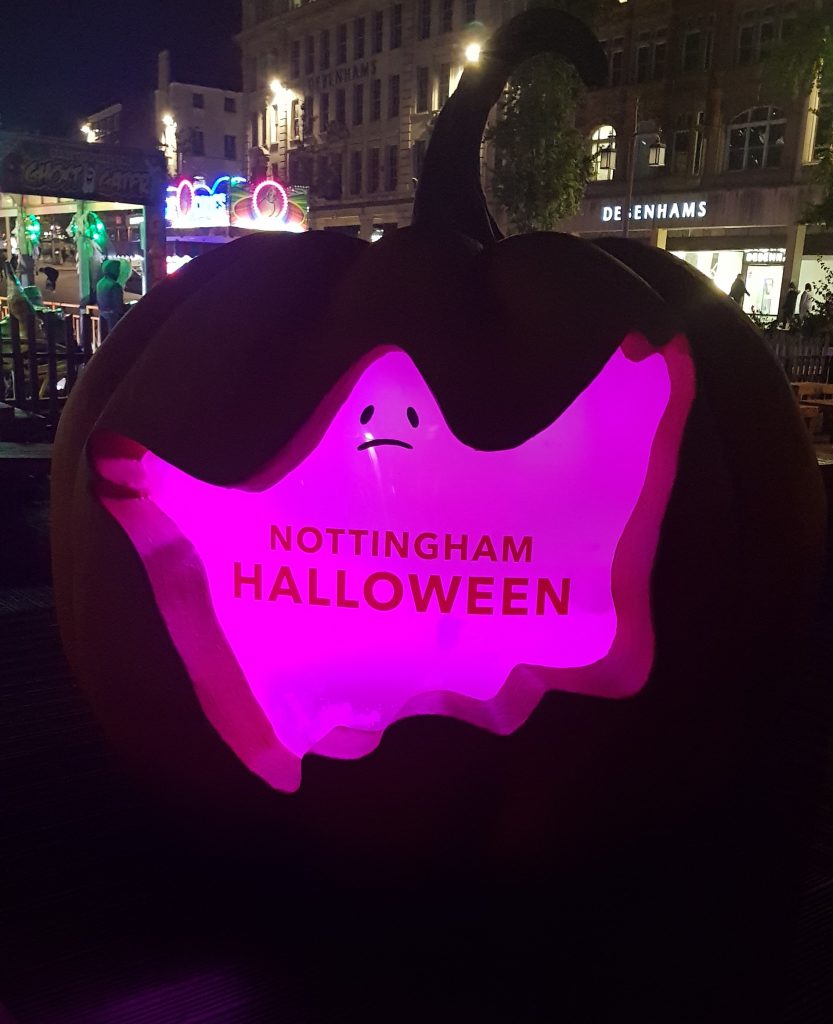 Nottingham, England
Located fairly centrally in England, Nottingham is a great city to visit at this time of year as there is so much to do for Halloween. The Old Market Square gets dressed up for Halloween with several scary attractions located right in the city centre. Buy a spooky treat from the market stalls, take a ride on the ghost train, try a witches brew in the Halloween themed bar, or if you're feeling brave visit the Horror Hotel, a live-action scare maze.

If you're visiting for a longer period of time, there are also plenty of other places around Nottingham that are supposedly haunted and are worth checking out. The Nottingham Castle is home to several ghosts and ghouls especially the tunnel system which runs down from the Castle grounds to the Brewhouse Yard and is said to be the location of several evil deeds. The Galleries of Justice have been voted the most haunted building in the UK with several spirit sightings throughout the 500 year old gaol and courtroom. Why not pair a ticket to the Galleries of Justice with a visit to the City of Caves which runs tours exploring the labyrinth of caves that run below the streets as well as explaining some of the dark history. The Original Nottingham Ghost Walk runs ghost tours around the city centre from Ye Olde Trip to Jerusalem, which claims to be the oldest Inn in England, every week but has a special tour at Halloween. There are also several other haunted pubs, bars and breweries around the city so you could embark on a self guided 'Spirit Tour' of Nottingham. If you want a real thrill, Escapologic has an escape room that has been compared to the set of Saw of the Chainsaw massacre. The city is even home to a haunted museum full of oddities from around the world!
By Amy from The Travel Fairies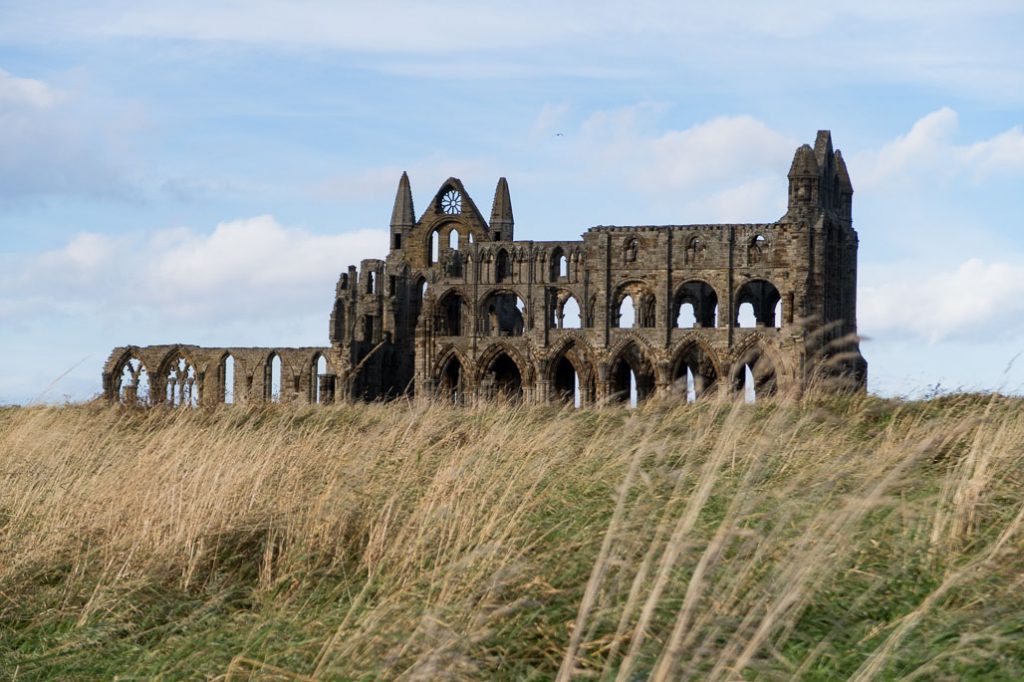 Whitby, North Yorkshire, England
Whitby is a small seaside town located on the coast of North Yorkshire. It has a bustling harbour with some of the best fish and chips in the whole of England which you can see being landed each day. Boat rides take you out into the bay giving you stunning views of the town and Whitby Abbey on the hill overlooking the town. The harbour has two lighthouses (one on each side of the harbour entrance) and two light markers which make for a lovely sunset walk. As with all lighthouses they are right at the end of the harbour walls.
Whitby Abbey was established in AD657 as a monastery and has seen numerous wars and extensive destruction over the last 1500 years. It is now ruined and can be visited. Over Halloween each year, the story of Dracula by Bram Stoker is brought to life in the ruins of the abbey. The walls are illuminated, and actors re-enact the story in the semi darkness of the ruins.
Whitby features in this classic novel and the 199 steps that lead from the harbour to the abbey are the steps that Bram Stokers mystical animal runs up after jumping ship. All the way up the steps are benches meant for resting coffins on the way to the graveyard at the top of the steps.
If you have an interest in Dracula, there is small museum on the town centre. There is also a museum remembering the life of James Cook who lived and trained in the town before his famous voyages of discovery to the Pacific Ocean, Australia, and Newfoundland.
By Suzanne from Meandering Wild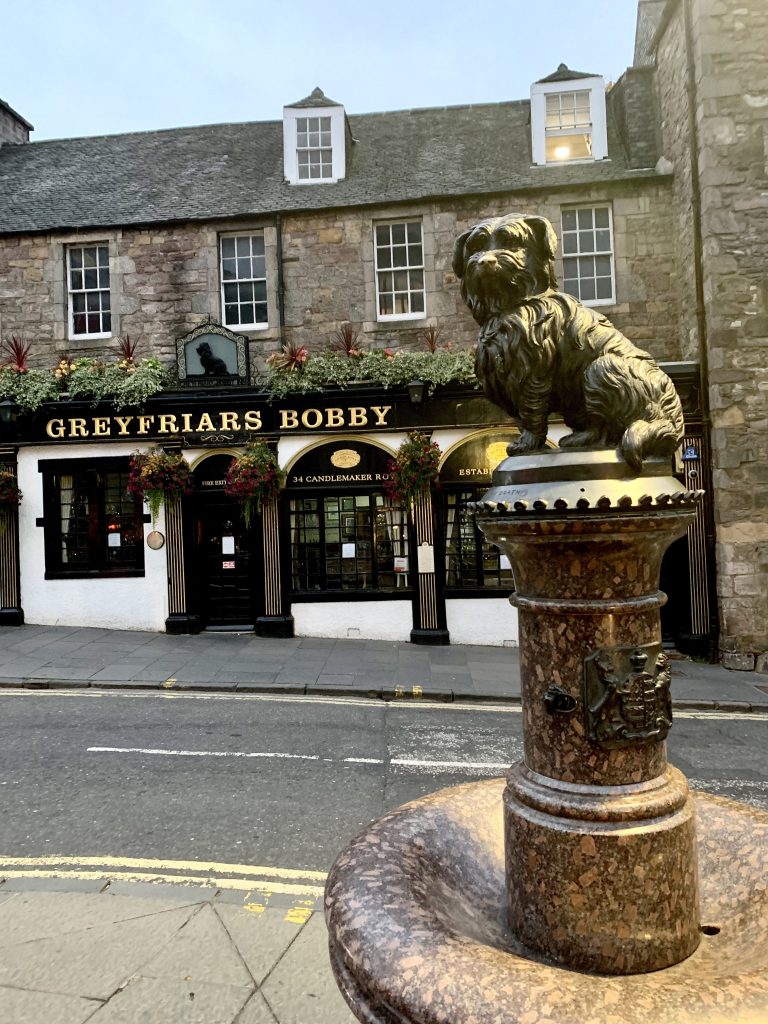 Edinburgh, Scotland
If you're looking for ghostly goings-on then Edinburgh is the city to visit.
It's jammed with haunted history – and when I say that I really mean it. There are grisly tales of body snatchers, a pub that marks that spot where public hangings used to take place (aptly named The last Drop – pause on what that name really means) and the story of a loyal dog that fiercely guarded the grave of its late owner. See what I mean?
So what should your Halloween itinerary look like? Start the day at The Real Mary Kings Close, where you can experience a 17th century preserved street – underground!
You may want some fresh air afterwards, so why not go on one of the Harry Potter walking tours around the cobbled streets of Edinburgh's beautiful old town? You can also stop at the coffee shop where the first book was (allegedly) written, The Elephant House Café.
Next, discover the skulls and crossbones of Greyfriars Kirkyard and pass by the statue of Greyfriars Bobby – the loyal dog I mentioned earlier – making sure to rub his nose. Then head back underground on a tour of the famous Edinburgh vaults. If that's not enough then on Halloween itself you can go to the fire festival, a pagan festival that starts on the city streets and ends up atop Calton Hill. Expect chanting, body paint, and lots of drums!
If you want to continue the spooky theme into the evening then why not discover some more 'spirits' at some of the local bars? Deacon Brodies is named after the inspiration for Robert Louise Stevenson's Dr Jekyll and Mr Hyde – and another one of my favourites is Whistlebinkies. It's a live music bar and is great on Halloween or any other night!
By Lucy from Lucy Lives Here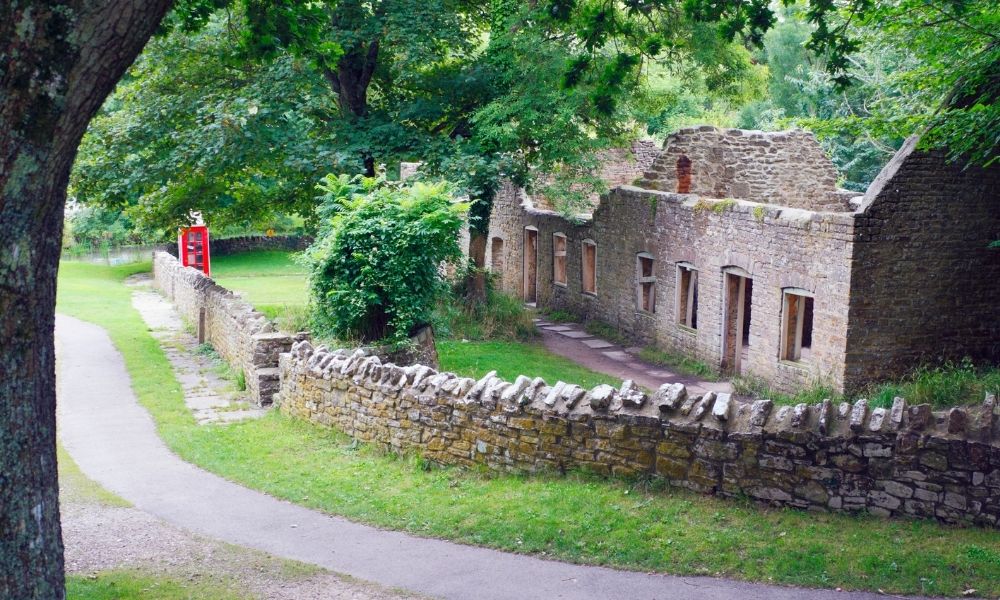 Dorset, England
If you're thinking of visiting Dorset at Halloween, there's plenty of spooky places to visit. Athelhampton House is known to be one of the ten most haunted houses in the UK. The 15th Century manor house has recorded multiple ghostly presences over the years. These include a ghost named Cooper who resides in the wine cellar.
At Nothe Fort in Weymouth, the underground passageways are said to be home to a whistling gunner and others that died during the Second World War. During October, Nothe Fort have a great calendar of spooky events for adults and children alike.
One of the most famous spooky sightings in Dorset has been at Corfe Castle. A ruined castle steeped in history over the years. What was once a thriving Royal castle, it was demolished during the Civil war when Lady Bankes was overrun by her own Garrison. There have been sightings of a headless white lady, who is speculated to be the lady who betrayed the Bankes floating about the ruins.
The village of Tyneham near Wareham, is sometimes known as the forgotten village in Dorset. During the Second World War, the village was abandoned suddenly, being needed as a training site for the military. The residents were never allowed to return, and the village has stayed deserted ever since. There is an eerie atmosphere to the village which is open for visitors to wander through. Whilst there haven't been any ghostly sightings, there have been recordings of strange whisperings.
By Angela from Exploring Dorset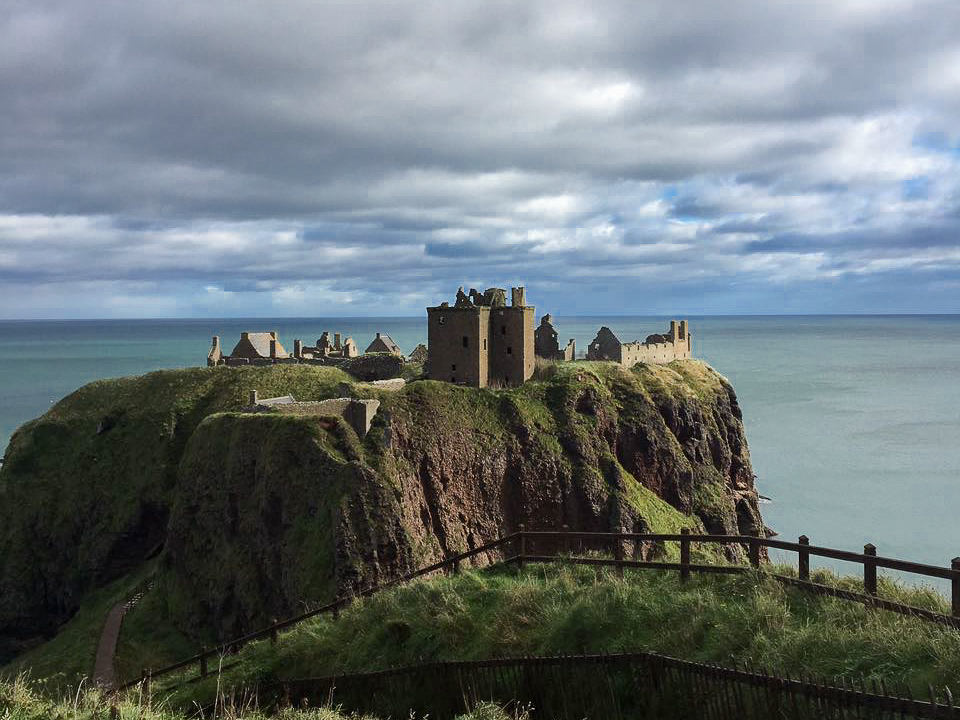 Dunnottar Castle, Stonehaven, Scotland
Dunnottar Castle is one of Scotland's most well-known and beautiful castles. It's perched on a cliff with views of the sea and the adjacent shoreline. Despite its remote setting, it is relatively easy to reach. The small village of Stonehaven, which has a train station, is only a 30-minute trek from the castle. Tickets from Aberdeen, a nearby city, are reasonably priced, and the rail journey is short. While you may drive to the castle and park there, the hike is highly recommended if you have the time. The scenery is breathtaking, and the cliffs make for fantastic photo opportunities. Although there appears to have been a fortress in this position during the Middle Ages, Dunnottar Castle dates from the 15th century. When the area was under siege in the 17th century, Dunnottar Castle was famous for sheltering the Scottish crown jewels. The majority of Dunnottar Castle has been renovated and is now open to the public. Plan to spend at least a couple of hours at the castle because the grounds are quite large. Adult tickets are 8 pounds, while children's tickets are 4 pounds. It is open all year, though the actual hours vary. Pack comfortable shoes as you'll be walking quite a lot. To reach the castle you need to go down the hill and then up again. The hike is fairly easy to manage but includes stairs so it may not be accessible to all. There are tours available at the castle if you want to learn more about the incredible history of this beautiful place.
By Victoria from Guide Your Travel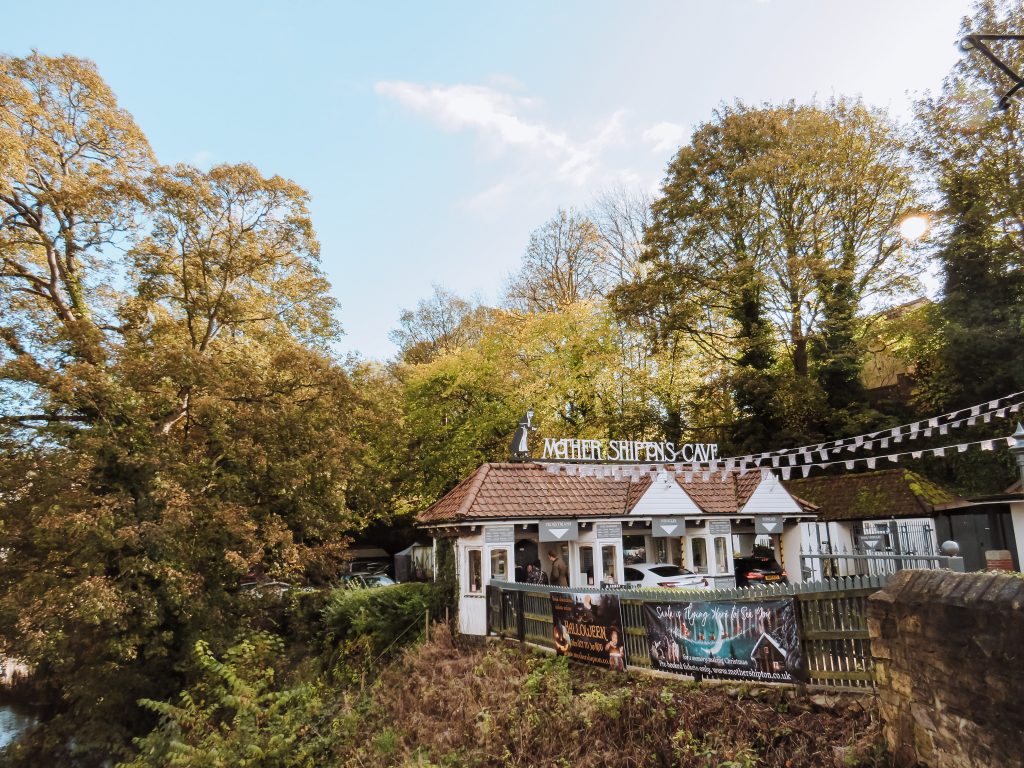 Knaresborough, North Yorkshire, England
The mysterious and charming city of Knaresborough is the perfect place to visit during autumn and Halloween – brown leaves falling, the misty weather and darker days. The town has always been known as very superstitious.
Although the place itself is always a good choice, you don't want to miss the enchanted forest in Mother Shipton's Cave, the oldest tourist attraction in England. It is one of those places you would associate with Halloween stories and films.
This attraction is located along the River Nidd, it's known for its tales about witches and magical powers – including the story of Mother Shipton, a lady that had a very unusual look and was recognised as a witch.
The forest has a well named the Petrifying Well which was believed to turn things to stone, and it was somehow magical.
During Halloween, the place gets even spookier. The forest is decorated with skeletons, pumpkins, and other Halloween decorations. Not only is it great for kids and families but people of all ages.
Everyone gets dressed and can complete a themed adventure trail as well as participating in the daily costume competitions.
Even if you aren't into competitions, you will love learning about the place and visiting the cave.
Last but not least, you can't leave Mother Shipton's Cave without visiting the museum and the gift shop where you will find unique and quirky souvenirs such as bottles of wishing well water and magical stones.
If you are planning to visit Mother Shipton's Cave on Halloween, make sure you book in advance to avoid any disappointments as it gets busy during that time of the year.
By Cristina from My Little World of Travelling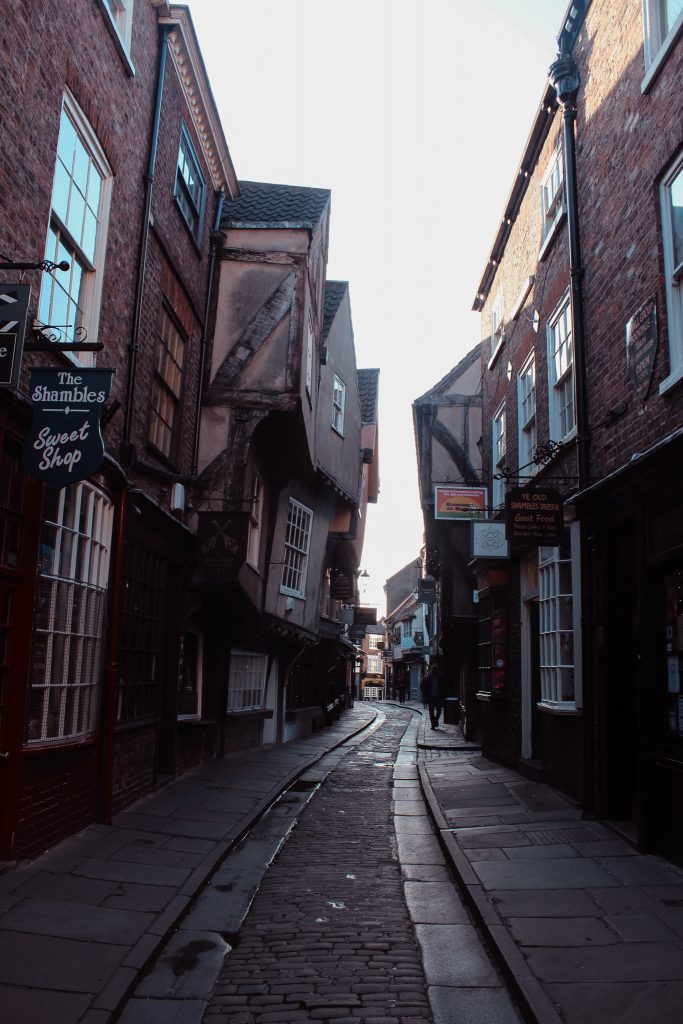 York, England
York is known as the 'city of a thousand ghosts' so where better to visit this Halloween? There are so many things to do in York, you could fill several trips. But if you're looking for the spookiest experiences this Halloween, here are the attractions you don't want to miss!
To kick off your spooky York visit, a trip to York Dungeon will be at the top of your itinerary. This chilling place uses live actors to bring some of York's more notorious residents to life. Meet highwayman Dick Turpin, and the infamous Guy Fawkes as you discover the dark side of York's past. Full of jumps and frights, a trip to York Dungeon will leave your heart racing!
If you're spending an evening in York, you don't want to miss the chance to join a Ghost Walk. These walking tours of the city take you to some of the most haunted sites. You'll learn the history of the people who never left York, even after their death. A Ghost Walk is a great way to see the city and learn more about the famous landmarks along the route.
If you're looking for a real fright, Hallowscream at York Maze is an experience you won't forget. With over 100 live actors, five haunted houses and countless screams, you can scare yourself silly at this award-winning Halloween event. It is guaranteed to get the adrenaline pumping! It is one of the most highly anticipated Halloween events in Yorkshire each year!
And finally, don't forget to pick up a souvenir to take home with you. York Ghost Merchant in The Shambles lets you choose your perfect spooky companion to take home as a memento of your trip.
By Hannah from Get Lost Travel Blog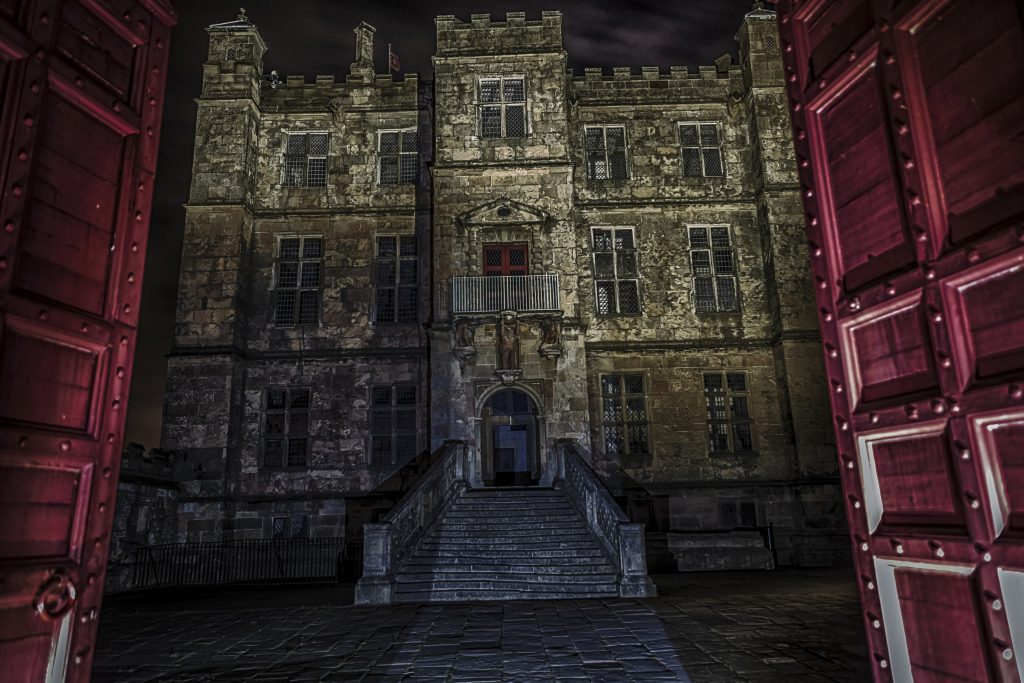 Bolsover Castle, Derbyshire, England
Have you ever imagined walking around an old castle at night that has seen many historical events over the centuries? If so, then going on a Ghost Hunting Tour is a unique, fun, and somewhat spooky way to learn about a place's history.

Bolsover Castle is located in Bolsover, a market town between Sheffield and Nottingham. According to the 2011 Census data, Bolsover has the highest concentration of people who claimed their religion to be Satanism. Therefore, the town is often referred to as 'the Satanic capital of Britain'.

The Bolsover Castle you see today is a 17th century castle that was built on the ruins of a 12th century medieval one. It is owned by English Heritage and its staff actually rate Bolsover Castle as English Heritage's spookiest site.

Both staff and visitors report strange and sometimes paranormal activities almost daily. These can range from creaking doors to seeing unusual lights and movements. Staff even record these experiences in a 'Ghost Book'. Just imagine the number of stories the night guards have.

If you can, I recommend spending some time exploring Bolsover and even having a bite to eat before your tour. The Ghost Hunting Tour takes place outside, so wear something warm with comfortable footwear.

On the tour you'll be walking around the castle in the dark which on its own is a unique experience. Each group will have an allocated tour guide, who will recount the crazy ghost stories of Bolsover. As you walk through the castle, you'll learn more about the castle's ghosts and the circumstances in which people saw them or experienced their presence.

So, if you'd like to do something spooky during Halloween, then going on a Ghost Hunting Tour at Bolsover Castle is the perfect activity for you.
By Kitti from Kitti Around the World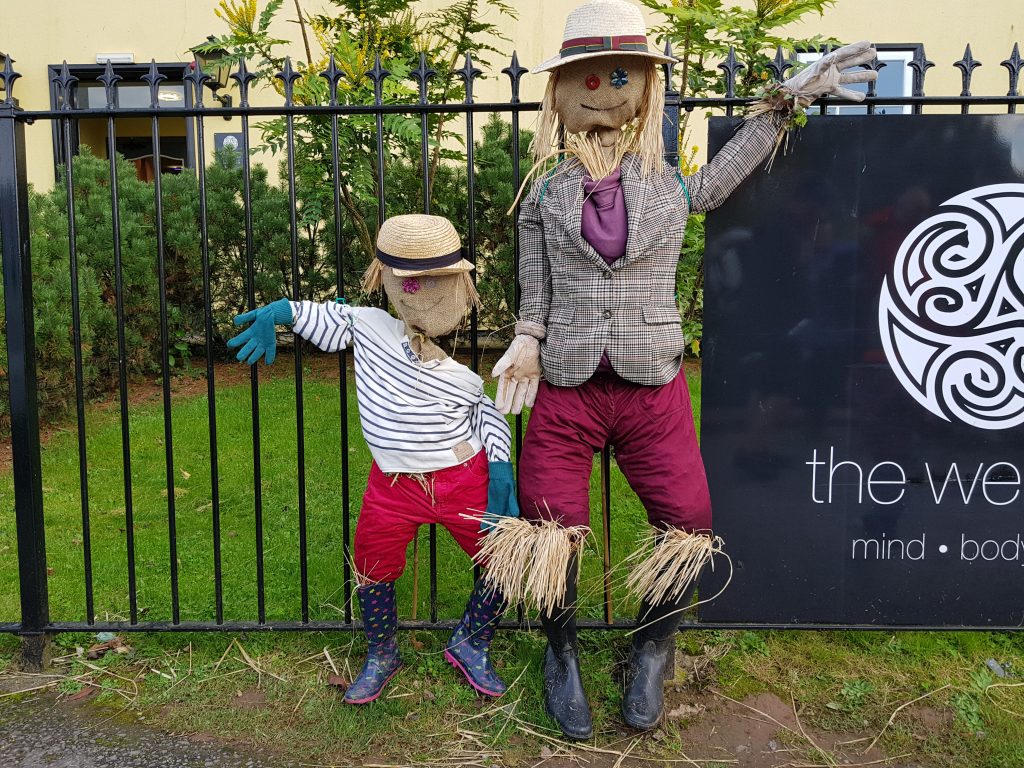 Bluestone, West Wales
One of the best places in the UK for a Halloween getaway is Bluestone in Pembrokeshire. This west Wales resort goes all out at Halloween and combines outdoor adventure with the chance to relax in a beautiful and natural setting.
Bluestone Resort is similar to Centre Parcs and has lodges of various sizes for families, couples, and other groups, including hen parties. The resort is a car-free resort and you can get around by walking, cycling, driving a golf buggy, or getting the resort train.
At certain times of the year, Bluestone comes alive and one such time is Halloween. Dotted around the resort you will find scarecrows, witches, crows, bats, and of course lots of pumpkins. During Halloween, you can celebrate with the Bwbach Festival which runs from the beginning of September to Halloween night.
The festival is both adult and family-friendly with workshops such as the spooky science workshop, a scarecrow hunt, pumpkin carving competitions, and more. There is a parade, fun shows and more to celebrate the season at Bluestone.
For adults who don't want to join these sorts of activities, there is a spa where you can enjoy relaxing treatments in a luxury setting. There are also other adult activities to enjoy and you can also explore the beauty of west Wales outside of the resort.
So, whether you are a couple, family, or hen party and are looking for somewhere fun for a Halloween break, consider heading to the Bluestone Resort in West Wales.
By Cath from Wales with Kids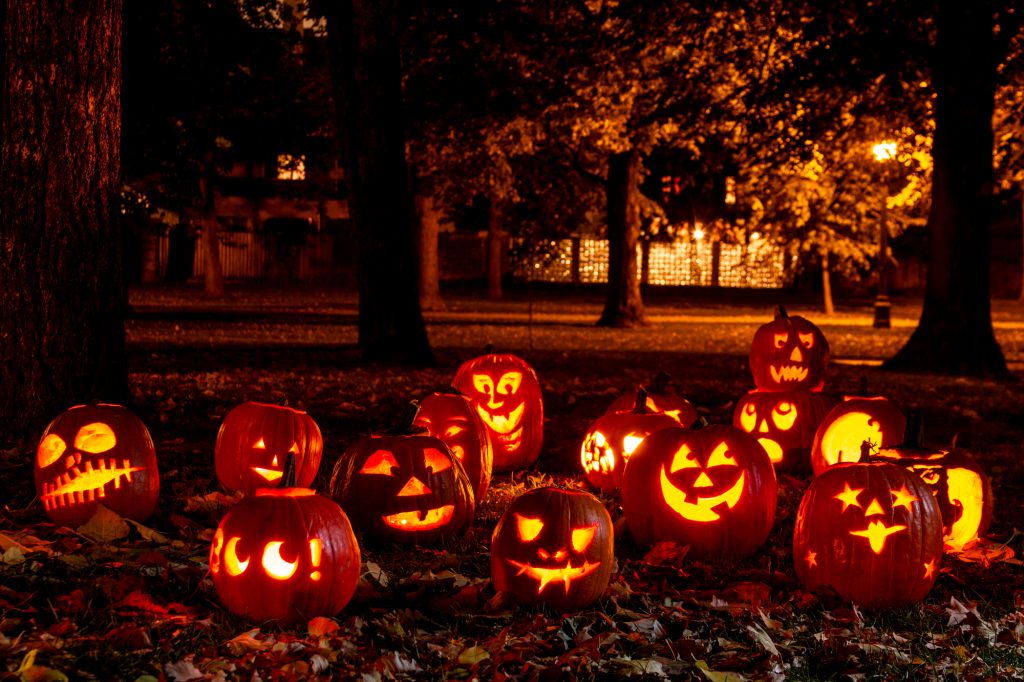 Norfolk, England
Norfolk is a great county to visit for Halloween events, it has a great mix of family friendly days out and super scary adult themed scare mazes, so there really is something for everyone.
Norfolk has some brilliant attractions, and they all get totally into the Halloween theme, the Great Yarmouth Pleasure beach has fairground frights, which won awards last year, imagine riding on a rollercoaster with zombies chasing you!
Roarr! Dinosaur Adventure is a lovely family day out during the October half term with lots of family Halloween effects, then it transforms at night into Primevil, an adult event full of scare attractions that really are quite unnerving! But its great to walk through the dinosaur models with characters jumping out at you!
This year sees a new scare attraction coming to West Norfolk, called Nightmares in Norfolk, a terrifying collection of scare mazes for you to navigate, enter if you dare!
One show you won't want to miss is the Hippodrome Circus Halloween Spooktacular, its an amazing show with lots of spooky theatrics too, definitely one to book early for.
Other local family theme parks put on Halloween themed events throughout October, Wroxham Barns is a great farm park that also offers a pumpkin festival for all the little ones, carve a pumpkin and groom a pony! Pleasurewood Hills theme park becomes Pleasurewood Chills, a family day out to ride all your favourite rides with some spooky, family friendly additions.
Hirstys Family Fun Park has pumpkin picking as well as the barrel rides, maize maze and the farm animals to meet.
If you are looking for somewhere to pick a pumpkin, there are quite a few to choose from in Norfolk, you can find out more about them over on https://eastangliafamilyfun.co.uk
By Mandi from East Anglia Family Fun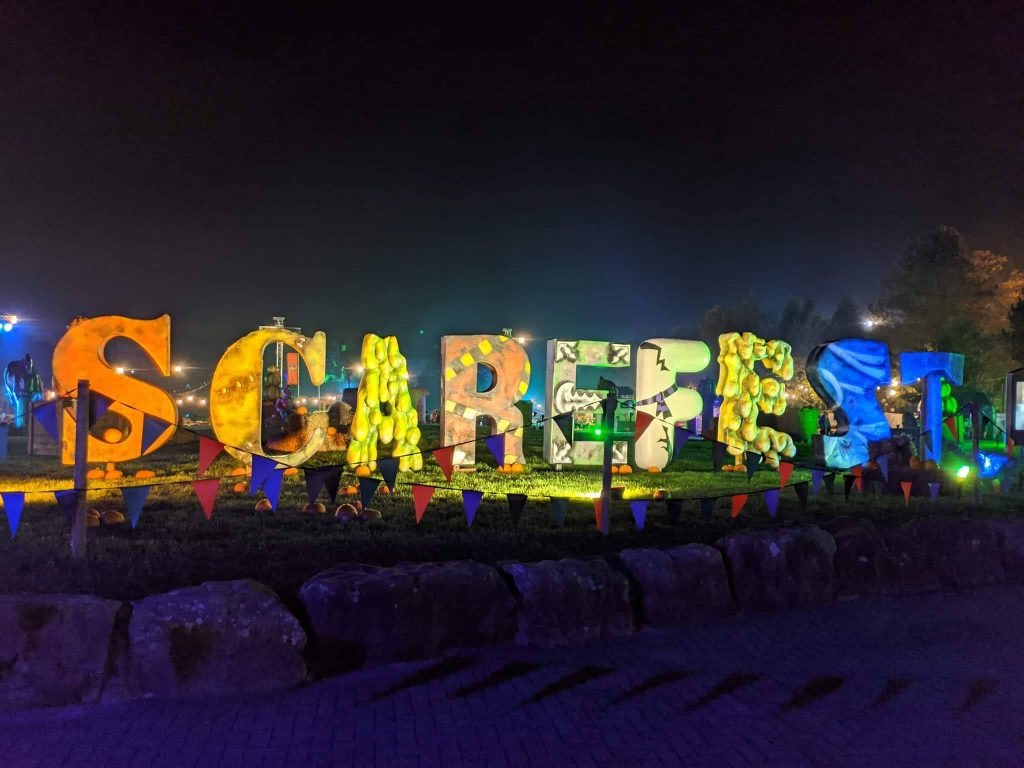 Alton Towers, Staffordshire, England
One of the best places in the UK to visit for Halloween is Alton Towers. Not only is this theme park one of the top parks in the world, but it also hosts the annual 'Scarefest'.
Situated in heart of Staffordshire England, Alton Towers is unique in that it has massive grounds, woodlands, and natural lakes. During Scarefest, the forest becomes 'haunted' with spooky decorations that are intended to scare you. The gardens are also illuminated with beautiful designs and colours which make the walk even more enchanting.
Thrill seekers can purchase additional 'scare mazes' that are in different areas within the park and which each have a different horror theme. There is the option to pay for all mazes at a discount or just pay as you go for each one. Booking for a specific time slot is necessary but this is easily done on the Alton Towers app.
There are also several rides that are even scarier during Halloween. Wickerman, the wooden roller coaster looks particularly frightening as it is lights up with flames. Alternatively, head to the dark forest for lots of screams on Th13teen, the world's first vertical free fall drop rollercoaster. Best of all, during Scarefest, Alton Towers is open until 9pm so that you can experience everything in the dark.
Alton towers is one of the best theme parks in Europe and at Halloween you get double the excitement. So, what are you waiting for? The only thing left to do is to choose your costume.
By Kerry Hanson from VeggTravel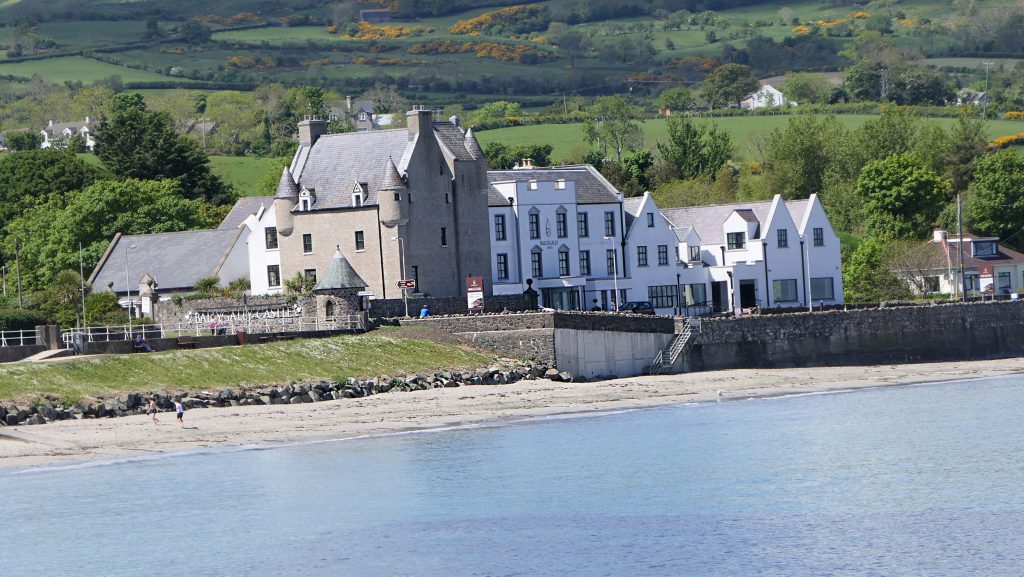 Northern Ireland
Halloween is celebrated across Northern Ireland with lots of activities to do in the main cities of Belfast and Derry. But there are also plenty of dark and creepy places to visit across the country to get into the spirit of Halloween.
In Belfast there is a Gruffalo Halloween Guided Walk in Colin Glen Forest Park, Halloween fun at Rowallane Garden where you might spot a fairy or even a witch, and pumpkin patches, giant Halloween puzzles, and more, which are especially fun for families. Derry holds a festival that is packed with creepy activities and events.
For the brave among you, head out to Glenuilin in County Derry to visit the site where the original male vampire is buried. It is said Abhartach is buried standing upright and upside down. Locals give this site a wide berth, especially at night!
Why not go for a pint in arguably one of Ireland's most haunted pubs, Grace Neill's Bar in County Down. It is said the spirit of the 98-year-old former landlady still frequents the pub, cleaning glasses and straightening chairs at closing time.
You could also visit the Crumlin Road Gaol in Belfast, where it is said the ghosts of deceased inmates roam the iron walkways and wail in the night. The ghosts of former actors and stagehands are said to remain at the Grand Opera House, also in Belfast.
And, if you are feeling really brave, there are two hotels to stay in that are said to be among the most haunted places in Northern Ireland. They are Ballygally Castle Hotel, one of the best castle hotels in Ireland to stay in, and the Dobbins Inn. Both are said to have the ghosts of former owners roaming the corridors at night, and even stroking the faces of guests!
Whether you fancy a Halloween festival or are looking for a haunted place to visit, there are plenty to choose from in Northern Ireland.
By Cath from Travel around Ireland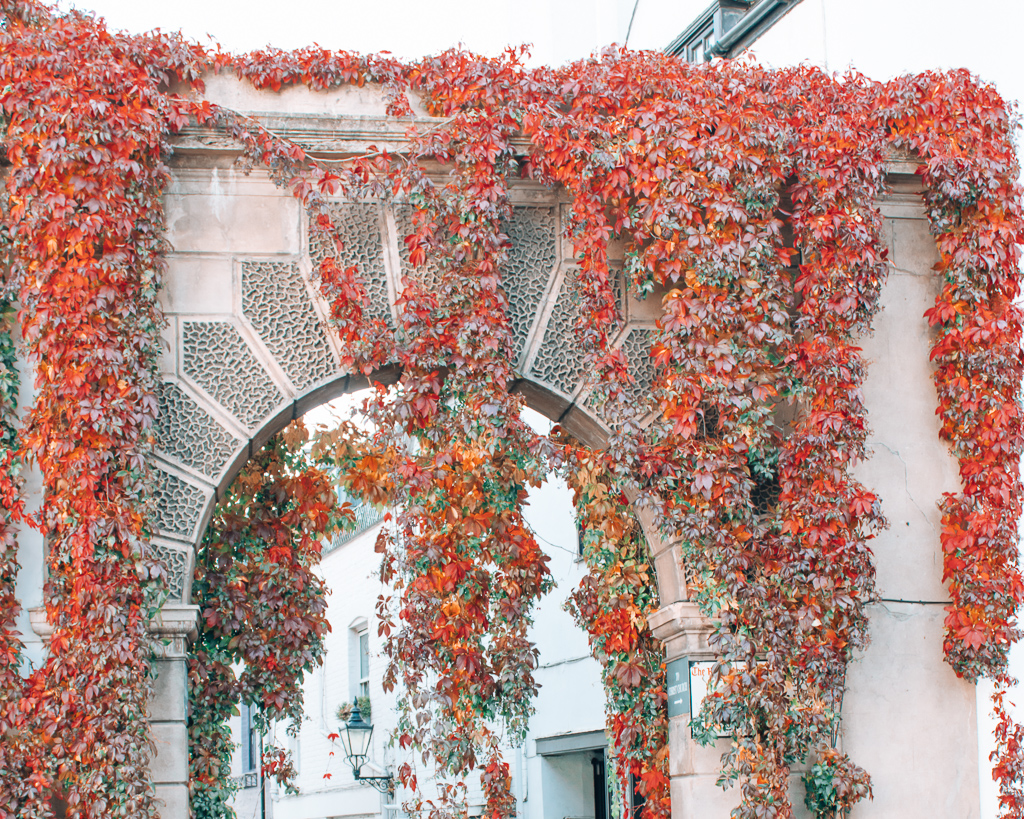 London, England
One of the best places to visit in the UK for Halloween is the capital London. There are lots of great things to do in the city during this time. Moreover, during Halloween, many places in the city become a lot scarier! One of the best Halloween activities in London is going to The Forbidden Forest Cinema. This is a pop up cinema where you can see horror movies in the days leading up to Halloween. Furthermore, the cinema is transformed to look like a scary place, which is awesome! Another one of the best things about London during Halloween is that there are many places with pumpkin displays. For example, Covent Garden has a Halloween-themed display every year. These places are also some of the most Instagrammable places in London ! What's great to do in the city during Halloween as well is going to The London Dungeon that has a special event during Halloween. This is always a creepy place to visit, but during Halloween it is even more spooky! Besides that, there are lots of Halloween events throughout the city. One of these is "Fright Night Cinema – The Crow". This is a Halloween party that takes place at The Rivoli Ballroom, which is one of the oldest ballrooms of the city. You can see here the horror film The Crow and you can enjoy a night full of scary things. Besides that, the place has been transformed in a dark Halloween bar, which is amazing during Halloween! Also, there are several places in the city where you can do pumpkin carving. This traditional activity is a lot of fun as well!
By Dymphe from Dymabroad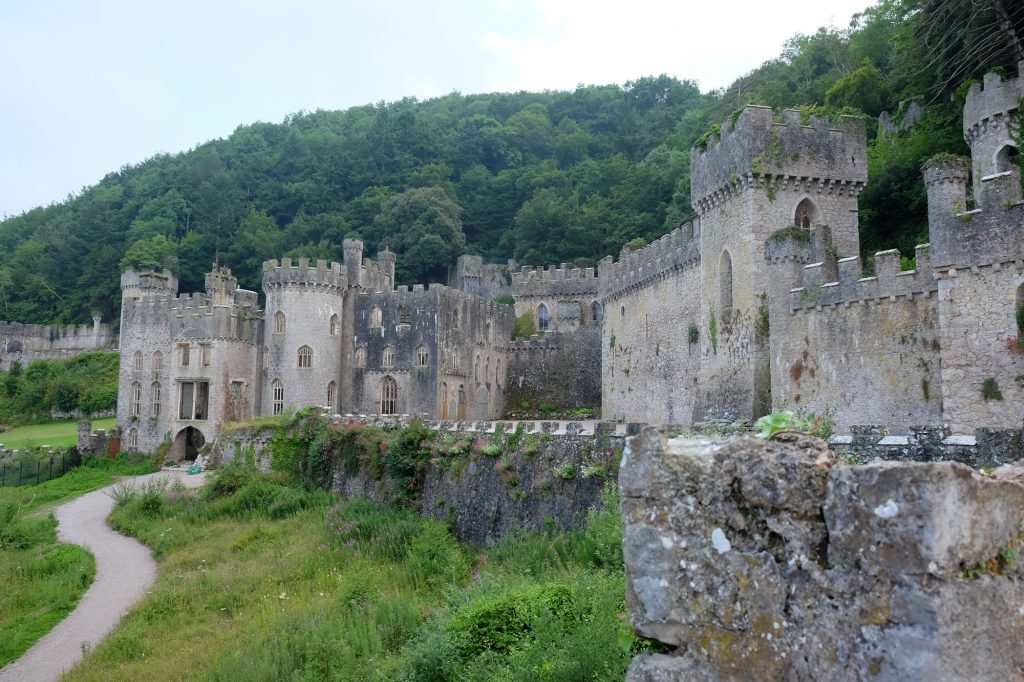 Gwrych Castle, North Wales
Gwrych Castle in Abergele, North Wales is a fantastic place to visit at Halloween if you're looking for somewhere that's full of atmosphere. The grand, medieval-looking castle was built between 1812 and 1822 and is Grade 1 listed. The castle started falling on hard times in the 1960s, and plans to convert it into a luxury hotel in the 1990s never materialised; instead the building was stripped and vandalised. It's now a roofless ruin and was in danger of falling down before it was saved by a preservation trust that's looking to bring it back to its former glory.
The restoration effort has been helped by a welcome injection of cash from the castle being used as the set for I'm A Celebrity… Get Me Out Of Here! in 2020. In 2021 the celebs look likely to return to Gwrych Castle for more gruesome trials and tasks.
While much of the castle is still unsafe, you can visit a lot of the site and grounds, and it's all fascinating with a romantic sense of decay. As you might expect from a Halloween destination, Gwrych Castle has plenty of ghosts. A figure of a woman, believed to be the ghost of the last Countess has been spotted gazing down the now-vanished main staircase. Nearby, visitors have seen a ball of orange fire, accompanied by a growling noise and heavy footsteps. There's also a tale of a secret room, unexplainable footsteps, chains rattling and a force which pushes visitors up the stairs.
If you'd like to visit Gwrych Castle, it's open seven days a week. Ghost tours where you can hear about the spookier side of Gwrych Castle run roughly once a month in the late evening, with special tours around Halloween and on New Year's Eve.
By Helen from Helen on her Holidays