The nights are drawing in and the weather is getting colder. Halloween is just around the corner and so what better time to visit a spooky activity and hunt for some of the creatures of the night. I looked for some of the best Halloween attractions in my local area and one that stood out for me was the Original Nottingham Ghost Walk. Whilst the tour was creepy and a little gruesome, it was also incredibly interesting and teaches the little-known history of the city. The ghost walk has been running for 25 years this year, starts at 7pm and runs every Saturday apart from some weeks in December.
*Disclosure* I was invited to attend the Nottingham Ghost Walk free of charge in exchange for an honest and unbiased review, however, all opinions are my own.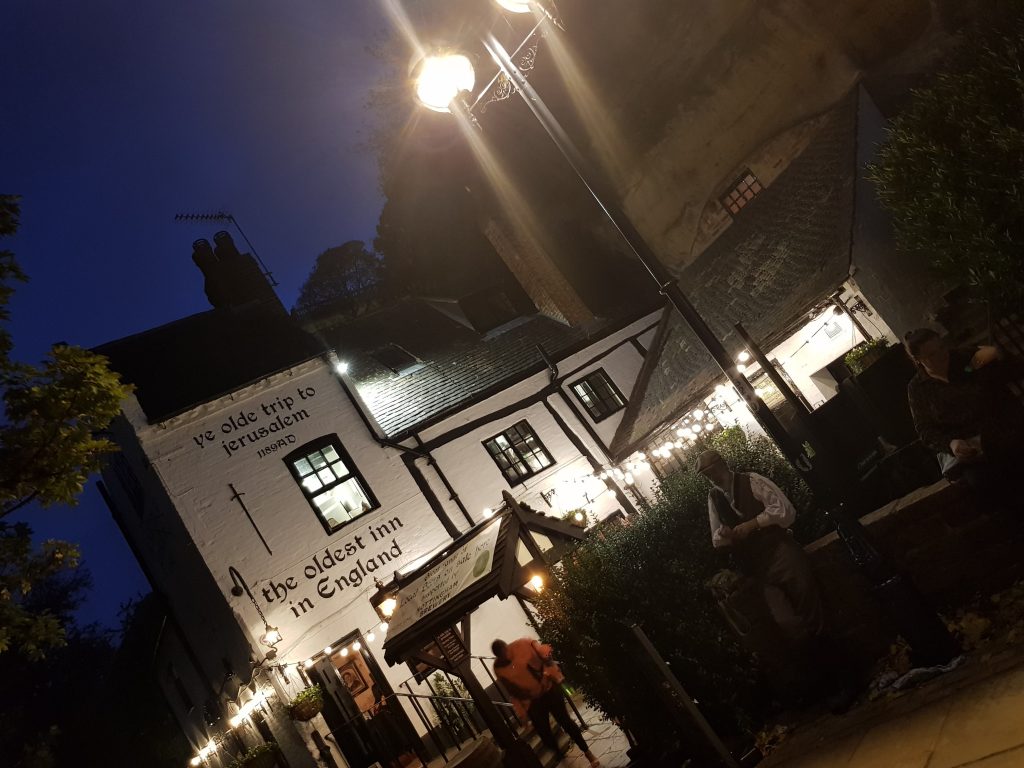 The Original Nottingham Ghost Walk begins at Ye Olde Trip to Jerusalem where you can buy tickets with the guide or at the bar. Ye Olde Trip to Jerusalem is claimed to be the oldest Inn in England although this is a hotly contested debate with several other pubs around Nottingham making the same declaration including Ye Olde Salutation Inn where the tour ends. We met our guide, Gary, (who co-owns the Nottingham Ghost Walk) outside of the pub where a small crowd was gathering. There are several guides who run the walk, each in full period costume and each with their own special flair.
Gary started the tour by gathering everyone else to talk about the strange goings on at Ye Olde Trip to Jerusalem including a model galleon which causes death to everyone who touches it and a chair which seems to help people to get pregnant. There was a charity event going on that night so the places was a little crowded but Gary managed to gather us all up into a little garden type area. To get our attention, he then started playing a strange instrument I had never seen before. It turned out to be a Hurdy-Gurdy, a kind of string instrument played by pressing a keyboard and turning a crank. It sounds similar to a violin but has a kind of creepy, sinister vibe to it. Gary told us whilst the ghost stories he tells might keep us up all night it's the sound of the Hurdy-Gurdy that will give us nightmares.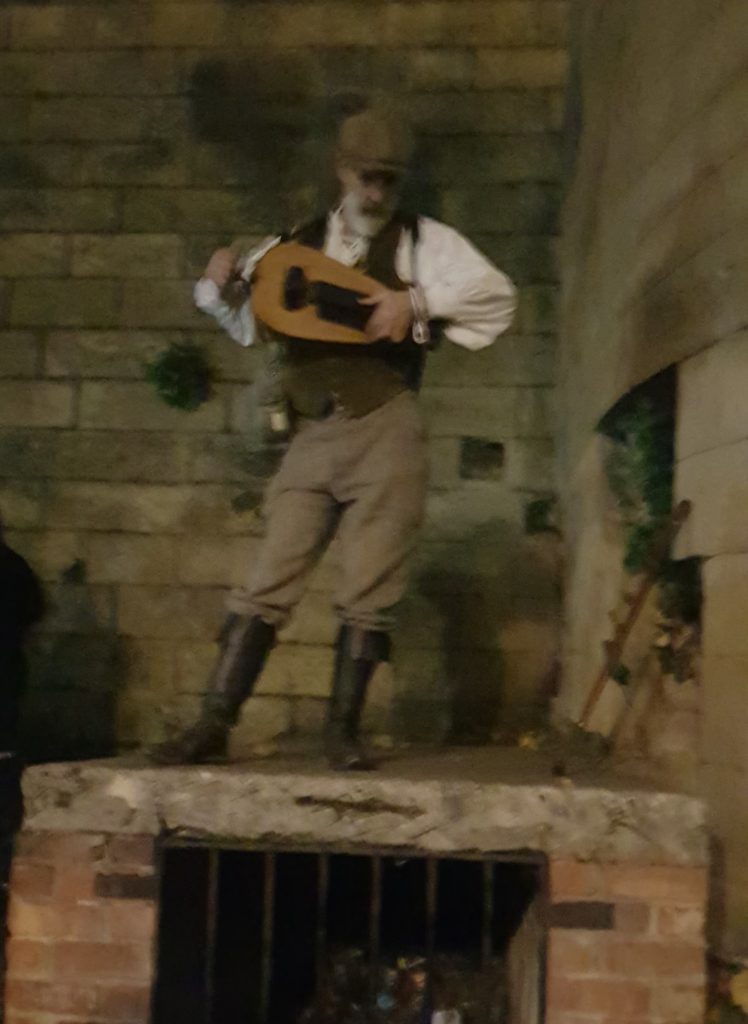 The Ghost walk took us up the hill from Brewhouse yard where Ye Olde Trip to Jerusalem is situated, to Nottingham Castle gates then a little further up to the site of the old hospital with several stops along the way. Some of the stories Gary told were about historical events that happened in Nottingham especially within the castle itself such as the story of Roger Mortimer and Queen Isabella and the caves that were used for carrying out the plot to overthrow them. Others were a bit more fantastical and dare I say a little less believable. Stories of psychics, mediums and spirit vortexes. However, both types of story were still incredibly interesting. The way Gary told the tales made them entertaining and funny and even the most gruesome parts made you want to hear more.
One story that stood out to me was about a hanging that took place on the Castle walls. 28 young boys aged 12-15 were kidnapped by King John and allowed to live within the castles however after a while, their fathers were disobedient. The children were then hung slowly over the ramparts where their bodies were then left and not to be touched. The corpses were left so long that they rotted, fell to the ground and eventually decayed and were covered by the ground. It is believed you can still sometimes hear their cries and smell the rotting flesh.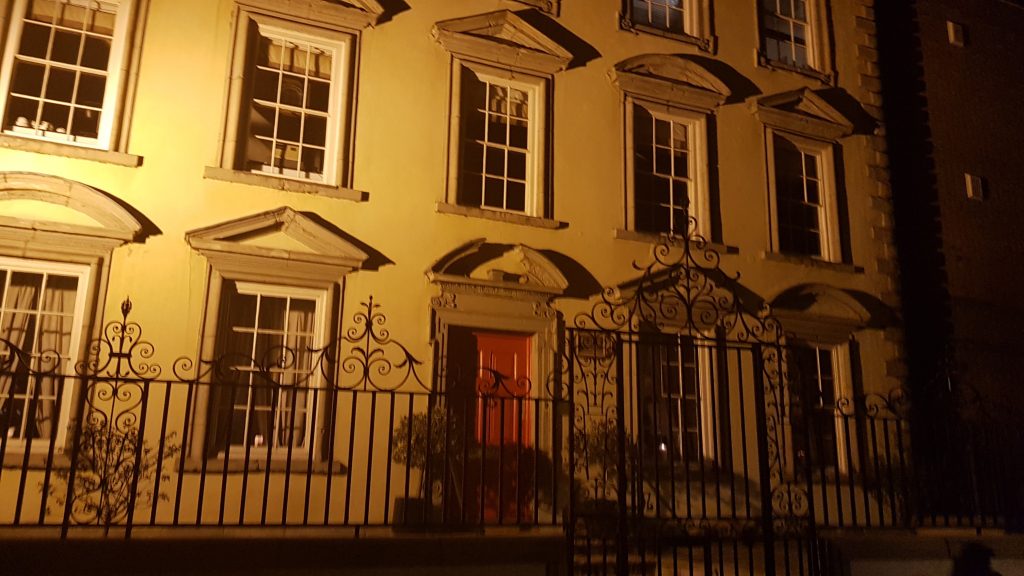 After heading up the hill for a while we then made our way back down, past some old government buildings, through a graveyard and into Ye Olde Salutation Inn. Under the whole city of Nottingham, there is a vast series of underground tunnels and caves and The Sal is no different. The Original Nottingham Ghost Walk has exclusive access to the basement of the inn which is built into the rock below. The steps are pretty steep and uneven so be really careful going down. There is an option to get a drink before you go down but we didn't fancy it so were the first ones to descend. As we arrived, we found a rounded cave with a seat carved into the rock. It is believed that the cave may have been used for cockfights once but since those times it was a storeroom for the pub due to the constant low temperatures. There were several ghost tales set in the caves with several that Gary had heard about straight from the horse's mouth. Some of these were a little more modern tales.
Overall, we had a great time with the Original Nottingham Ghost Walk. The stories were fun, entertaining but also informational and our host for the night was great. If you're ever in Nottingham, I highly recommend checking it out. (Whilst there you should also check out George's Great British Kitchen and 200 Degrees Coffee) You can book tickets online on their Facebook page and website or you can turn up on the night and pay in cash. I would recommend booking for the Halloween Saturday walk though as even on a normal night the tour can be pretty popular. Tickets are £6 for adults, £3 for children and £15 for a family ticket.