When I was visiting Sydney on my study abroad trip, I knew that I needed to see as much of the country as I could. I mean I'd come all that way so might as well! I decided to try and see some of the most famous sights in all of Australia, the great ocean road, Sydney opera house, the great barrier reef. And of course the most well-known place of all Uluru (also known as Ayers Rock) in Australia's red centre.
*Disclosure* This post may contain affiliate links. This means when you buy through the link, the Travel Fairies will receive a small commission at no extra cost to yourself.
I was traveling on my own and didn't fancy my chances driving solo through the Outback so instead, I opted for joining a guided tour. I had seen a leaflet for The Rock Tour which offered trips from Ayers Rock Airport to Alice Springs (Or vice versa), a round trip from Alice Springs or a round trip from Ayers Rock Airport. I compared the flights using Skyscanner and found flights to Ayers Rock Airport were a lot cheaper so I booked the rock to rock tour. Unfortunately, it turned out The Rock Tour wasn't running any of those on the dates I booked so instead they passed me over to Adventure Tours. And with all that sorted, I was off for 5 days in the Australian outback!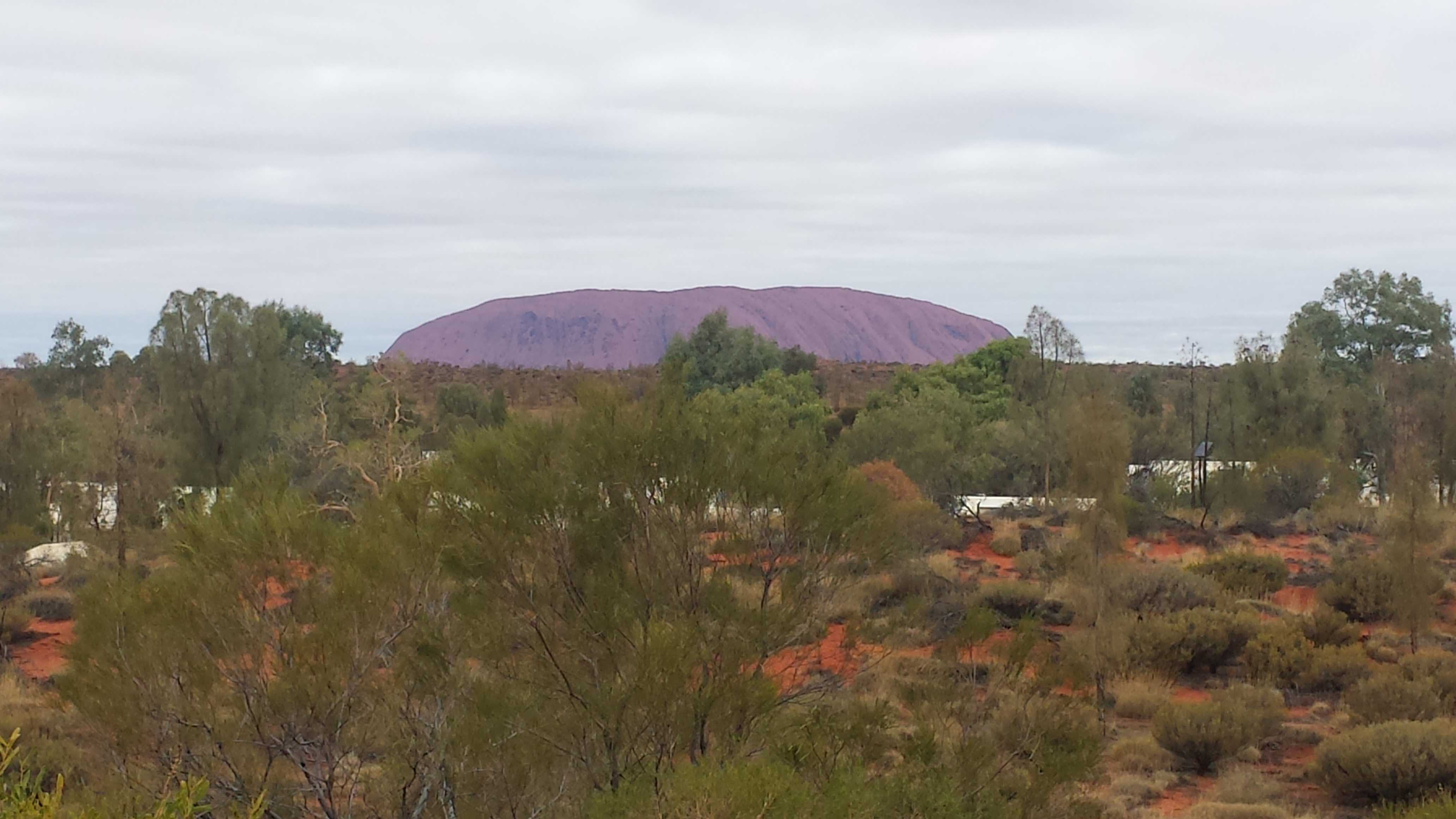 Itinerary
Day 1
Travel from Sydney to Ayers Rock Airport.
Get to Ayers Rock Resort and explore.
Stay in the Outback Pioneer Lodge.
Day 2
Take part in some of the cultural activities and get picked up from Ayers Rock Resort.
Visit Kata Tjuta and do the Valley of the Winds walk.
Watch the sunset over Uluru with refreshments.
Sleep under the stars in a swag at the nearby campsite.
Day 3
Watch the sunrise during the Uluru base walk before having a guided nature walk with a local Aboriginal. Visit the Uluru Cultural Center to view some arts and crafts.
Drive to kings canyon and watch the sunset from the local bar.
Sleep under the stars in a swag at the nearby campsite.
Day 4
Hike Kings Canyon at sunrise.
Drive to Alice Springs including a few small stops.
Sleep at a local hostel.
Day 5
Drive from Alice Springs to Ayers Rock Airport making a few stops on the way including at a camel farm.
Take the flight from Ayers Rock Airport back to Sydney.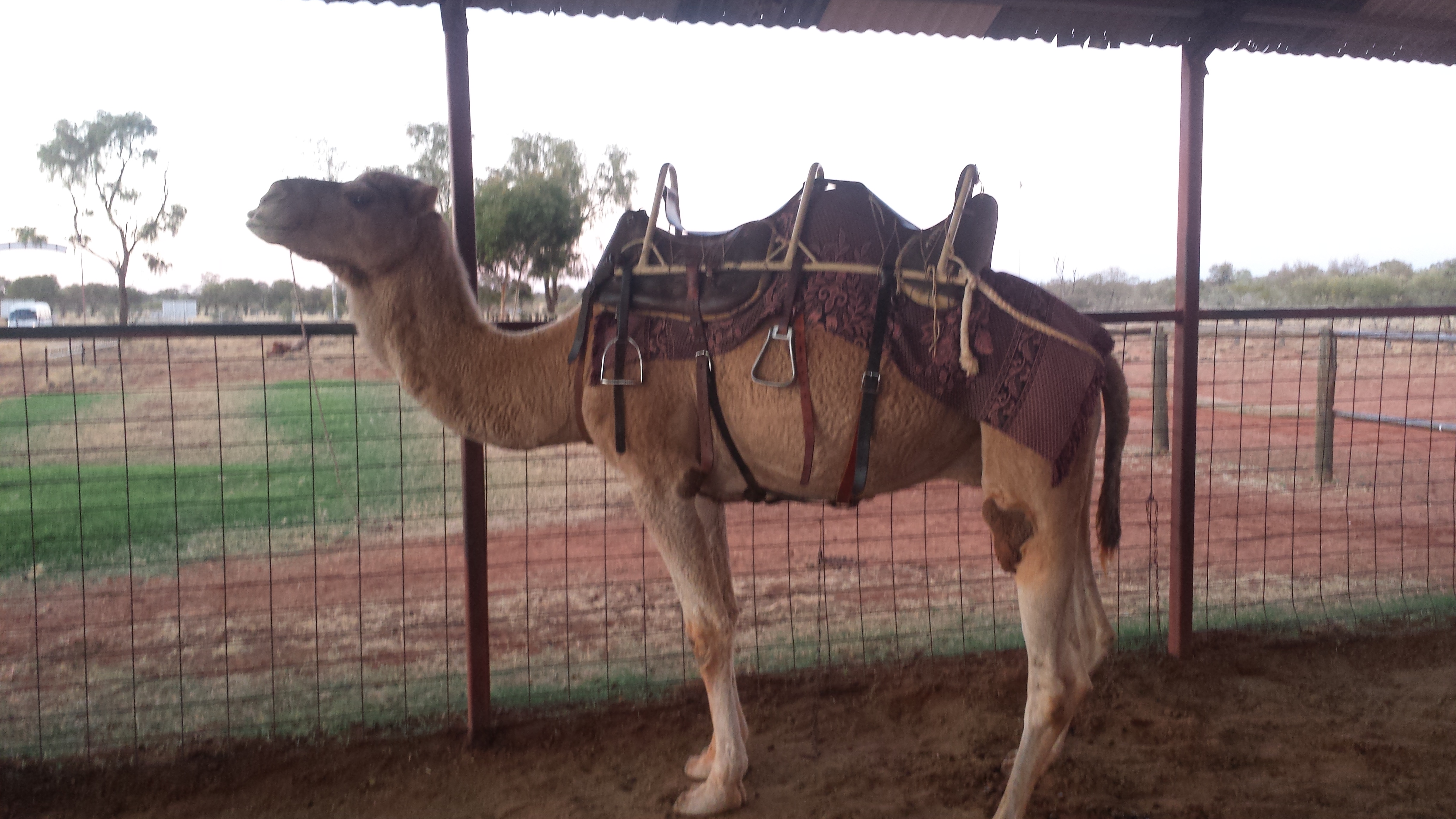 Day 1 – Journey to the centre of the Earth.
My trip to Australia's red centre started before the sun had even risen in Sydney when I woke up and headed to the train station. Unfortunately, there was a problem with the train line so I had to catch a replacement bus instead. I had some trouble finding the stop for it but luckily I had got there in plenty of time so I managed to make it to the airport without a hitch. I got on my plane and was off!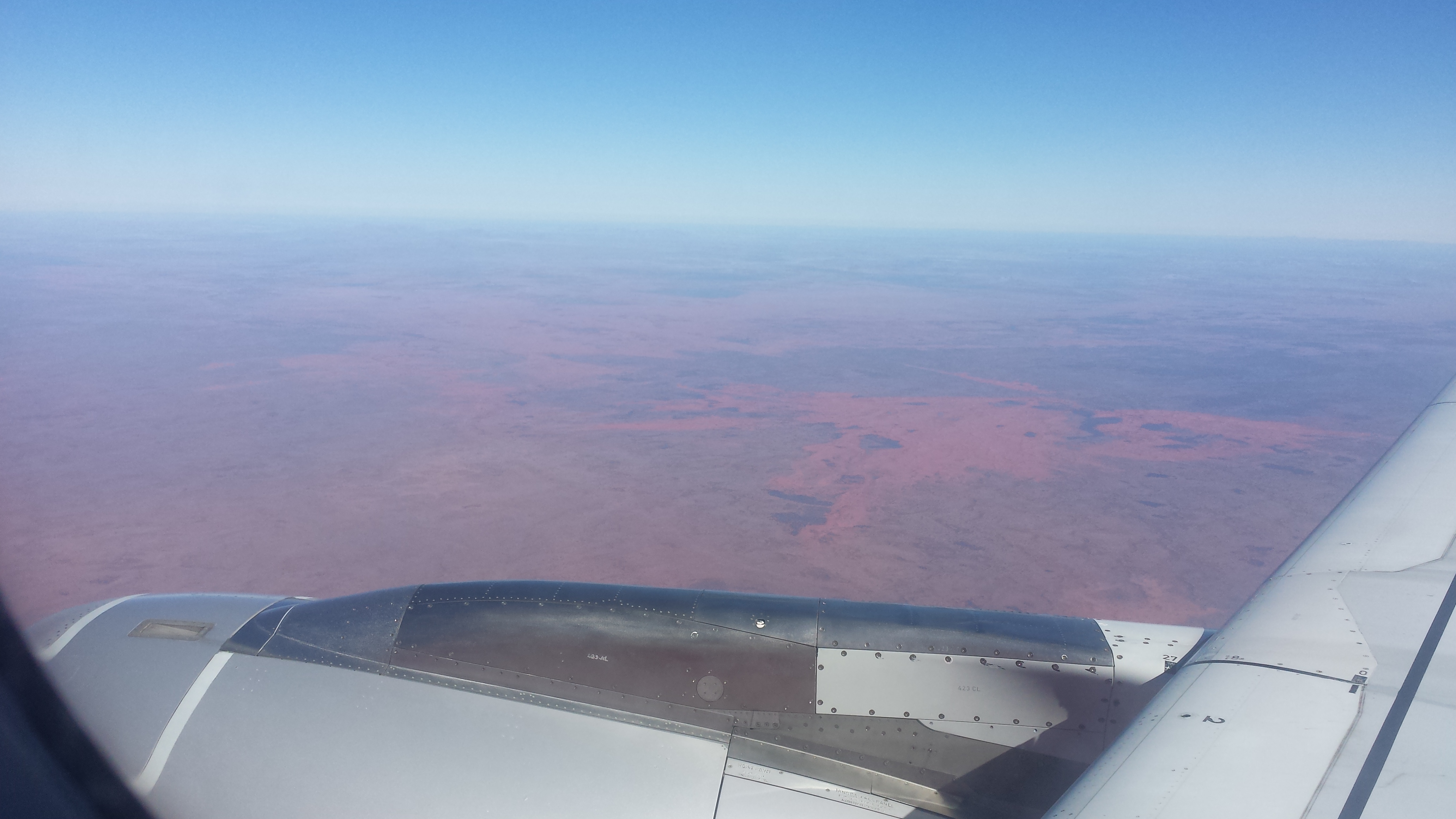 As the plane landed, the first thing that I noticed was how red the ground actually was. I mean they don't call it Australia's red centre for nothing! I had seen pictures of the place before but I always thought they must have been edited to get such vibrant colours. They are really not and nothing could have prepared me for it. It was absolutely incredible and I had never seen anywhere quite like it. And that's before I even got to see any of the landmarks!
As I took the free shuttle bus to the resort, I got my first glimpses (and some super blurry photos) of Kata Tjuta and Uluru. Since there were no flights that could get me there for the pickup time, I had a day to explore before my tour started. I had decided to stay at the Ayers Rock Resort as that was the pickup location for Adventure Tours so it was the simplest option although there is other accommodation nearby. I booked the cheapest bed that I could which was in a 20 person female dorm room in the Outback Pioneer Lodge which is affiliated with YHA hostels.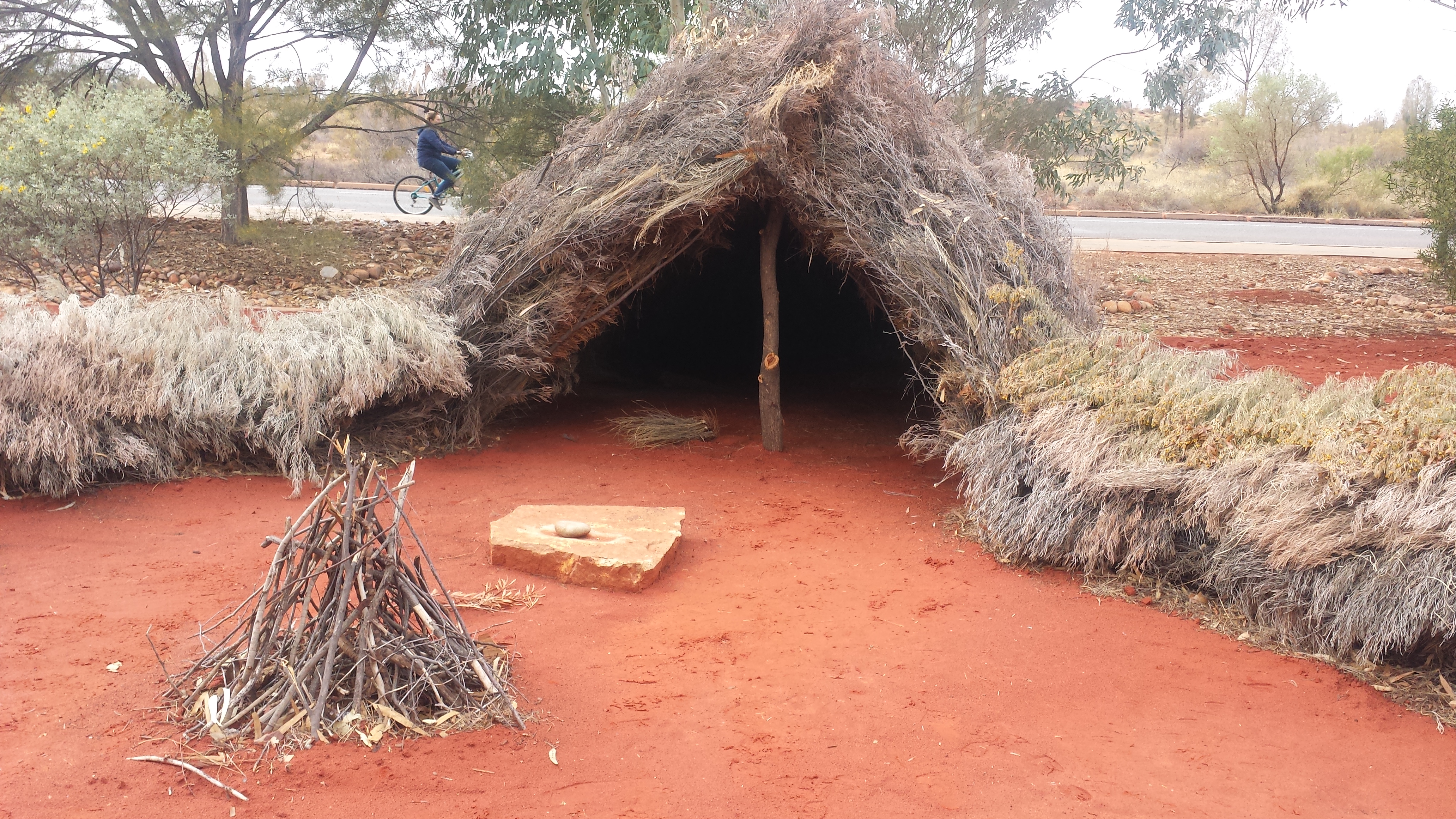 I checked in and headed to the nearest lookout point then went to explore the resort. The Outback Pioneer Lodge is a 2-star hostel but when you stay there you also get access to everywhere in the resort including swimming pools, gardens, shops and a museum. Ayers Rock Resort also host several free cultural activities that you can take part in like spear and boomerang throwing, traditional dance shows and bushcraft lessons. I attended a few of these, picked up some supplies from the shop and had dinner at the restaurant before returning to my bunk and turning in for the night.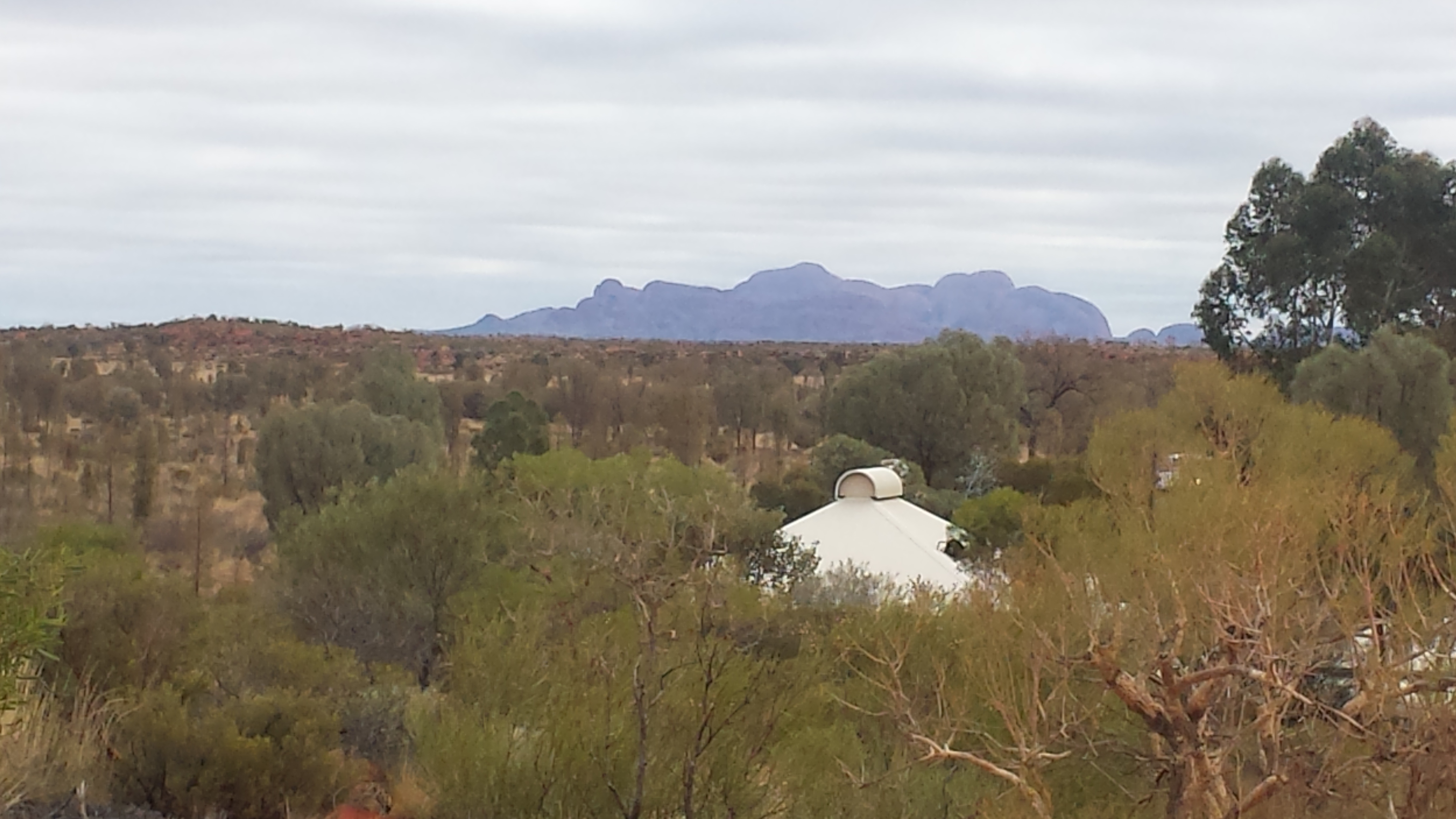 Day 2 – Kata Tjuta (The Olgas)
I woke up bright and early and began the day with a guided walk around one of the hotel gardens. Top tip for setting an early alarm in a hostel: put your phone on vibrate and put it under your pillow. It will wake you up without waking the whole dorm and that's definitely not the way to make friends in hostels! I did a few bits and bobs around the resort then made my way to the meeting spot. There were a few people waiting already but it turned out none of them were on the same tour as me. It turns out a lot of tours pick up from Ayers Rock Resort!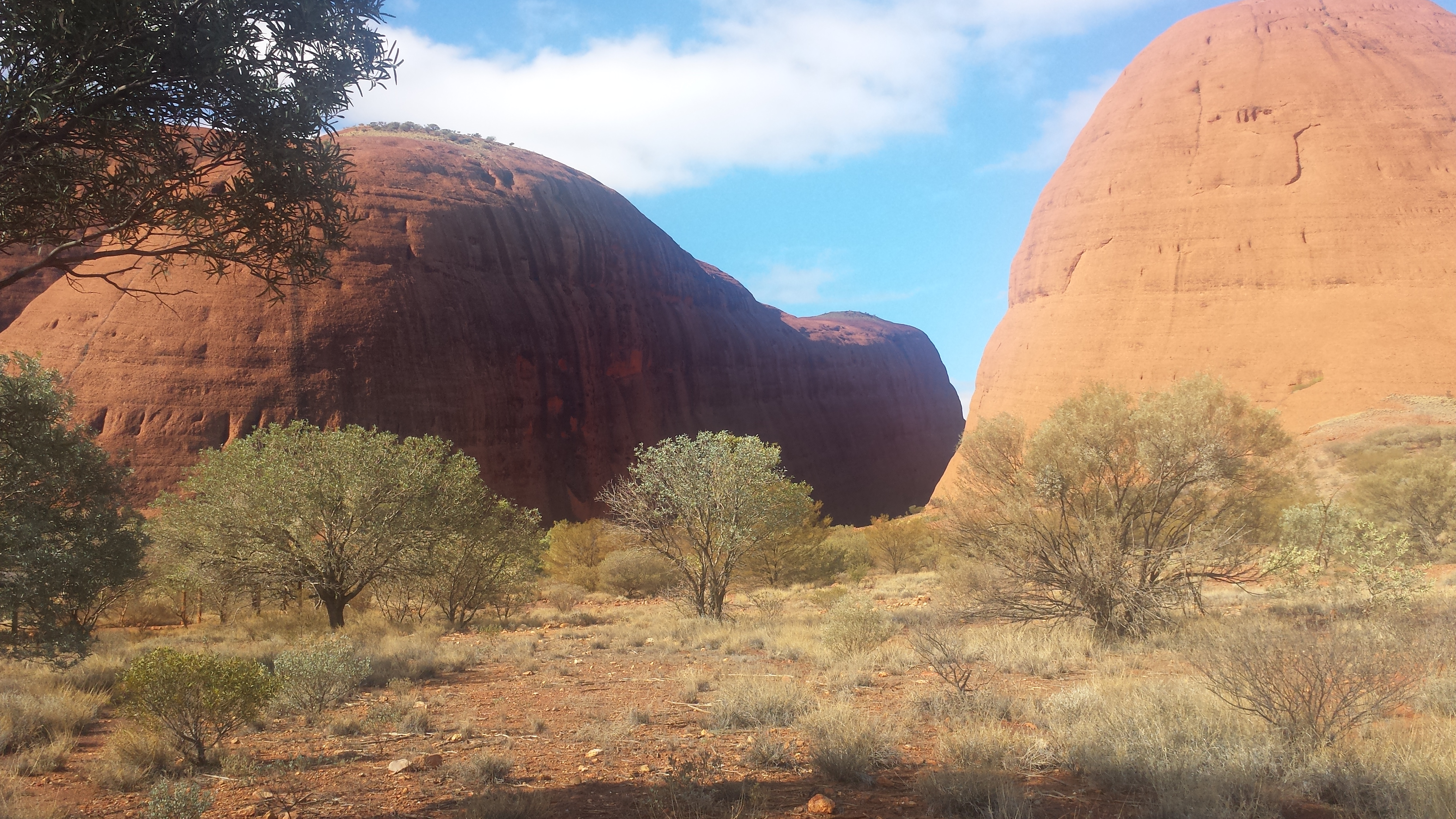 The tour guide, Leah picked me up and as I was the last one to arrive we set off for our first stop at Kata Tjuta. To get into Uluru-Kata Tjuta National park you need a permit but if you go with a group tour they will have already sorted this. Kata Tjuta is a group of 36 domes with several walks of varying difficulties. We went on the Valley of the Winds trail which leads through the monoliths to some of the most spectacular viewing points and takes about 3 hours in total.
After this hike, we headed to one the viewing points for Uluru. There, we had refreshments of a glass of bubbles and cheese platter and watched the sunset. I didn't realise this when I had booked my trip but it was actually a full moon while I was there. As we watched the sunset, the full moon could be seen right next to Uluru which meant we got some great photographs. It was an absolutely incredible experience watching the colours of the rock change and one that I will never forget. The group got some individual pictures and group shots then we headed to the campsite we would be staying in.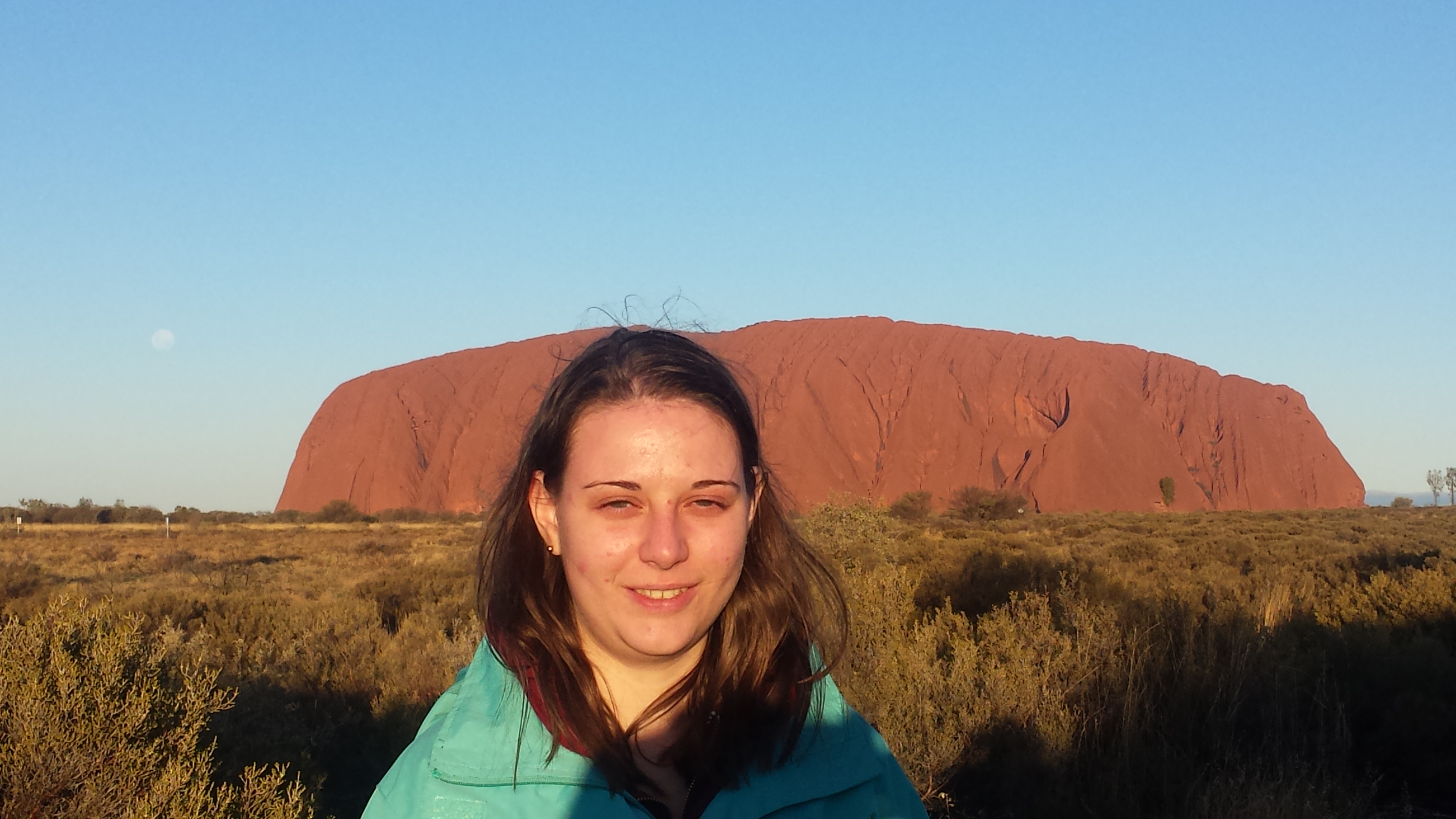 Dinner was included in the tour so we had a bit of food back at camp and got to know each other a bit better over dinner. Most of our tour group consisted of people that were currently living in Australia which according to our guide is actually pretty rare. After talking for a while, we lit a bonfire and turned in for the night. There was an option when booking to stay in tents but I chose instead to sleep under the stars in a swag. These are like thick, waterproof sleeping bags although an actual sleeping bag is still required underneath. In the summer it can be a little dangerous to sleep in the open due to all the creatures that want to kill you in Australia! But in the winter it is too cold for snakes and the fire keeps the spiders away making it the perfect time for an outback camping trip.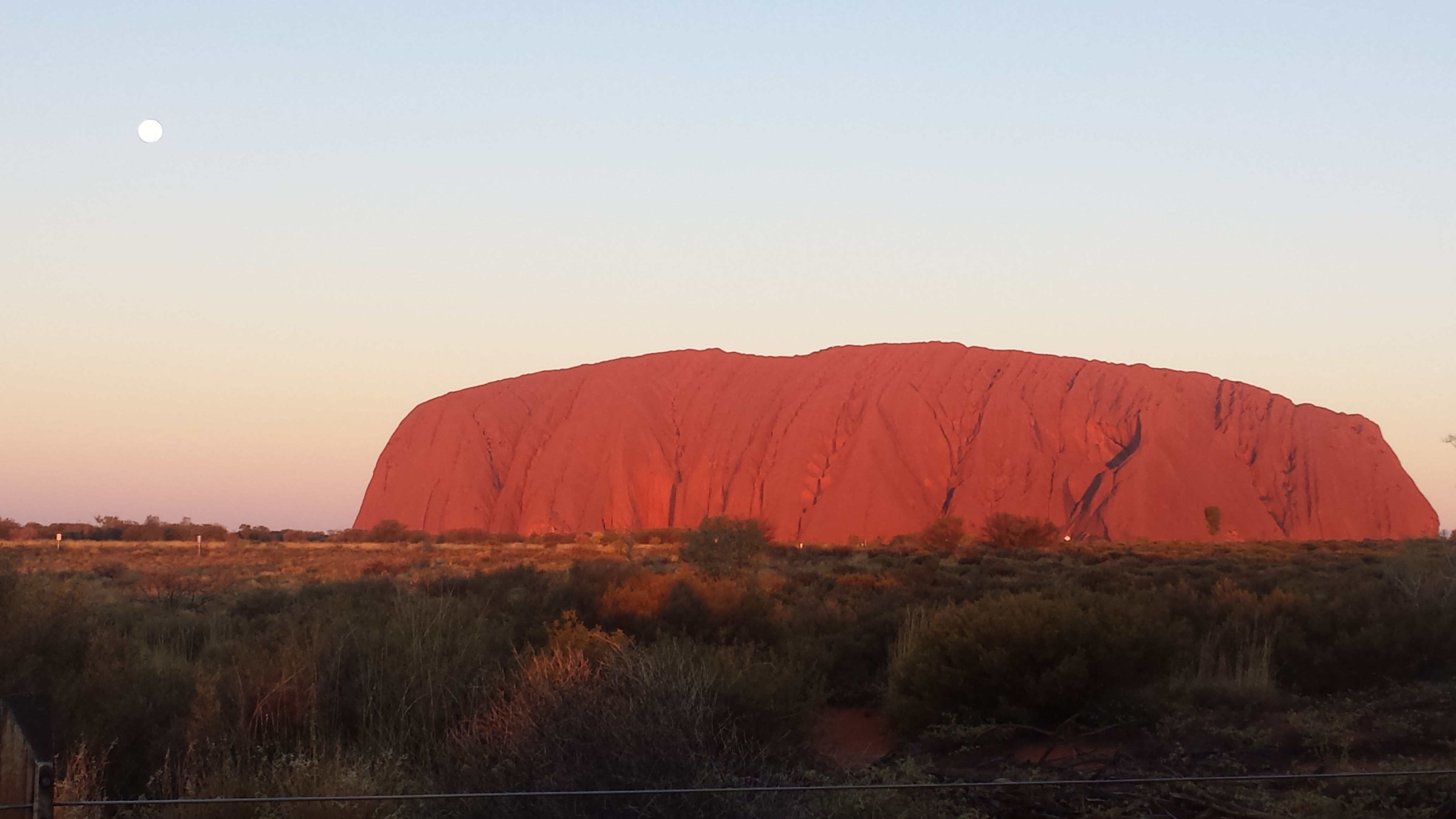 Day 3 – Uluru (Ayers Rock)
The next morning we got up bright and early so we could make it to Uluru before the sun rose. It is recommended that you bring a torch with you for this very reason as you need to be getting ready in the dark to make it anywhere by sunrise. We were dropped off by our guide to begin our base walk as the sun was rising. We had a good group so we all stuck together throughout the walk and helped to support and encourage each other when it got a little tough. I think we were pretty lucky in this sense as I can imagine with no guide many people would just head off on their own.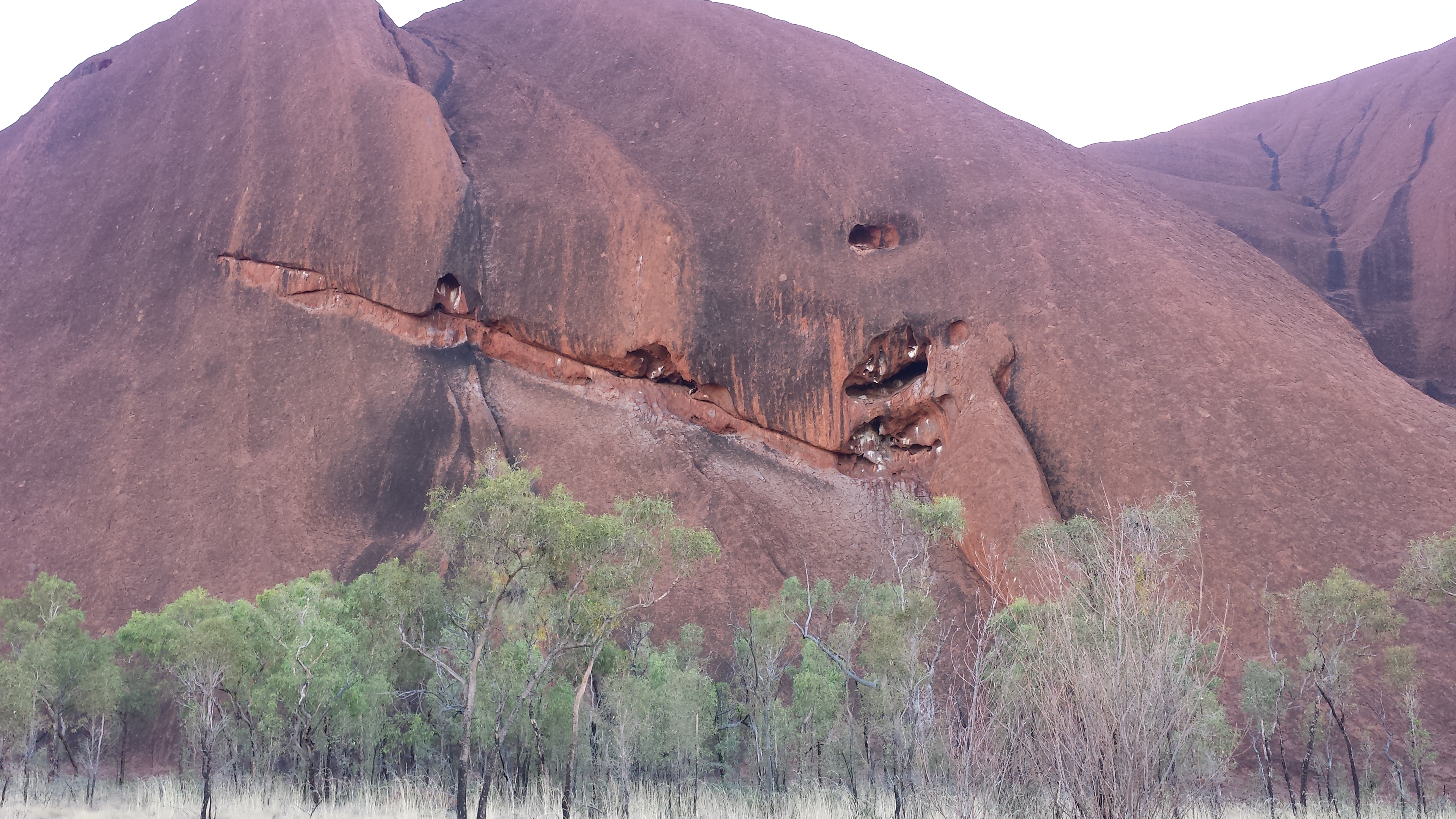 From afar, Uluru looks like just a large, blank rock but as you are walking around it you see how diverse it actually is. The route takes you past rivers and caves and through forest groves and sandy areas. Even the rock itself is dotted with unique crevices, fissures and cracks. Around Uluru, there are several areas where you shouldn't take photos as a mark of respect for the Traditional Owners of the land which are clearly marked with signs showing the start and end of no picture zones. Likewise, you shouldn't climb the rock as it is incredibly offensive for the local people. From October 2019, climbing Uluru will actually be banned completely. We ended our base walk at the start of the summit climb and we saw several people starting the hike despite it being closed that day due to high winds making it incredibly dangerous.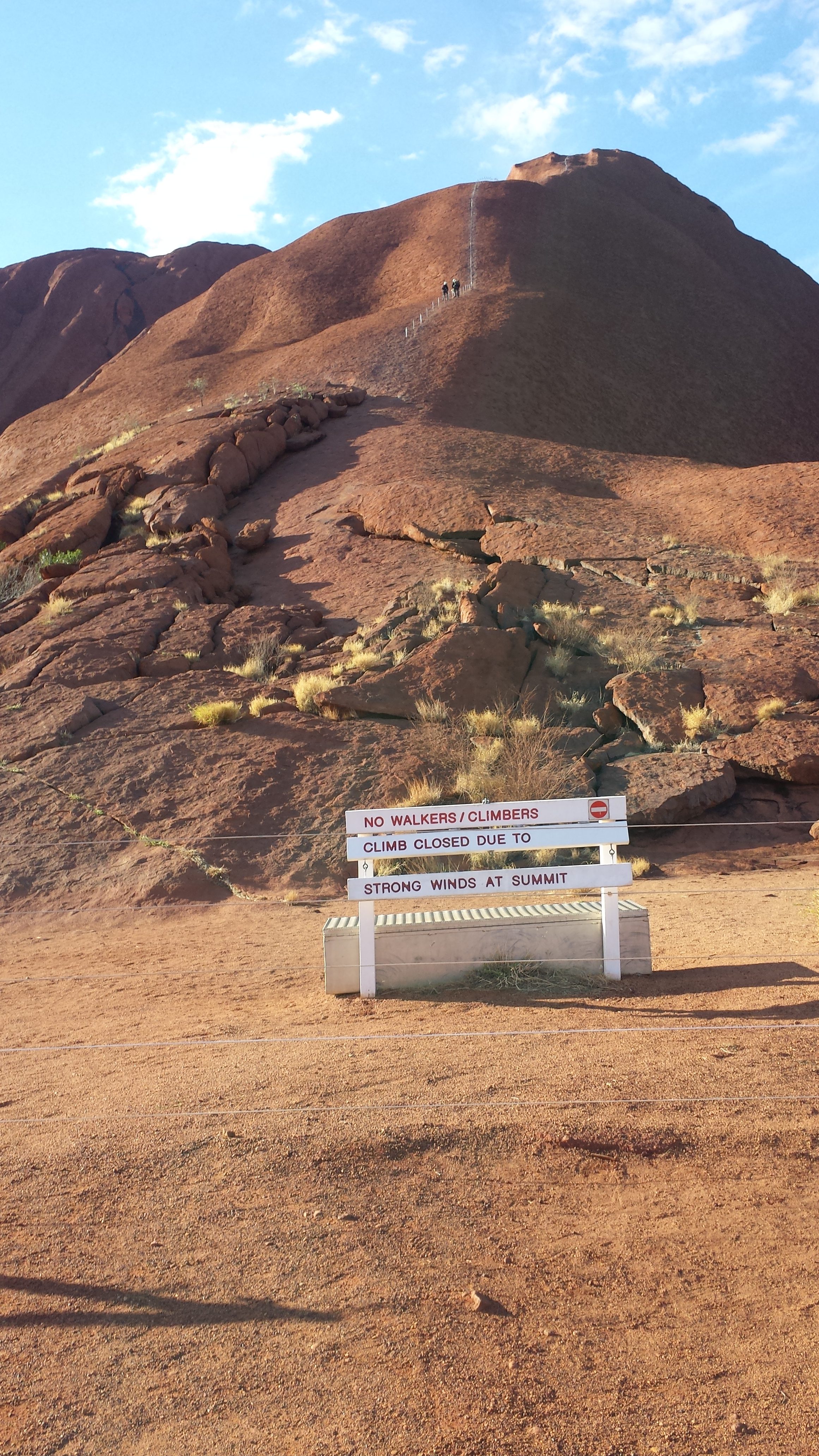 Leah met us at this point with a local Aboriginal tour guide. He led us to a nearby cave where there were paintings across the walls. He went over what the painting meant, a little bit of the history of his people and told us a few Dreamtime stories. The talk lasted roughly 45 minutes and it was incredibly interesting and informative. That afternoon, we also headed to the Uluru Cultural Center which is a kind of art gallery and store.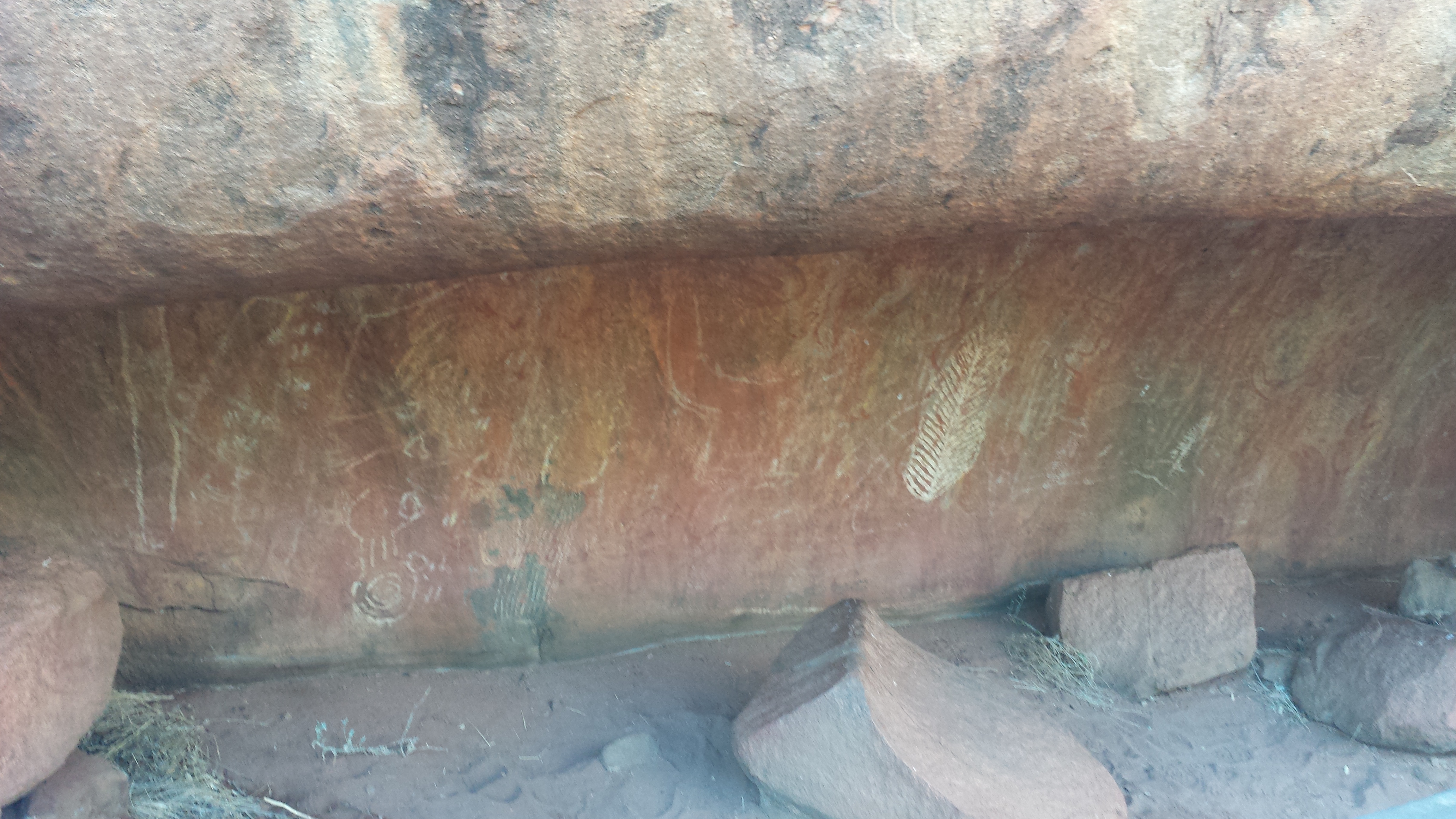 After visiting the Cultural Center, we started the long drive to the Watarrka National park stopping at a few interesting places on the way. Leah was a great guide at this point and pointed out the best places on the journey to stop. We visited sand dunes, viewpoints of the local area, a small farm and an art shop and cafe which were looking after a baby kangaroo! We made it to the campsite that was close to Kings Canyon for dinner time. After eating, we headed to a nearby pub which had a great sunset spot. There was a bit of free time before the sun started to set so some people got drinks and a few of us went for a little walk around the area. That was where I saw my first ever wild dingoes! We headed back in time to see a huge moon beginning to rise and watch the sunset with the rest of the group. That night again we slept under the stars but this time whilst being serenaded by the dingoes howling at the full moon! As I stared up into the sky, I only wished I didn't have to wear glasses so I could actually see it!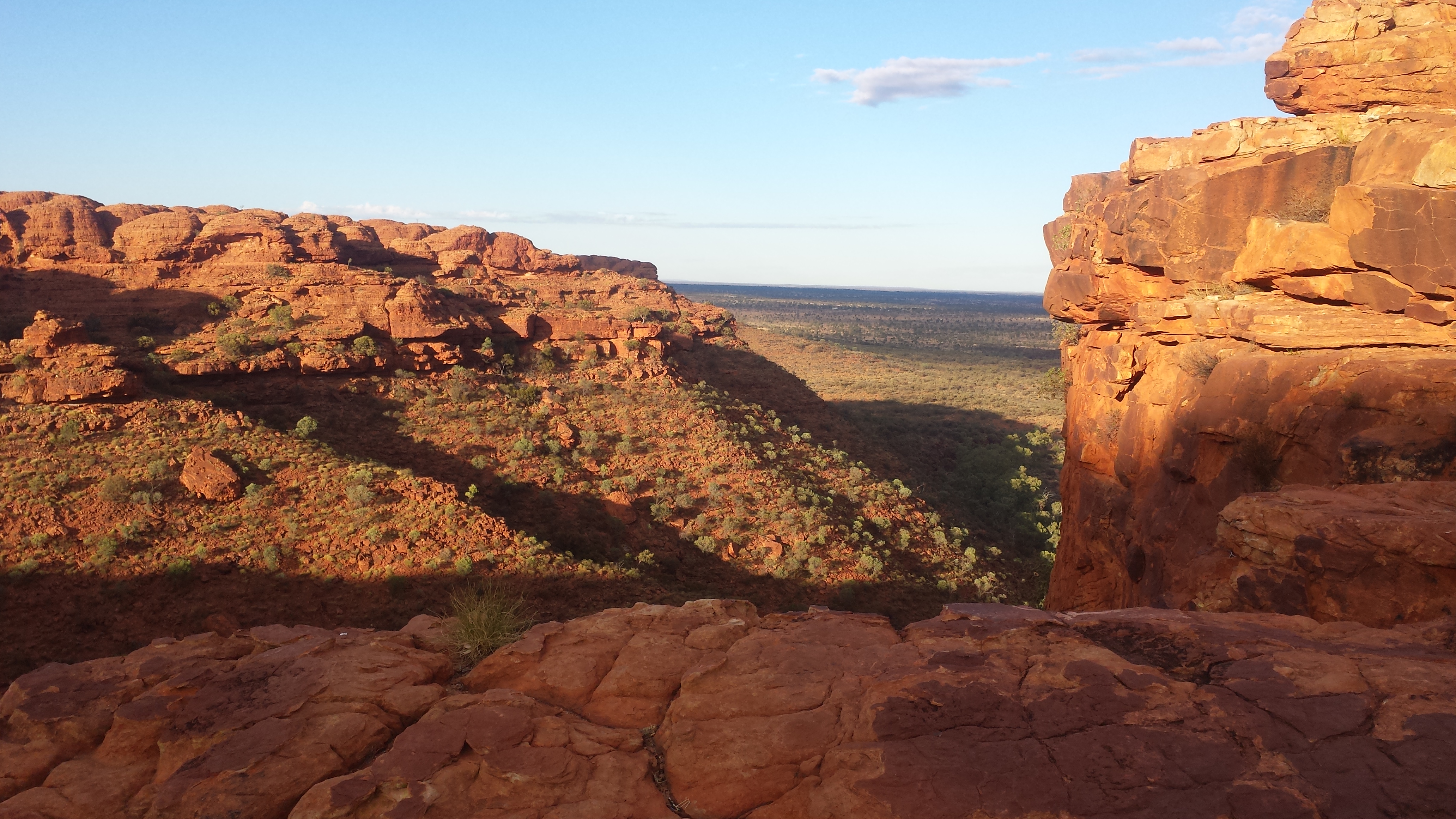 Day 4 – King's Canyon in Watarrka National Park
Another early start on day 4 to get us to King's Canyon before sunrise. Even in the winter, King's Canyon can get pretty hot and there isn't a lot of shade so it is recommended that you start early to avoid being out in the midday sun. I was told previous to booking, that we needed to take at least 3 litres of water with us to stay hydrated but when we got there Leah made sure we had at least 2 litres each. She stayed with us throughout this hike and we could not have asked for a better guide. Leah had so much knowledge of local flora and fauna and talked throughout the hike about the area. King's Canyon was probably my favourite part of the whole trip as every turn we took, found something new and interesting. Australia used to have a huge inland sea where the outback currently is and fossilised fish, shells and waves can be found in the rocks that make up King's Canyon.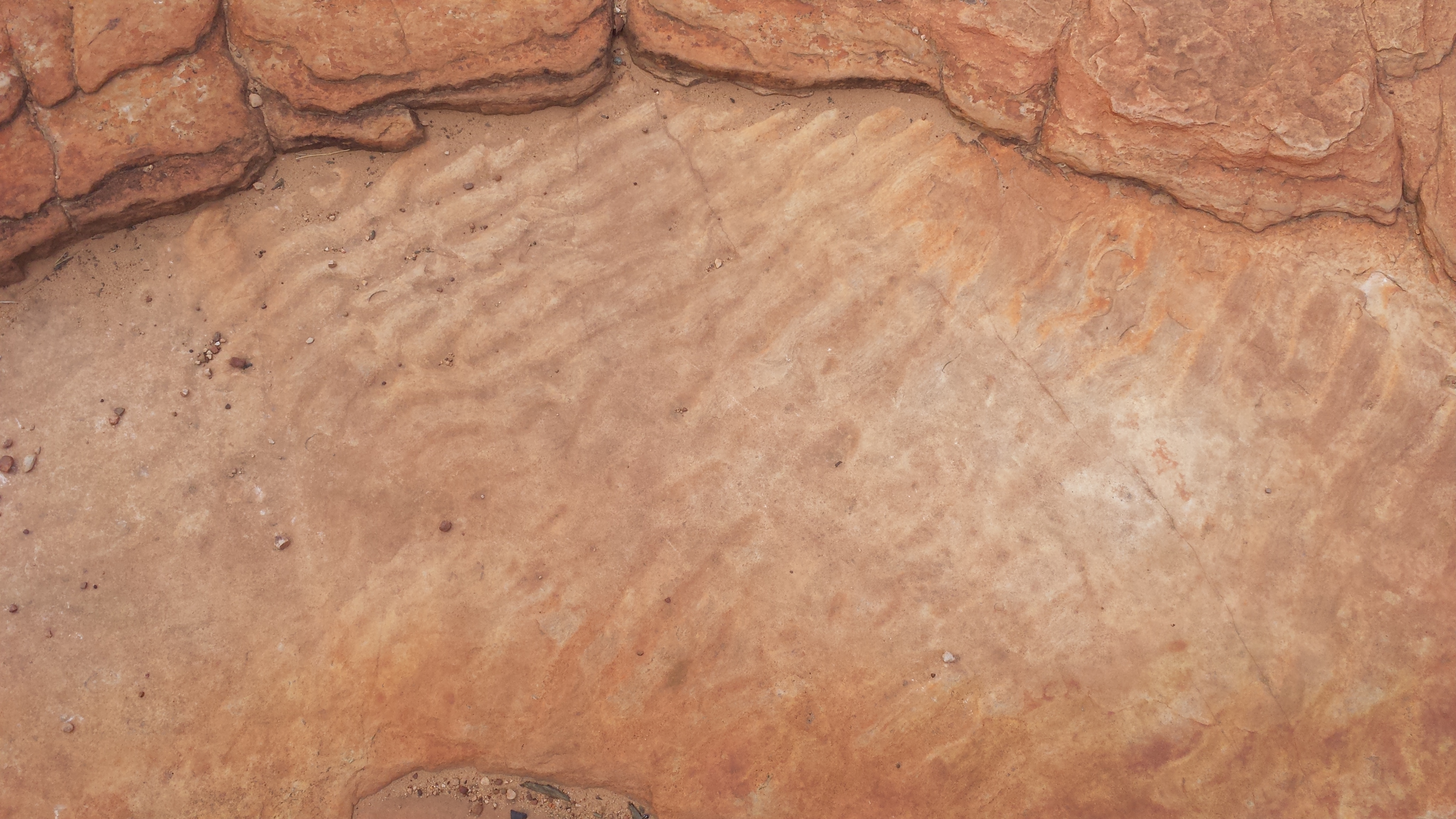 We did the King's Canyon Rim Walk which is approximately 6km and takes 3-4 hours. It starts with a steep stair climb up 'Heartbreak Hill' which we began just before sunrise. As we climbed, we could see the sun start to hit the other side of the canyon wall and an orange glow came over the whole place. A few of us struggled with this first part but the whole tour group was incredibly supportive so with several short breaks everyone made it to the top. From there, the walk is relatively easy going and wasn't much of a struggle at all. The first interesting element of the walk you will come across is Priscilla's gap. This was made famous due to the film Priscilla Queen of the Desert which was set in outback Australia. This is a great place to take some wonderful pictures showing off your inner Priscilla. Roughly halfway through the walk is a small detour to a place called the Garden of Eden. It is a small valley in the canyon with a lake and filled with lush greenery. On the way down the canyon, you will then pass through the Lost City, a series of rock domes that look like houses from a long-extinct civilisation but are actually just natural formations.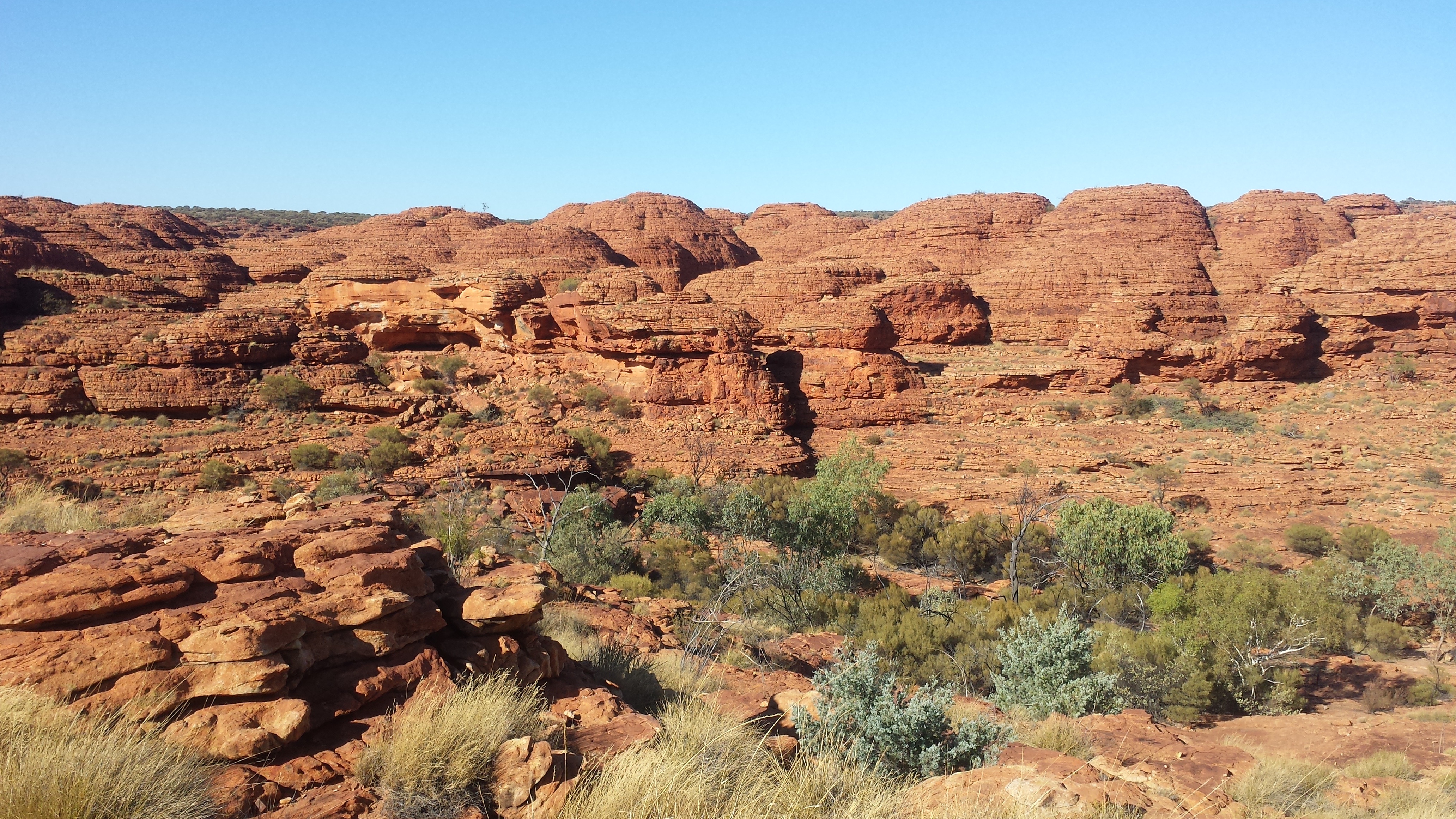 After completing this hike, we made our way towards Alice Springs stopping at a few rest stops and sites on the way. Again it was a long drive and took most of the day but it was nice to have a bit of relaxation after the strenuous activities of the last few days. We arrived in Alice Springs pretty late and as I had originally booked through a different company, I ended up staying in a completely different hostel to everyone else from my group. We said our goodbyes and I was sent the group photos we had taken together (unfortunately I had some technical issues so never actually received these which was a real shame) before I checked into my hostel. Unfortunately, as it was so late, there was nowhere still serving food so I had to walk to the service station and pick up some snacks. I'm not sure if it was the area I was in or just because I was nervous being by myself, in a new place, quite late but it felt a little sketchy and I was a bit worried about being alone there. I was planning on exploring a little bit but decided against this and just returned back to the hostel to eat. I was surprised to find my hostel had mixed gendered dorm rooms which I hadn't been informed of but after the initial shock, it was fine for the amount of time I spent there.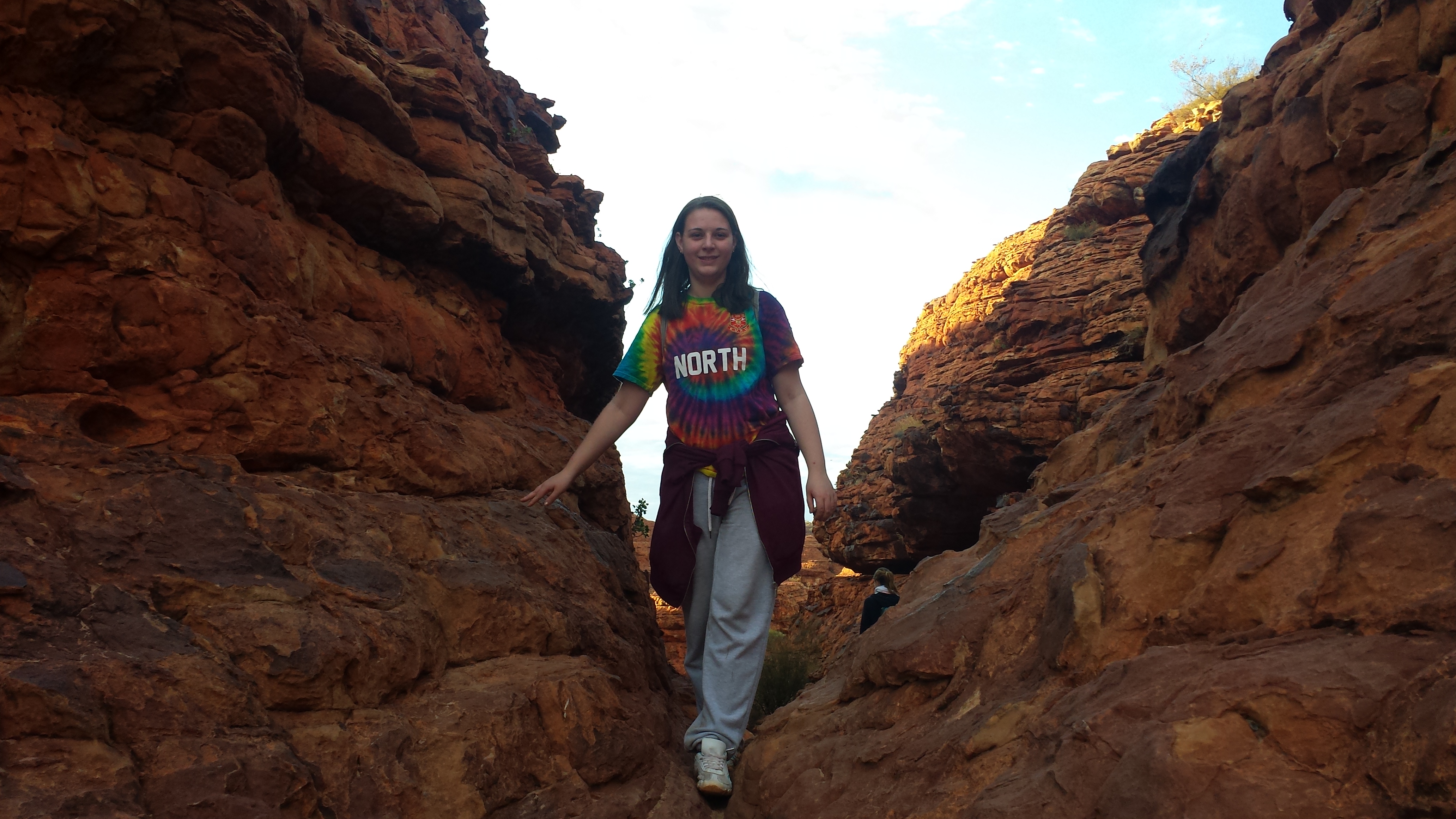 Day 5 – Goodbye to Australia's Red Centre.
My final day in Australia's Red Centre was a little on the quiet side. I was being picked up by the Rock Tours this time to head back to the airport so woke up before dawn to find the meeting place. I got the front seat on the tour bus which gave me excellent views of the open road but I felt like this tour group wasn't as friendly as the ones I had originally been with. Maybe it was just because it was the first day so no one knew each other yet but I didn't get to know anybody on the bus that day. We stopped at a camel farm where we had the option to ride them. I would have taken this offer up but no one else on the whole bus wanted to so I didn't want to be the only one. If I had been with my original tour group I think others may have been up for this and I wouldn't have felt so alone. In the end, I made it to the airport and while the last day was a little disappointing, the overall trip was so great.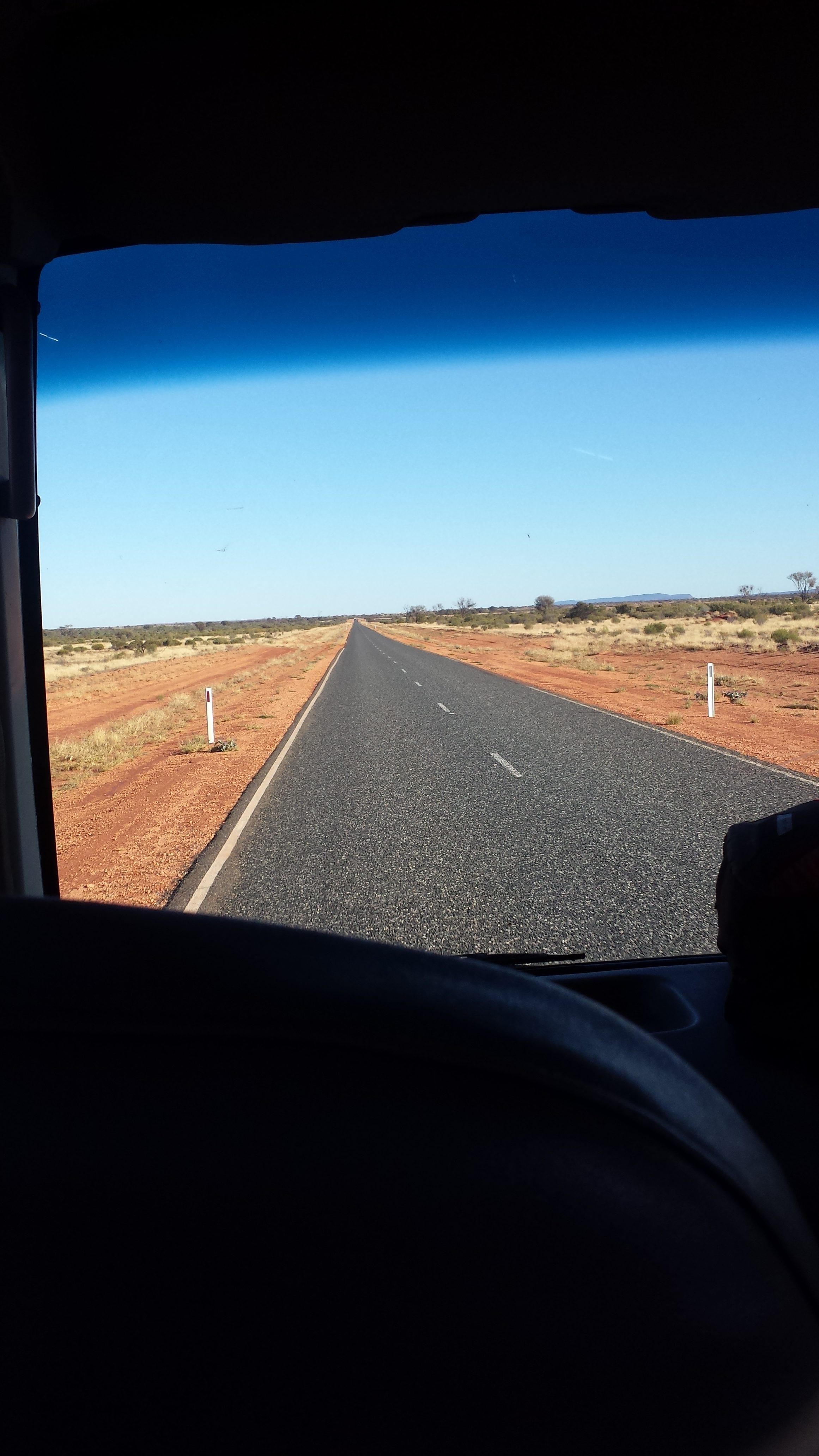 Overall, my outback experience in Australia's Red Centre was one of the best things that I did whilst in the country. I really loved Adventure Tours and I thought the guides were really great. It may have been cheaper to self-drive, but as a solo traveler (especially as one who is not used to outback driving) I think a group tour like this is a great way to see this part of the country. There are several different tour groups which do similar itineraries to this but I can highly recommend Adventure Tours due to their expert tour guides.