Sydney can be an expensive city for food and hotels, but visiting the city does not have to break the bank. There are plenty of free things to do in Sydney city centre or within easy traveling distance and many of these I would consider to be the best things to do in Sydney too. There are plenty of activities for all people such as families, couples or solo travelers. Here is my list of 15 free things to do in Sydney:
*Disclosure* This post may contain affiliate links. This means when you buy through the link, the Travel Fairies will receive a small commission at no extra cost to yourself.
1. The Blue Mountains
About 2 hours away from central Sydney on the train, the Blue Mountains are easily accessible from the city. Depending on where you are staying you might have to change trains but as I stated in my how to Travel Sydney on a budget post, public transport in Sydney is very reasonably priced. There are regular trains which take you all the way to Katoomba from central station and it's just a short walk or bus ride from there to the mountains themselves.
The Blue Mountains is a stunning area and definitely worth the visit. There are many hiking trails you can use for free as well as having several other attractions you can visit including the world's steepest railway. The most famous thing to see there are the Three Sisters rock formations. They are situated in an area with spectacular views of the Blue Mountains and you can even walk over to the rocks themselves. Many people only visit the Blue Mountains to view these but I highly recommend going into the mountains themselves as there's so much to see there.
2. The Royal Botanic Garden
Situated right next to the Opera House, the botanical gardens give the best views of Sydney Harbour. They are free to enter and there's plenty to explore. Free events regularly take place which you can find out about on their official site. Even when nothing specific is going on it's just a really cool place to visit and chill out. There are thousands of plant species from around the world and you'll see plenty of wildlife too. Wandering the gardens you will come across all kinds of interesting things like lakes, statues and even museums. Take a walk to Mrs Macquarie's chair for breathtaking views of the Sydney Harbour, Opera House and Harbour Bridge. It's especially worth the visit at sunset.
3. Australian National Maritime Museum
For anyone who doesn't know, I really like boats. So the maritime museum was a must-see on my list of things to do in Sydney. The museum has various interesting exhibits about everything from the first ships that landed on Australia's shores to modern day water sports. These permanent exhibits are free to enter but for the special exhibits, you will have to buy a ticket. It is $20 ($12 for children and concessions) to view the temporary exhibits or for $32 ($20 for children and concessions) you also get access to the lighthouse, submarine and several different ships. You can find out more about tickets and exhibits on their website.
4. Art galleries
There are several free art galleries around Sydney including the Art Gallery of New South Wales and the Museum of Contemporary Arts located near Circular Quay. Temporary exhibits or events sometimes require tickets to be bought but most of the time these art galleries are completely free of charge.
5. A day at the beach
Being a coastal city, there are numerous beaches not far from Sydney. The most famous of these is Bondi Beach closely followed by Manly Beach and slightly further away, Palm Beach. However, because they are famous they can also be very busy. For a nice day out at the beach, it's much better to find a quieter place to visit where you have a good chance of finding the perfect area to relax. The best beach I have found so far is at Camp Cove on the Sydney South Head. The water is warm and as it's in the harbour, the beach is sheltered from waves and currents. It's also a lot less crowded than other beaches since it is less well known.
6. Go on a coastal walk
Further to the previous idea, the beaches around Sydney are a great place to start a coastal walk. Since there's no cost required for walking (other than maybe snacks for the journey) this is a great way to see Sydney for free. Even the busier beaches have some great walks nearby to beat the crowds. From Bondi Beach, you could walk to Coogee or Bronte which are both very scenic walks. Both the North and South Head of Sydney Harbour also have several coastal walks of various lengths. I especially enjoyed the walk from Shelly beach to Barracks precinct which had incredible views out into the ocean.
7. Guided tours of the government house
Located within the botanical gardens, the government house is the vice-regal residence of the Governor of NSW. It is a stunning building from the outside and there are free guided tours inside. The gardens are open to the public between 10am and 4pm and guided tours run on Fridays, Saturdays, Sundays and bank holidays every 30 minutes from 10.30am till 3pm.
I have tried 4 times to get onto one of these tours over 2 trips to Sydney but unfortunately, have never managed to go inside. The first time I turned up on the wrong day and the second I turned up too late in the day. So the next time I made sure to go there at the right time. However, it turned out there was an event on that day so all tours were cancelled. 2 years later I returned to Sydney and tried to visit the Government House again but for security reasons, you need an ID with you and I didn't have it so my plans were foiled again! Be more prepared than me if you want to visit.
8. Various parks around the city
Throughout Sydney, there are plenty of parks you can visit free of charge which are suitable for different types of visits. At Darling Harbour, there is a park which is suitable for kids and adults alike. A playground will keep the children entertained whilst ping-pong tables and exercise equipment (anyone for exercise bikes which also charge your phone?) are suitable for the older generations. There are skateparks if you want to show off your skills or large parks perfect for romantic evening strolls. Hyde Park even has a large ANZAC memorial and Pool of Reflection if you ever want a moment of quiet contemplation.
9. Vivid Sydney
For three weeks every year from May to June, Sydney is lit up with hundreds of installations blending art and technology. These light exhibitions are unique to the festival each year and placed throughout the city. Wandering the streets rewards you with interesting and interactive art pieces around every corner. Some of Sydney's most iconic landmarks such as the Opera House and Harbour Bridge are illuminated and regular light shows are displayed in various places. Vivid can make the city and public transport extremely busy with 2.33 million people from far and wide attending in 2017. While it is extremely interesting to see and worth visiting if you have the chance, it is best to stay away from the main harbour area if you don't do so well in crowds.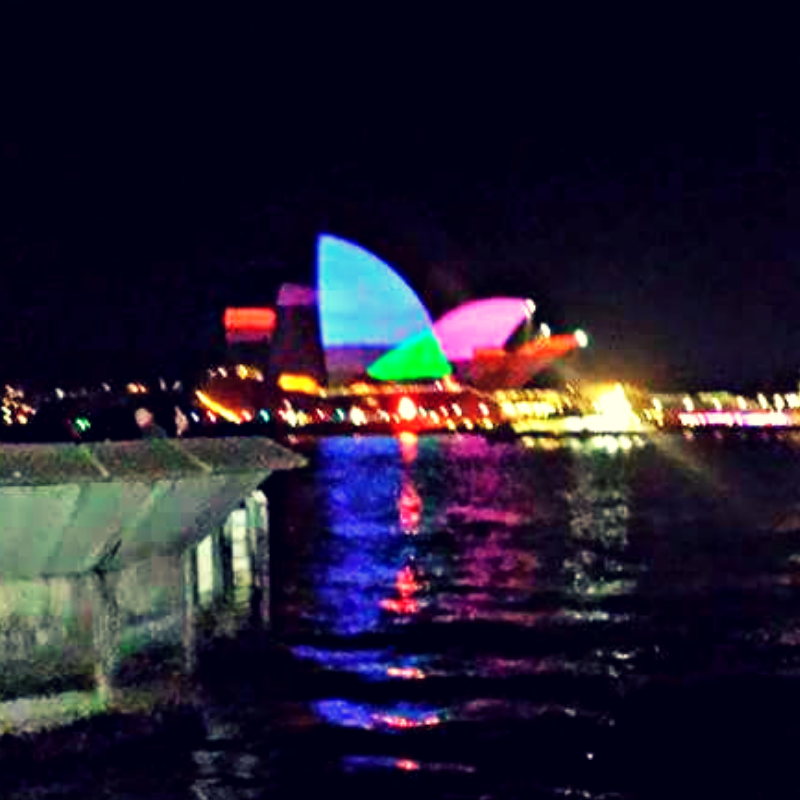 10. Sydney Mardi Gras
The Mardi Gras parade in Sydney is the city's LGBTQ+ pride parade. It is usually held on the first Saturday in March but a load of different events are held in the weeks running up to the parade. Mardi Gras is another huge event in Sydney with plenty of people of all sexual orientations and gender identities attending. It's the perfect opportunity to get out the glitter, beads and crazy outfits and head to the city in support of equality for all.
11. Weekend Markets
There are many markets throughout Sydney selling a range of different items from food to vintage fashion. Whilst you will need money if you want to buy anything they are free to wander around and peruse the goods. There may even be a few free samples available for you to try. The Paddington market is open every Saturday 10am till 4pm. It sells a variety of things such as soap, candles and food. Every Sunday from 10am to 4pm, the Bondi markets are open selling vintage clothes, furniture and crafts.
There are also plenty of pop up markets which only happen at certain points in the year including many cultural markets. The Finders Keepers market is one of these which I attended. Although this one does cost $2 to enter, you easily make that back in all the free samples you get to try! The market has everything handmade, from food to clothes to beauty products.
12. Walk across the Harbour Bridge
Although it does cost to climb over the Harbour Bridge, you can walk across it easily for free. There is a public footpath going across the bridge as well as the road and train line. There is a lookout point which you can climb up and also tells you a little about the history of the bridge. This is $15 to go up ($10 for concessions or $8.50 for children) or if you do decide to do the bridge climb you get a ticket to the lookout point included. However, if you don't want to pay that much you can just walk across the bridge. You'll get the similarly great views but without the hefty price tag.
13. Queen Victoria Building
The Queen Victoria Building (QVB) is a 19th-century building with stunning architecture. Inside is a small shopping centre mainly with designer stores. Whilst many of these stores are pretty expensive the QVB is a great place to window shop. There's an incredible clock in the building that is definitely worth checking out and since it's not far from the city centre it's very easy to just pop over to admire the architecture.
14. Paddy's Market
This is where you will want to get most of your souvenirs. Paddy's Market in Haymarket is an indoor market that is open Wednesday-Sunday 10am to 6pm. It sells a lot of different things including food, clothes, jewellery and souvenirs at a really cheap price. Like with the weekend markets, it wouldn't be free if you did choose to buy something but even without buying, Paddy's Market is really cool to just wander around, soak in the atmosphere and have a look at the interesting things for sale.
15. Cockatoo Island
Just a short ferry ride from Darling Harbour or Circular Quay you get to Cockatoo Island. This island has been used for a variety of things over the years and as such has buildings left over from different periods. The only thing it costs to get to the Island is the price of the ferry but as this is public transport it is very reasonably priced. Cockatoo Island is a UNESCO world heritage site and contains buildings from eras when it was used as a convict prison, shipbuilding yard for WW1, an industrial school for girls, a residential area and for various workshops. A lot of these areas are open for you to explore and imagine how the whole island would have been in those time periods. There are even camping facilities on Cockatoo Island if you want to stay the night.
If this post has convinced you to visit Sydney, check out Skyscanner to compare prices for flights. Skyscanner allows you to compare the best prices using different airlines, times, airports and dates to get you the best deals.
Have you visited any of these places? Is there anything we missed off our list of free things to do in Sydney? Let us know in the comments! Or Pin this post for later!