Sydney is one of my favourite cities in the whole world and with so much to do there it's hard not to love it there. I'm not usually one for cities but having lived there for 6 months during my study abroad, Sydney has this amazing relaxed vibe and so much variety that anyone will find something that is just right for them. Spreading from the Pacific Ocean to the Blue Mountains, the city covers so much but here are my 15 best things to do in Sydney, Australia. Sydney and Australia are known as being quite expensive but some experiences are worth the price! If you are visiting Sydney on a budget though check out my tips to make your trip cheaper and some of the great free things to do in the city.
*Disclosure* This post may contain affiliate links which means we get a small amount of commission on purchases made through our links at no extra cost to yourself. However, we would never recommend something we have not tried and loved ourselves and all opinions are our own.
Justice and Police Museum
The Justice and Police Museum is an interesting perspective on Australian history. It has exhibits on some of the most notorious criminals and con artists from around the country as well as some of the oldest crime scene photographs and mugshots. The museum is located in the old Water police station and courts which used to be Sydney's busiest station so you can imagine there is plenty of history contained within its walls especially the darker side of it. As a forensic science student, I had to check this out.
The Justice and Police Museum is only open Saturdays and Sundays 10.00am to 5.00pm and is located one street back from Circular Quay. Admission is $12 for adults and $8 for concessions (including children, seniors and students) or is included in the Sydney Museums Pass which allows entry to 12 different museums for $24 for adults or $16 for concessions. Guided tours also run throughout the day at various points which are included in the price of your ticket.
The Justice and Police museum is currently closed until further notice.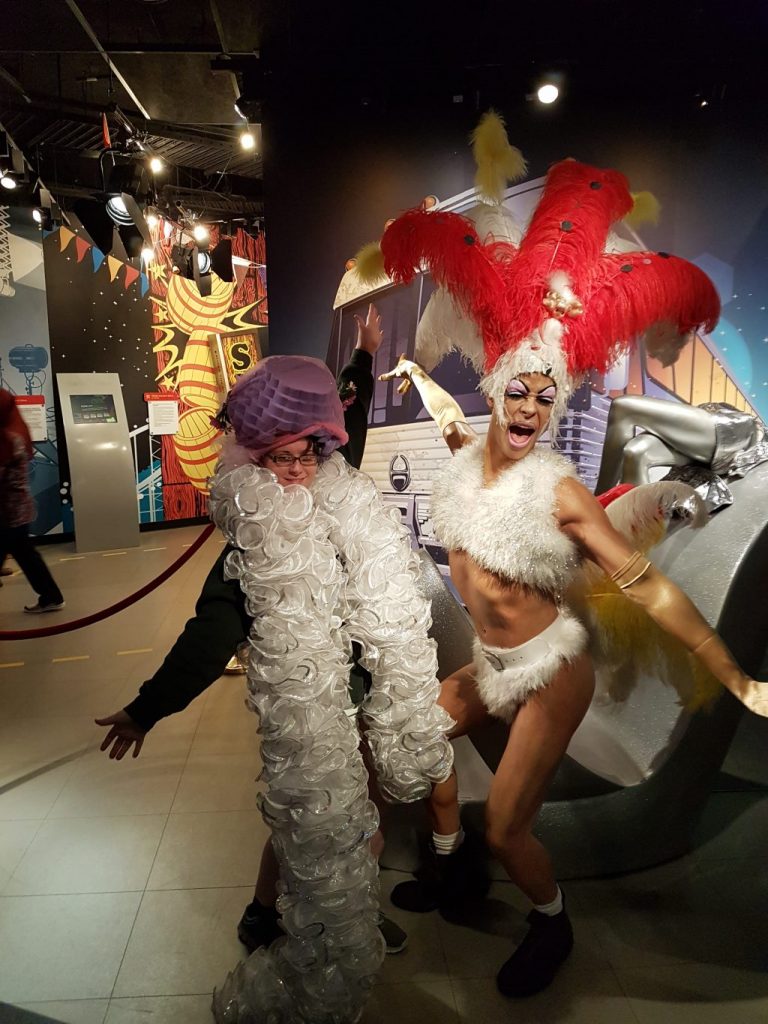 Madame Tussauds
Madame Tussauds is a worldwide brand with wax museums around the world so the chances are that you've heard of them before. If you've been to a Madame Tussauds before it may not be worth the price for you since a lot of the figures can be found around the world but there are a few unique Australian celebrities to be found here. For me, it was worth it and I really enjoyed posing and interacting with the wax characters although I really think this is something to do as a group or family as I know I wouldn't have enjoyed it so much on my own. Part of the fun for me was messing around, taking silly photos and trying on all the costumes around the place so it wouldn't be so easy to do this on your own although still possible.
Madame Tussauds is located at Aquarium Wharf in Darling Harbour next to Sea Life and Wild Life Sydney. It is open Thursdays to Mondays from 10.00am to 4.00pm and costs $36.80 for adults, $26.40 for children and $29.60 for concessions if you book online in advance or $46, $33 and $37 respectively on the door. If you are planning to visit more of the attractions in the city that are run by Merlin (Sea Life, Wild Life Sydney and the Sydney Tower Eye) you can get a discount to each by buying a combo ticket, $57 for 2 attractions, $67 for 3 attractions or $77 for 4.
When arriving at Madame Tussauds, a temperature check will be carried out but not kept on record, you will be required to give your contact details to ensure contact tracing can be carried out if there is an incident and you will be strongly encouraged to wear a face mask throughout the attraction.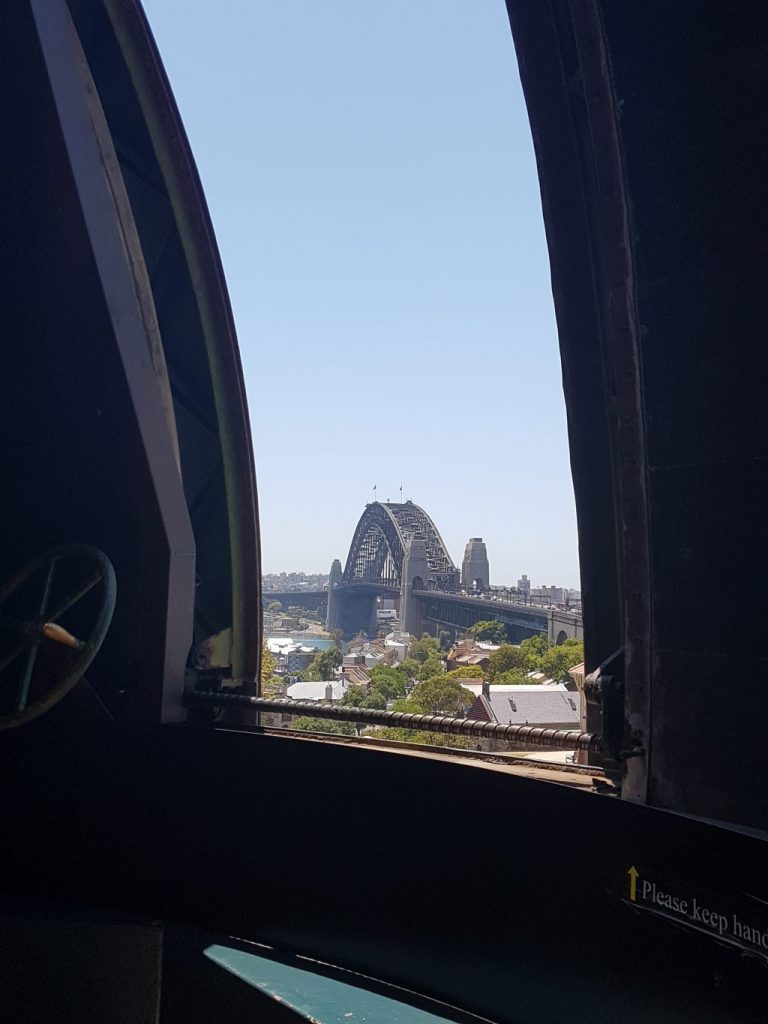 Sydney Observatory
The Sydney Observatory is a great museum for all things astronomical. They have various exhibits, a time ball which drops at 1pm each day, a planetarium and telescopes only available with a tour. Tours run during the day and in the evening and can be pretty quiet. We went on the day tour and were the only 2 people on it which meant we had plenty of opportunities to ask any questions we had.
The observatory is free to visit and open daily from 10.00am to 5.00pm with day tours running weekends, school holidays and public holidays at 11.15am, 12.15pm, 1.15pm, 2.15pm and 3.15pm and cost $10 for adults and $8 for concessions and children. The time of evening tours vary depending on the time of the year and cost $27 for adults, $25 for concessions and $20 for children. All tours are currently suspended but you can still visit the exhibits by booking a timed-entry ticket free of charge. To get to the Sydney Observatory, Circular Quay is the closest station. From there, head through The Rocks towards the Harbour Bridge and you will find it in Observatory Park at Millers Point.
Beaches
Since Sydney is located right on the East coast of Australia, there are plenty of beaches that you can head to without leaving the city. And, if you're willing to travel further, you'll find even more stunning beaches to explore, all for free too. The most famous beach in Sydney is Bondi located in an outer suburb of the same name. It's a great beach for swimming, surfing and even hiking with a gorgeous cliff walk from there to Coogee but, it isn't the nicest beach and is often packed with tourists. Manly Beach is slightly further away but a little quieter and the scenic ferry ride out there is not so bad anyway! The best beach I have been to so far is Camp Cove at the Sydney South Head. It is less well known so not as busy as the more famous beaches but just as beautiful and is sheltered from big waves and currents making it safe to swim.
Sea Life Sydney
If you love aquariums, Sea Life Sydney is not to be missed. There used to be two Sea Life centres in Sydney, the main one in the central business district and a second in Manly however this one is now permanently shut due to the building no longer being fit for purpose. This is unfortunate as it was a great aquarium however the other one has always been a little better anyway. Sea Life Sydney has to be one of the best aquariums I have been to so far around the world with a great variety of sea creatures, one of the worlds only captive dugongs and even a boat ride through the penguin enclosure included in your ticket price.
Sea Life Sydney is located at Darling harbour next to Madame Tussauds and Wild Life Sydney. It is open every day from 10.00am to 6.00pm with tickets costing $38.40 for adults, $31.20 for concessions and $28.00 for children if you book online or $48, $39 and $35 respectively on the door. The aquarium also has a range of unique experiences for anyone wanting to make their trip a bit special with a glass bottom boat tour of the Great Barrier Reef exhibit, a 75 minute behind the scenes penguin experience, shark dive Xtreme and private dining in the aquarium after closing time.
When arriving at Sealife Sydney, a temperature check will be carried out but not kept on record, you will be required to give your contact details to ensure contact tracing can be carried out if there is an incident and you will be strongly encouraged to wear a face mask throughout the attraction. The glass bottom boat ride is currently closed as well as the behind the scenes penguin experience and shark diving experience.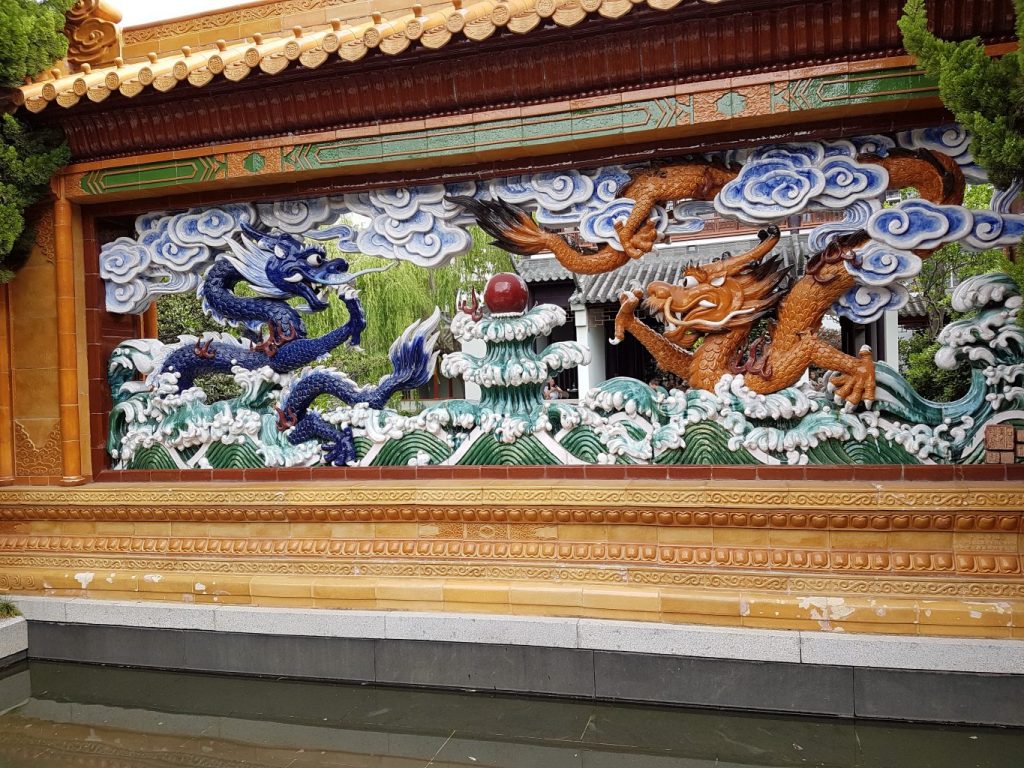 Chinese Garden of Friendship
The Chinese Garden of Friendship is one of my favourite things to do in Sydney and great for if you're traveling on a budget too. It is a secret walled garden in the middle of the city and an oasis of tranquillity with waterfalls, exotic plants and pavilions hidden away from the rest of the world. Inside the garden, there is also a tea room and the opportunity to dress up in some traditional Chinese clothing. I went here alone the first time (ironic isn't it?) and had a great time. It was so nice to just relax and admire the view whilst sipping on some loose leaf tea.
The Chinese Garden of Friendship is located in Darling Harbour if you walk from the water towards Chinatown. It is open daily from 9.30am to 5.00pm April to September or 5.30pm October to March and entrance is $8 for adults and $4 for children and concessions. There are normally three tours daily with slightly different focuses at 10.30am, 11.45am and 2.30pm which are free to join with your garden entrance ticket, however, these are currently postponed until further notice.
The Blue Mountains
Whilst the blue mountains aren't technically within Sydney, they are so close that you can't visit the city without seeing them. Even if you're only there for a short while I recommend taking a day out of the city centre and head to the mountains for some relaxation among nature. To get there, it is about 2 hours on the train to Katoomba station and then a short walk or bus drive to get to the scenic views themselves. The three sisters are the main thing people go to see but there are also numerous hiking trails and other activities such as rock climbing, cave tours, a cultural centre and gardens. This is even home to the world's steepest railway at Scenic World.
Whale Watching
Sydney is a great place to spot whales migrating as more than 50% of the world's whales, dolphins and porpoises can be found in the water here. They can be spotted from the shoreline but for the best chance of a sighting, there are whale watching tours leaving from Sydney several times a day during migration season from May to November. We went right at the end of the season in November so there weren't too many around but luckily most tours give a whale guarantee allowing you to book another tour if you don't manage to spot one.
Prices, location, times and tour dates vary depending on which company you book with. A few cruises running whale watching tours are Captain Cook Cruises, Fantasea Adventure Cruising and Oz Whale Watching. We went with Whale Watching Sydney who has several different tours. The Adventure Cruise which costs $99 for adults or children and departs from Circular Quay at 9.30am, 12.45pm or 3.30pm. This is a two-hour whale watching cruise on a small speed boat. Be warned though, if you suffer from seasickness this is not the tour for you else you might miss seeing the whales as you're staring into a paper bag! The second tour is a three-hour Discovery Tour on a large ferry with a live expert commentator, onboard multimedia presentations, refreshments served and a professional photographer. There are two boats that do this tour, the first being the Fantasea Catalina which leaves from Circular Quay at 9.15am and 1.15pm and the second being the Ocean Dreaming 2 which leaves from Circular Quay at 9.15am and 1.00pm. Both of these cost $87 for adults or $56 for children. The final tour is the two-hour Explorer Tour which is on a medium-sized vessel and includes live commentary and onboard multimedia presentations. It costs $59 for adults and $39 for children and departs from Circular Quay at 9.30am, 12.45pm or 3.30pm.
The Royal Botanical Gardens Sydney
The Royal Botanical garden is located near Circular Quay and right next to the Sydney Opera House. It is free to enter unless there is an event on. It is 30 acres of heritage listed gardens and rare cultivated plant species. This is where you can find the best views of the harbour is the whole of Sydney. Inside the garden, you will find cafes, shops, a lake and even the old government house which you can visit on guided tours.
Australian National Maritime Museum
The Australian National Maritime Museum contains important items from the country's maritime history and as an island nation, there is a lot of it! From the Eora First people to a replica of Captain Cook's HMB Endeavour (one of the most accurate replica vessels in the world) to modern day Olympic sailors. There are 14 different working vessels plus a lighthouse permanently at the museum some of which can be entered and explored depending on weather conditions and if they are available. Some of these can even be hired for events like the SY Ena or taken out sailing for a harbour cruise like the Tall Ship: James Craig 1874 or even further along the coast of Australia like the HMB Endeavour.
The Australian National Maritime Museum is located in Darling Habour across the water from the Sea Life aquarium and Madame Tussauds. The Pyrmont Bay ferry stop is just outside of the museum or it is not far from Town Hall train station. It is open 10.30am-4.00pm and is completely free to visit any of the permanent galleries. Special temporary exhibits can sometimes cost more depending on what it is for and to visit the vessels on site you must get the Big Ticket which also includes entrance to any special exhibits or activities. This costs $32 for adults and $20 for children or concessions.
At the moment, not all vessels are open to visitors. It is only possible to visit the top deck of the HMAS Vampire and the top deck of the HMB Endeavour. Ticket prices have been reduced to reflect this with the See It All ticket costing $25 for adults $15 for children and $20 for concessions. It is encouraged that you book your tickets online as there is reduced numbers of people allowed in and the museum is now cashless so make sure you bring a credit or debit card if you want to make any purchases.
Taronga Zoo
There are several zoos in and around Sydney but Taronga Zoo has to be the best of them. It is the largest zoo in the city with around 4,000 animals from over 350 species and they also have a huge focus on conservation of native wildlife with breeding programs, habitat recovery and rescue and rehabilitation of injured and orphaned animals. Throughout the day there are regular keeper talks, animal feeding and shows (the bird show is not to be missed) which are included in the price of your ticket. If you really want to make your day special, they also have special experiences like becoming a keeper for the day and animal encounters. Last time I was there, we took part in the penguin encounter, hand feeding the zoo's group of little penguins.
Taronga Zoo is open 9.30am-5.00pm every day and is located in Mosman on the North side of Sydney Harbour. The easiest way to get there for Sydney Central Business District is by hopping on a ferry at Circular Quay but you can also take a bus from Central, Town Hall or Wynyard station. If you take the ferry, you can buy tickets to the zoo at the wharf to save time queuing once you get there. Tickets are $44.10 for adults, $35.10 for concessions and $26.10 for children if you buy online in advance and you cannot buy on the door.
Some areas of the zoo are temporarily closed. Indoor areas where social distancing cannot be maintained, the Sky Safari cable car, keeper talks and animal encounters are currently not available. Indoor restuarants, shops and animal shows will have limited capacity. It is recommended that you wear a mask while visiting and all staff interacting with visitors will be wearing them.
Harbour Cruise
One of the best ways to make the most of your time in Sydney and really get to know it is by taking a harbour cruise. There are many different cruises you can take including tall ship cruises, afternoon tea cruises and sunset cruises but I would say the best kind to get is a hop-on-hop-off cruise. This way you can learn more about the area with live commentary on board but if you see somewhere you like the look of you can get off to explore. We spent a day on the hop-on-hop-off ferry sightseeing around some of the islands in the harbour along with some other stops along the south head.
The Captain Cook sightseeing ferry runs between 6.40am to 7.45pm with reduced hours on weekends. Be sure to check their website for updated information regarding the timetables. The pass is valid for 1 day or 2 days and goes to 11 different stops around the harbour. The 2 day ticket costs $52 for adults and $29 for children and the 1 day ticket costs $39 for adults and $25 for children. These can also can be combined with other tickets for attractions around the city to get a slight discount.
Susannah Place Museum
This is probably my all-time favourite museum in the whole of Sydney as it's all about the average person. Susannah Place is a row of houses that were some of the earliest to be built by immigrants arriving in Australia to start a new life. They have remained pretty much unchanged since they were built in 1844 and now serve as a recreation of the way the people who once called it home would have lived. There are three houses that make up Susannah Place with each one being made to look how it would have been during three different time periods complete with a 1915 corner shop.
To visit Susannah Place, you must be on a guided tour. These run at 2.00pm, 3.00pm and 4.00pm every day and cost $15 for adults and $12 for concessions. Susannah Place is also included in the Sydney Museums Pass so if you plan on visiting a few museums this usually works out the best. It is located in The Rocks area between Circular Quay and the Sydney Harbour Bridge.
Susannah Place is currently closed until further notice.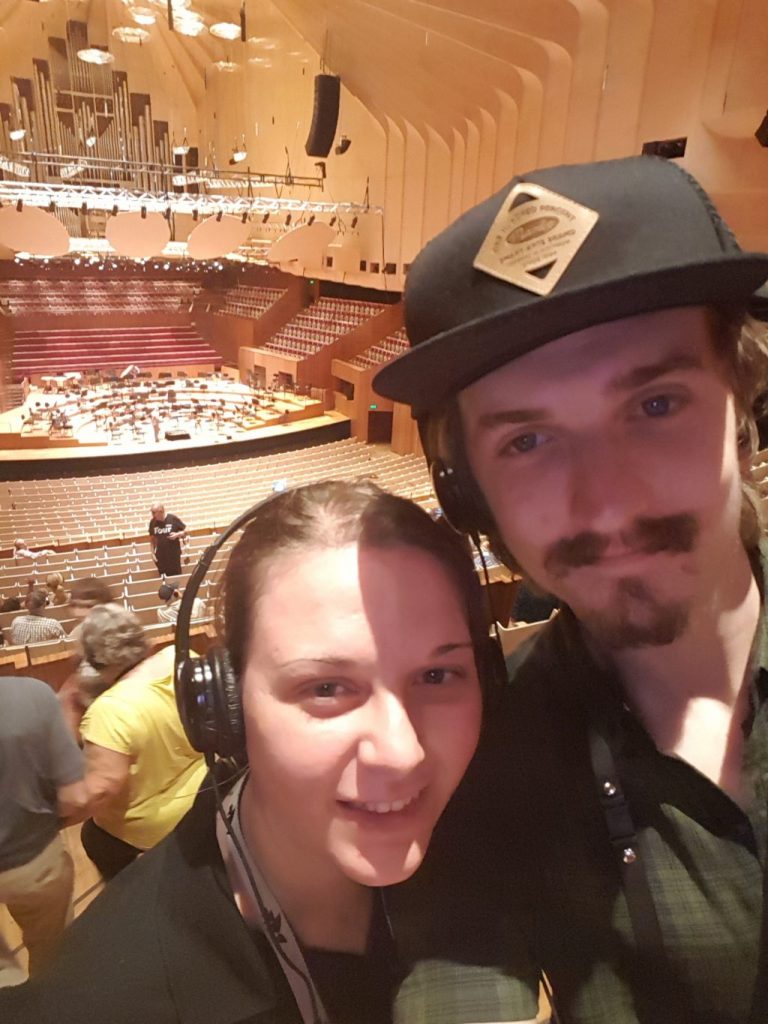 Sydney Opera House Tour
One of the most iconic buildings in Sydney if not the whole of Australia but many people only visit to see it from the outside. What they don't realise is that you can actually go on a tour inside the opera house taking you to backstage areas off-limits to the general public. The tour leads you through the history of the building and many of the features which make it such a special building. The tour is led by a guide but you listen through a headset so you can hear them easily in large or busy areas.
The Sydney Opera House tour runs daily between 9.00am and 5.00pm with a tour leaving every 15 to 30 minutes and is available in several different languages. The tour runs for an hour and is a walking tour with over 200 steps and several stairs so wear comfortable shoes and make sure you are able to stand and walk for that long. There is an accessible tour that runs at 12.00pm each day for those with limited mobility and can include a sign language interpreter on request. Tours cost $42 for adults, $32 for concessions and $22 for children and can also be combined with dining or drink packages.
The Sydney Opera House is currently closed to all public until further notice.
Harbour Bridge Climb
And of course, no best things to do in Sydney list is complete without a mention of the famous Harbour Bridge. Whilst it is expensive so not always worth it if you're on a budget, if you can afford it I would definitely recommend doing the Harbour Bridge Climb. The Bridge takes you 134 metres above sea level and gives the best views of Sydney no matter what time of day you go. It may seem a little scary at first but even as someone scared on heights, I never found it too bad since you're always securely tied to the bridge.
There are four different bridge climbs at different prices. The first is the Sampler Climb which allows you to walk up the inner arch of the bridge to about half way up. This costs $174 for adults or $148 for children and only lasts one and a half hours. This climb is not currently available. The second is the Express Summit Climb which lasts two and a half hours and costs between $268 and $403 for adults depending what time of day you go and between $188 and $293 for children. The next one is the Summit Climb which lasts three and a half hours and costs the same as the express tour. Both the express climb and normal bridge climb go all the way to the top of the Harbour Bridge but the express climb has fewer stops so it's more geared towards those a little more physically active. The prices vary by what time of day you do the climb with dawn being the most expensive, followed by twilight, daytime and finally a night climb is the cheapest. I did the night Summit Climb and even in the dark, it is worth doing to see the 360-degree views of the city lights. From the 6th of September 2020 you can now do the Ultimate Bridge Climb which takes 3.5 hours and allows you to climb all the way across the Harbour Bridge from South to North and back again and costs $348 for adults or $149 for children.
If you're ready to start planning your trip to Sydney, check out Skyscanner to compare flights on different dates, with different airlines and from/to different airports to find the best deals.