If you're heading to Disneyland Paris soon you might be a little overwhelmed with all the different food choices available. While this might seem like a bad thing when you're faced with so many options, it's also a great thing because it means there is something for everyone. Whatever your budget, diet or personal taste there are Disneyland Paris restaurants that are perfect for you. Whether you're traveling as a family or on an adult only trip, you'll always find something to suit your taste.
There are four types of dining options at Disneyland Paris, these being Counter Service, Buffet, Table Service and Character Dining which usually go up in this order in terms of price. If you have decided to get a meal plan, these will include different types of restaurants depending on the level of the plan so be sure to check which of these yours includes. If you do want to visit somewhere that is not included in your meal plan though, you can use it towards the meal and pay an extra top up.
A word of warning if you're traveling to Disneyland Paris as a vegetarian like me, it is not a huge thing in France. There are not many vegetarian options in many of the restaurants but you should always be able to find something. However, if you look at any menu you will see plenty of green V's indicating a vegetarian dish. Unfortunately, whoever made these menus don't seem to understand how this works as they are putting the V for individual items instead of the whole meal. For example if there is something that is chicken served with vegetables there will still be a green V as the vegetables are suitable for vegetarians despite the fact the main part of the food is chicken so is not. Be sure to read the whole menu carefully to avoid accidentally ordering something with meat! I have tried to include the vegetarian options at each establishment in this post with a (v) to make it a little easier when planning your meals.
Opening times given are correct at time of writing however are subject to change depending on park openings.
*Disclosure* This post may contain affiliate links which means we get a small amount of commission on purchases made through our links at no extra cost to yourself. However, we would never recommend something we have not tried and loved ourselves and all opinions are our own.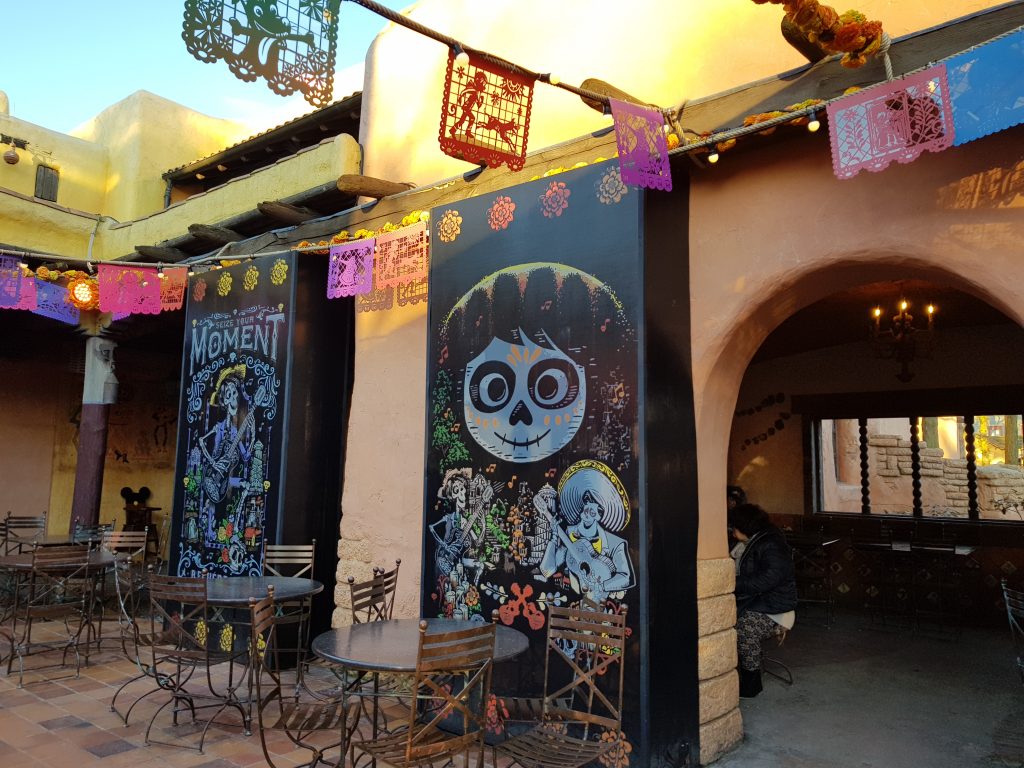 Counter service
Counter service restaurants are where you order and pay at the counter and wait to pick it up before finding a seat yourself. There are no cast members to show you to a table or take your order and these are usually the cheapest meals you can get in the park. Most counter service restaurants serve the same kinds of food usually consisting of a main, chips and a drink for a similar price although some have slight variations on this based on their theme.
Main Street USA
Casey's Corner
American Style Diner serving hot-dogs and fries(v).
11am-10.30pm
Market House Deli
Snack Foods such as sandwiches(v) and salads(v).
10.30am-10.00pm
Frontierland
Last Chance Cafe
Tex-Mex restaurant featuring Cajun sausage, sweetcorn soup(v), chicken wings, wraps and Chilli jacket potatoes.
11.30am-5.00pm
Fuente del Oro Restaurante
Mexican cuisine including burritos, fajitas, chilli(v) and nachos(v) and based around the Coco Disney Pixar film.
11.30am-9.30pm
Cowboy Cookout Barbecue
BBQ menu with burgers, chicken, sausage and ribs. Also, they have a veggie burger(v).
11.30am-4.00pm
Adventureland
Restaurant Hakuna Matata
International cuisine mainly consisting of chicken and salads(v) with an African twist.
11.30am-9.30pm
Colonel Hathi's Pizza Outpost
Italian restaurant serving pizza and pasta (both vegetarian and meaty).
11.30am-5.00pm
Fantasyland
Au Chalet de la Marionette
Bavarian style dishes such as sausages, chicken and pork Shank.
11.00am-8.00pm
Pizzeria Bella Notte
Italian cuisine with pizza(v) and pasta(v) dishes including spaghetti and meatballs like in Lady and the Tramp.
11.30am-5.30pm
Toad Hall Restaurant
Fish and Chip shop as well as a few extra dishes such as veggie burger(v), beef stew and chicken sandwich.
11.30am-5.00pm
Discoveryland
Cafe Hyperion
Burger restaurant serving fish, chicken, beef or veggie burgers(v). There are also special Star Wars items served here during Season of the Force.
This is the biggest counter service restaurant so if it is busy you are more likely to find a table here.
11.00am-9.30pm
Walt Disney Studios Park
Restaurant en Coulisse
Burger menu including beef, chicken or fish near the entrance to the Studios park.
8.30am-8.30pm
Disney Blockbuster Cafe
Snack foods such as sandwiches, wraps, pizza and toasties set in a props warehouse.
10.30am-5.00pm
Disney Village
Vapiano
Italian Restaurant serving pizza and pasta dishes.
Five Guys
American burgers and toasties.
New York Style Sandwiches
American snack foods like sandwiches and salads.
Mcdonalds
The famous chain restaurant serving its normal fast food. This is usually the last restaurant left open.
Earl of Sandwich
Probably the cheapest place to eat in the whole area, Earl of Sandwich serves customisable hot subs as well as other snack foods.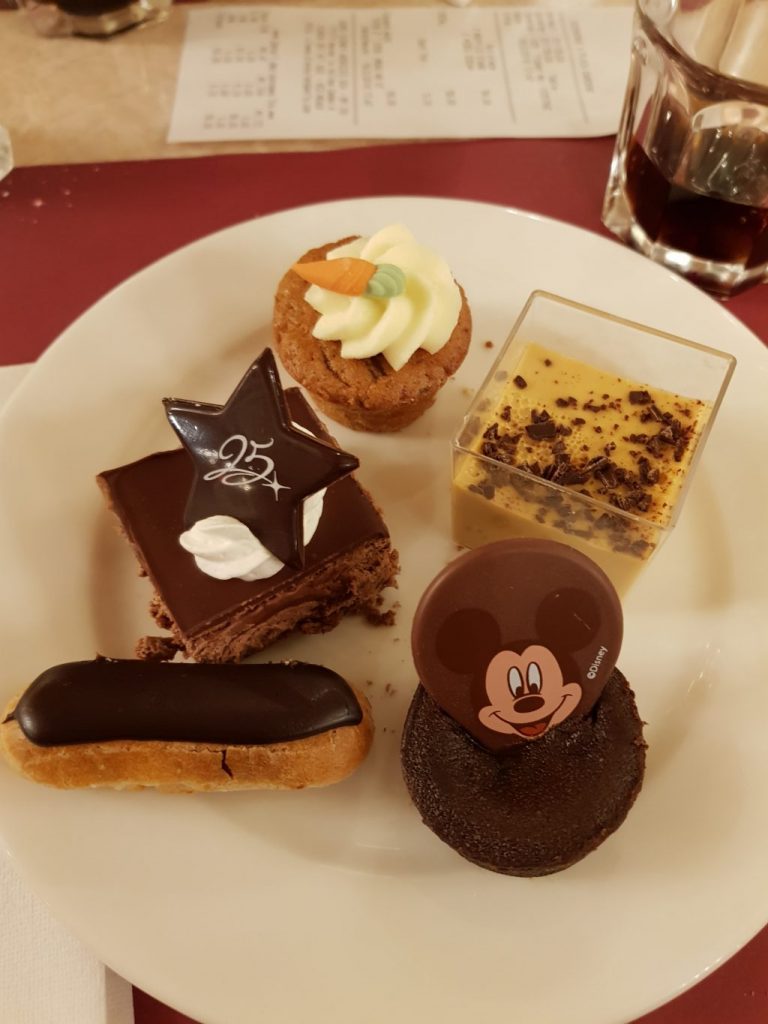 Buffet
The all-you-can-eat buffet restaurants are mid tiered and can often be the best value for money based on the amount you get. Currently, these are not operating as a normal buffet but are all-you-can-eat table service restaurants with set dishes you can order. Each Disneyland hotel has its own buffet restaurants which serves breakfast lunch and dinner, apart from the one Davy Crockett's Ranch which only opens for dinner in the evening. Most buffets have a slight theme in their food but they usually serve a large variety of generic, international cuisine. Normally, when you get there you will pay upfront, be seated by a cast member and have your drinks order taken but then you help yourself to as much food as you want, however, due to the current situation you will now have your order taken by a cast member and the food brought out to you. Due to a law in France, it is illegal to have refillable drinks so you must pay for each drink you have separate.
Disneyland Paris Parks
Plaza Gardens – Main Street USA
Victorian Styled restaurant serving generic buffet food like pizza, bread, salads, chips and chicken nuggets.
12.00pm-9.30pm
Restaurant Agrabah Cafe – Adventureland
Themed around Disney's Aladdin, this buffet serves Mediterranean and middle eastern cuisine such as couscous, hummus, kebabs and flatbreads.
11.30am-7.30pm
Restaurant Des Stars – Walt Disney Studios
International generic buffet type foods like salads, pasta and cakes.
12.00pm-4.00pm
La Grange at Billy Bob's – Disney Village
International buffet food with a heavy emphasis on bbq and meaty foods.
6.00pm-11.00pm
Cape Cod – Newport Bay Club
Mediterranean and seafood buffet but with other dishes too.
6.00pm-10.30pm
Hunter's Grill and Beaver Creek Tavern – Sequoia Lodge
Cosy cabin themed international buffet.
6.00pm-10.30pm
Chuck Wagon Cafe – Hotel Cheyenne
Wild West themed international buffet.
6.00pm-10.30pm
La Cantina – Hotel Santa Fe
Tex-Mex inspired international buffet.
6.00pm-10.30pm
Crockett's Tavern – Davy Crockett's Ranch
Woodland Tavern styled international buffet.
6.00pm-10.00pm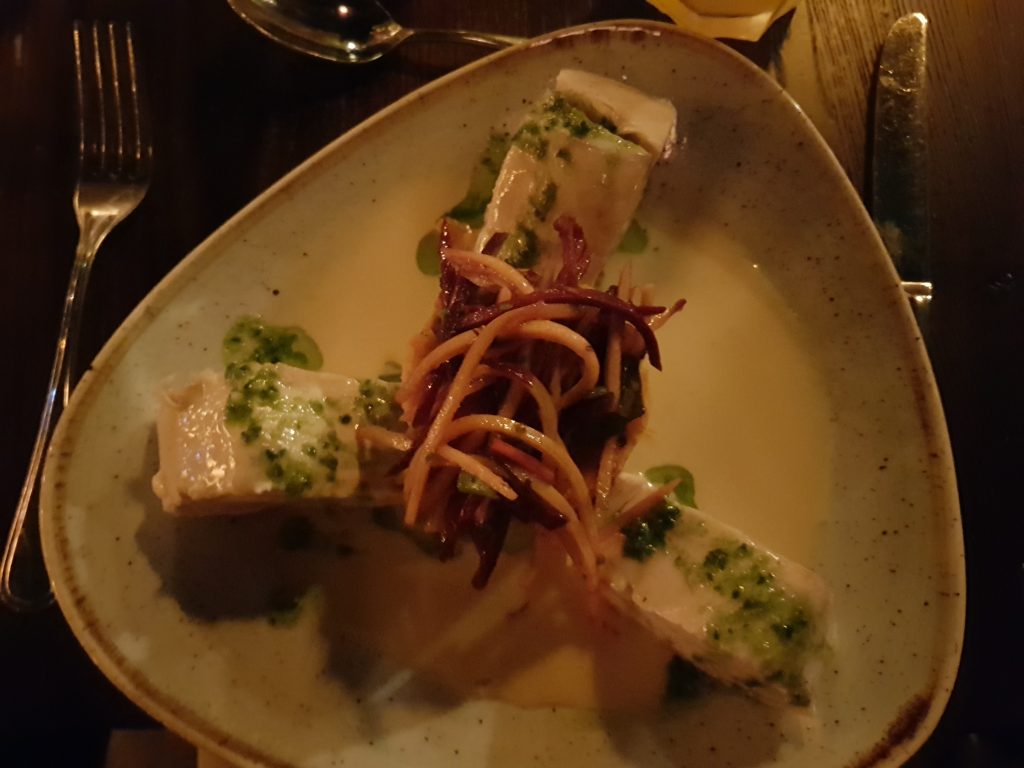 Table service
Table service restaurants involve you waiting to be seated by a cast member and having your order taken and brought to you at the table. Your bill will be brought over at the end of the meal and pay for whatever dishes you've had. These have the most expensive food but are also the most unique. Each table service restaurant is individually themed with corresponding dishes.
Disneyland Parks
Walt's – An American Restuarant – Main Street USA
American cuisine with European influences like lobster, scallops, beef tenderloin, gnocchi(v) and pork chop with mac and cheese.
Currently closed for refurbishment
The Lucky Nugget Saloon – Frontierland
Tex Mex inspired dishes such as fish and chips, cheese burger, bbq ribs and veggie burger(v).
The Lucky Nugget also features live music and puppet shows regularly.
11.30am-9.30pm
Silver Spur Steakhouse – Frontierland
Western styled grill restaurant serving meaty dishes.
11.30am-4.00pm
Captain Jack's – Adventureland
Carribean and exotic inspired dishes like vegetable curry(v), sweet potato and squash cottage pie(v), grilled beef, slow roasted pork, grilled prawns and roasted fish with coconut sauce set inside the Pirates of the Caribbean ride.
11.30am-9.00pm
Bistrot Chez Remy – Walt Disney Studios
Traditional French food like Foie Gras, ratatouille, ravioli, steak and roasted cod.
11.30am-7.30pm
Disney Village
Annette's Diner
American style diner serving burgers and shakes
10.00am-11.00pm
Planet Hollywood
American styled food set amongst Hollywood Stars.
King Ludwig's Castle
Bavarian themed dining.
The Steakhouse
Chicago inspired steakhouse serving, beef, pork ribs and vegetarian pasta(v).
12.00pm-11.00pm
Rainforest Cafe
A wide range of dishes set in the Amazon Rainforest.
Disneyland Hotels
California Grill – Disneyland Hotel
Elegant fine dining with dishes such as rotisserie chicken, pork tenderloin, roasted veal and glazed celeriac(v).
6.15pm-10.30pm
Yacht Club – Newport Bay Club
New England and Mediterranean inspired dishes like surf and turf, risotto(v) and seafood linguine.
6.30pm-10.30pm
Character dining
Character Dining is the most expensive way to eat at Disneyland Paris however you're paying for the experience more than the food. This is the best way to guarantee that you see characters without having to queue for ages for meet and greets. These are all temporarily suspended but hopefully will be back soon.
Plaza Garden – Main Street USA
This is where character breakfast is served. It is a buffet breakfast and you will meet several characters such as Mickey, Minnie, Goody, Donald, Winnie the Pooh and others.
Inventions – Disneyland Hotel
Character lunch and dinners are served here and include a buffet meal of international food and the opportunity to meet several characters as you eat.
6.00pm-10.30pm
Auberge de Cendrillion – Fantasyland
Here you will meet princess's usually around 4 as well as other related characters like Prince's and Cinderella's mice. The food is ordered at and brought to the table for you so you can focus on meeting the characters.
12.00pm-7.00pm
Cafe Mickey – Disney Village
Cafe Mickey is an Italian inspired restaurant where you can go for character meals. It is the cheapest of the character dining options but you may also meet fewer characters. It is a table service restaurant.
6.00pm-11.00pm
Buffalo Bill's – Disney Village
This is where the Buffalo Bill's Wild West Show takes place. Your food is brought out to you and as you eat you can watch the show. There is a set adult or child menu. Adults get cornbread, chilli, Texan skillet, potato wedges, warm apple dessert with ice cream and a drink of water, beer or coca-cola and children get chicken drumstick, sausage, potato wedges, ice cream and a drink of water or coca-cola. If you are a vegetarian, you must request this when you are seated and will receive veggie chilli, potatoes, tortellini, corn on the cob and cornbread with dessert and a drink.
6.30pm-9.30pm Friday to Tuesday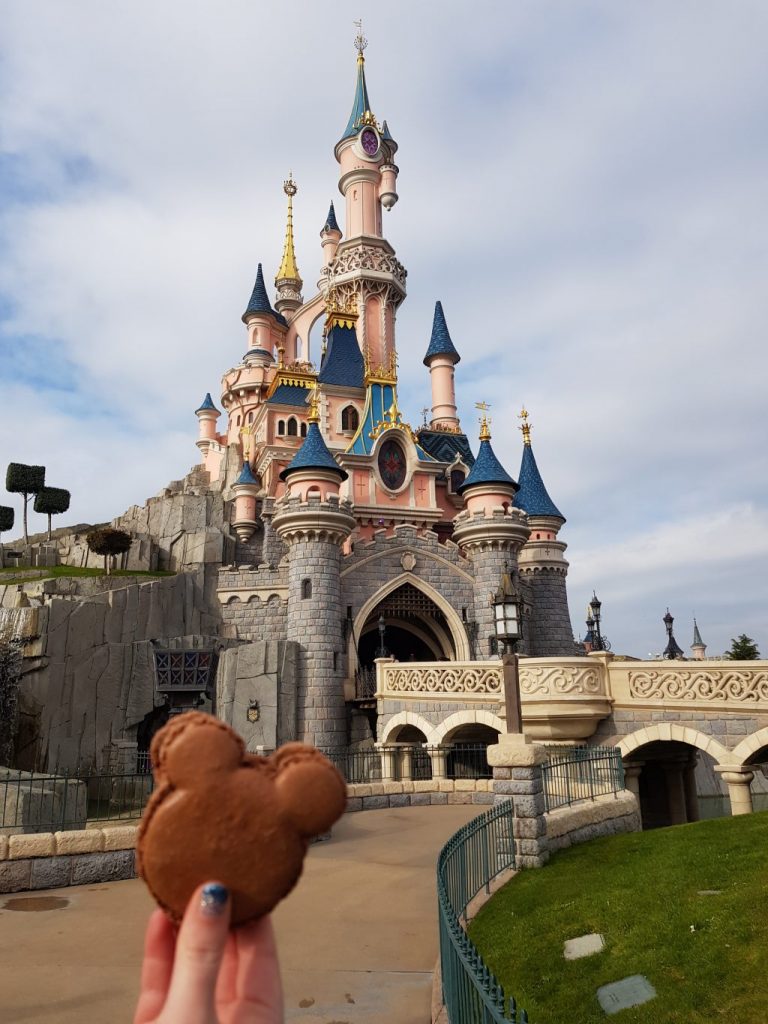 Snacks
On top of all the wonderful restaurants in Disneyland Paris, there are also plenty of places to get snacks too. There are several vendors around the park with some of these being seasonal but also several permanent snack stores too.
Cable Car Bake Shop – Main Street USA
10.30am-9.00pm
Cookie kitchen – Main Street USA
8.30am-10.30pm
The coffee grinder – Main Street USA
Currently closed for refurbishment
The Gibson girl ice cream parlour – Main Street USA
11.30am-9.00pm
The ice cream company – Main Street USA
3.00pm-7.00pm
Fantasia gelati – Fantasyland
1.00pm-5.00pm
Starbucks
Disney Village and Hotel Cheyyene/Santa Fe
Bars
If you're heading to Disneyland for an adults only holiday, be sure to check out some of the bars around the park especially for the famous glowtini!
Cafe Fantasia
Disneyland Hotel
Captains Quarters
Newport Bay Club
Crockett's saloon
Davy Crockett's Ranch
Red garter saloon
Hotel Cheyenne
Redwood bar and lounge
Sequoia Lodge
Rio Grande bar
Disney Village
Sports bar
Disney Village
Billy Bob's Country Western Saloon
Disney Village
If you're ready to start planning your trip to Disneyland Paris, check out the official Disneyland Paris website for deals and packages or The Walt Disney Travel Company as prices can sometimes vary. To find the best flights to Paris, take a look at Skyscanner where you can compare prices from different airlines, airports and on different dates. There are some restrictions in the Disneyland Paris parks right now so be sure to check their official page for all up to date information. All bookings direct with Disney currently have no booking, cancellation or change fees so you can have peace of mind when booking.