The tales from Week 1 of the Vietnam Adventure can be found here.
As we start our second week in Vietnam, we can report mostly lovely weather. Today has been a great day, very hot & sunny with a temp of around 32 degrees. 
We've spent the day lazing around the pool and watching the waves and the kids flying kites then tonight we've been into Da Nang city. We saw the dragon bridge.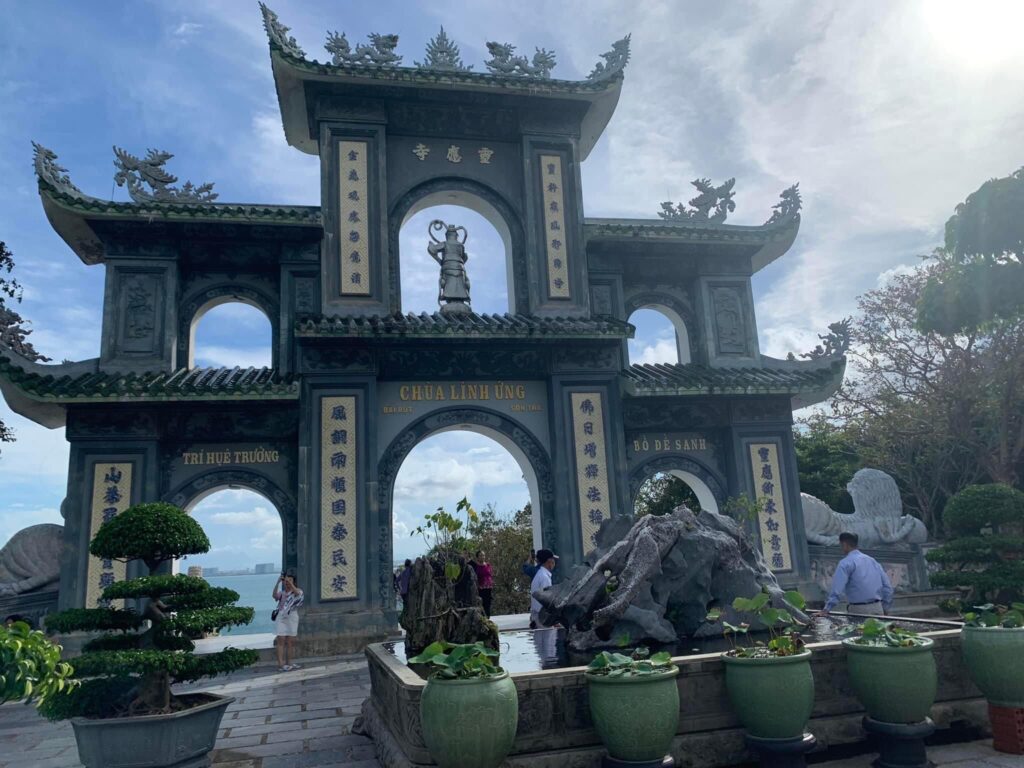 We didn't stay long as we both said it was too busy for us and as it started to rain we jumped in a taxi back to the hotel.
We're off out on another trip tomorrow.
Saturday
Last night we had rain, real heavy rain, whilst we were out, then we had thunder & lightning through the night which was a little scary!
Today was another tour day. We've been to marble mountain which is where marble used to be extracted to carve the amazing statues. It's not taken from here any more which is good and the mountain is now a place of prayer & reflection.
From here we went to Ba Na hills which I can only describe as Disney Vietnam style! Lots of smiley people wishing us a good day. There was lots to see after the 20 mins cable car ride but another 1000 steps at the top!
Lord only knows how they got the building materials up there!
From here we went to monkey mountain to see the 67m high lady Buddha and the magnificent pagoda.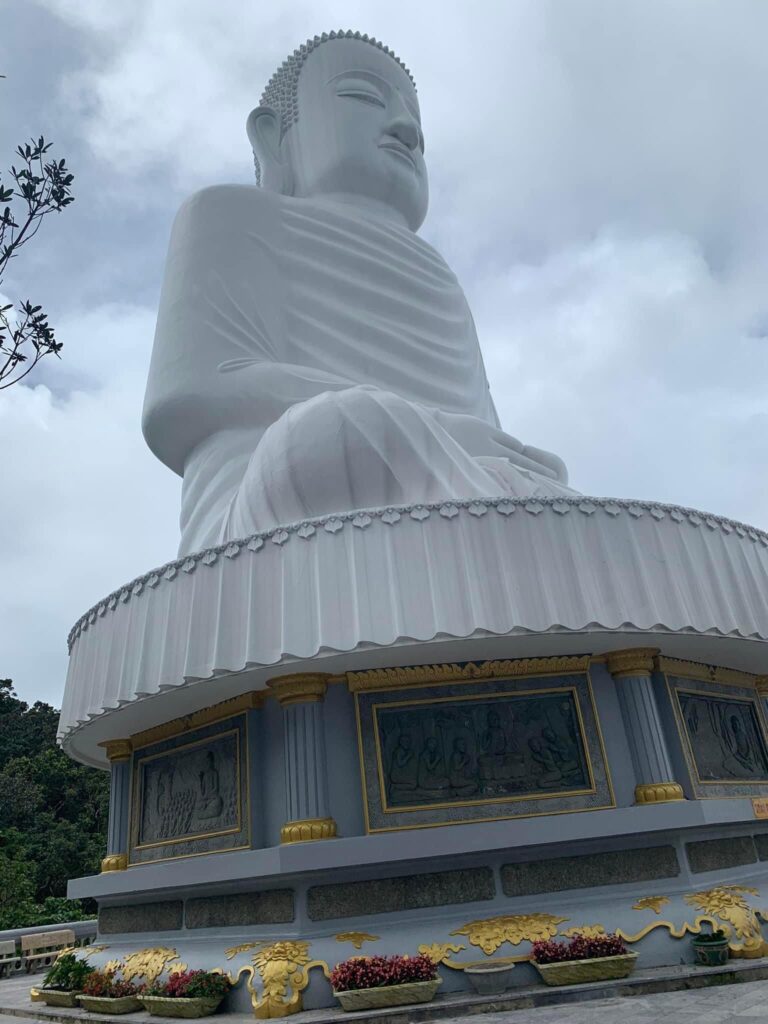 We just had enough time after for an hour in our favourite spot by the pool!
Another couple of observations about the driving today…..
Honking of the horn is to let others know you're there, not to annoy them!
The Vietnamese do this A LOT.
Tomorrow we go to Hue. We won't miss the city of Da Nang but we'll miss this beautiful hotel! Let's hope the next one is just as nice.
The calm after the storm again last night! At least its at night so not spoiling our days.
Too many bites to count now but the antihistamine cream & bonjela is stopping the itch!
Sunday
We left Da Nang in the sunshine today for the drive to Imperial Hotel – Huế, after around an hour it started to rain and well…..it rained & rained! I'll never moan about English rain again!
We went over the Hai Van pass which is quite famous. (https://www.vietnamdrive.com/hai-van-pass/)
We managed to catch some great pic op's just before the rain!
The driver was amazing & you wouldn't have wanted to be on a bike or scooter today!
We checked in our next hotel then hot footed it to the designer handbag shop!
2 more bags bought then straight into a spa for a shoulder & neck massage, facial & foot/leg massage all for £20 pp!
We are now in the noisiest bar that's full! Waiting for food but the beer is great! I think it's student night. We are sat on chairs made for 5 year olds.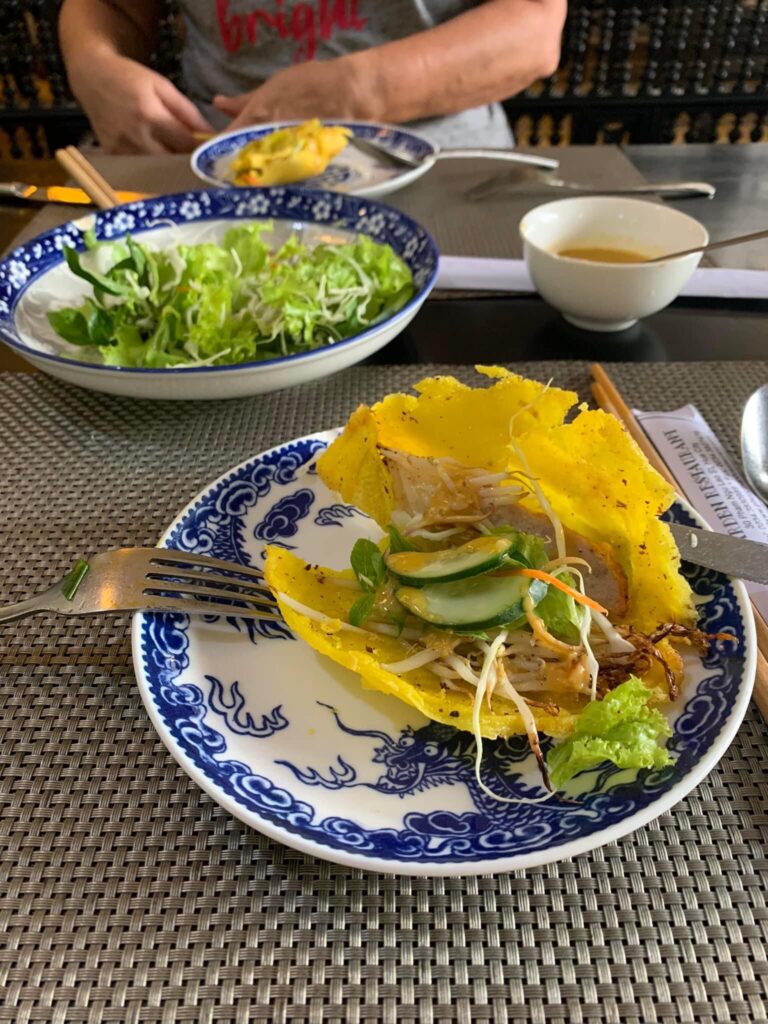 Off out to see a few more treasures tomorrow!
Monday
Hue (pronounced whey) has been great apart from the heavy rain this morning! Our tour guide arrived at 9am and we were on our way to the Imperial palace which was part ruin but the parts still standing were amazing! We walked miles around this in rain water that was sometimes over our ankles!
From here we went to the 7 tier pagoda and the Buddhist monestery. There was a car that belonged to a monk that set himself alight as a protest to the government. A bit severe but we are talking 1970's!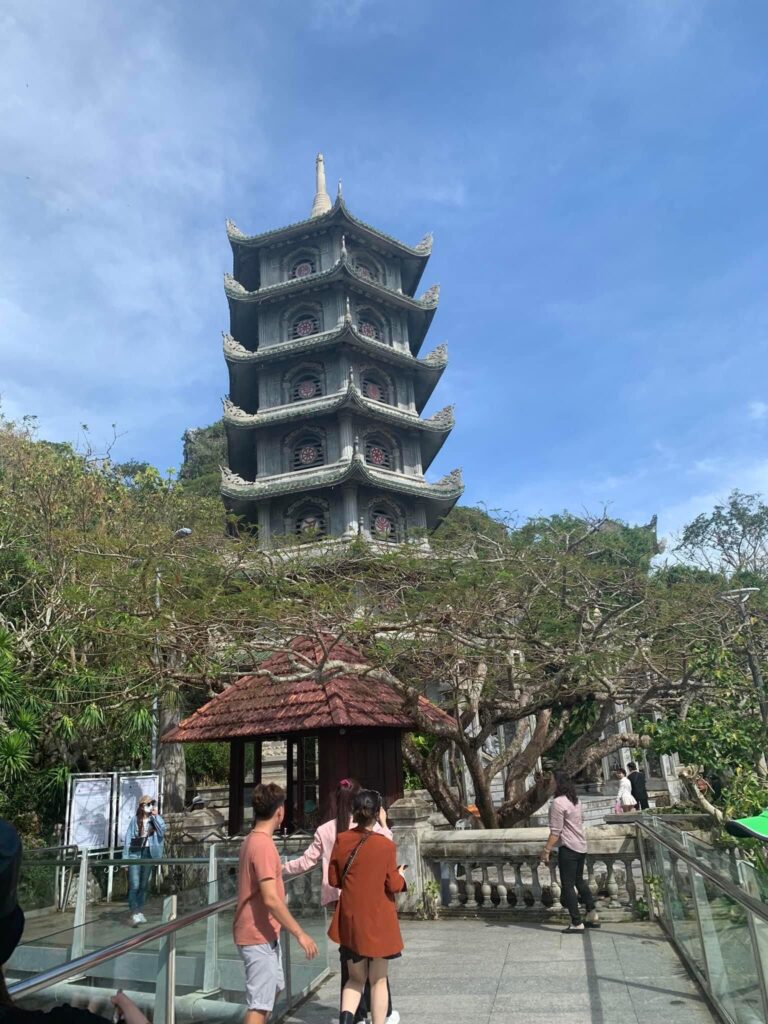 From there we went to the mountains to see the kings final resting place after his death. The building had 124 steps upto the most magnificent tomb we've ever seen! It took over 11 years to build, 3 miles up the mountain in the 1920's so no transport! Imagine how hard it would have been in the heat too!
The tour guide dropped us at the market when we'd had a lovely local lunch.
The market was an education! We had to leave before we lost our patience with the over pushy sellers! So no purchases from there.
When we came back to the hotel one of the guys showed us the temple on their roof. It's on the 17th floor & it was really windy.
We leave Hue tomorrow on another short flight to Hà Nội.
Insect bites – 10 (had to get something from pharmacy)
Handbags – less than insect bites
Hue airport is tiny, we were dropped off at the door and are now sat waiting to check in. Only 14 check in desks. Hà Nội here we come!
Delay of an hour! Don't worry though we have wifi so are sat looking at designer handbags!
Tuesday
We had an early start to get to Hue airport today but when we arrived the plane was delayed an hour and a half.
We sat people watching which was interesting and we arrived in Ha Noi earlier today.
The streets are crazy! It so much more different from HCM in that there's a really old quarter which is great and our hotel is conveniently right in the middle of this area.
We dropped the bags and went out exploring, we walked down Silk Street and came across the Hoan Kiem lake. This is such a beautiful space in the madness of city life.
We had a little walk then went for food overlooking the busiest junction we've seen yet!
We've picked up some nice handmade silk things from shops on the way back to the hotel. Kerri Leslie Summers thinks we might need another suitcase!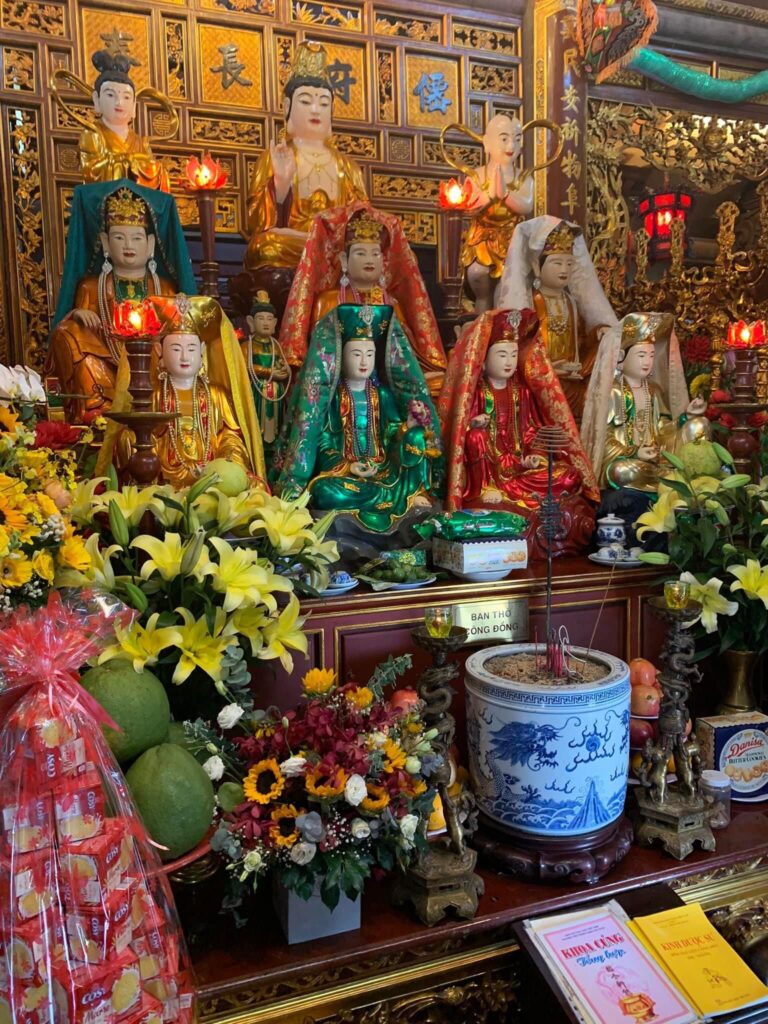 We've sussed out a nice massage place for Friday, before our long flight to Dubai but tomorrow we're off cruising Ha Long Bay for two days.
Ciao travellers!
Wednesday
We were collected from our hotel at 8am today on an old sharabang bus which proceeded to pick up around 10 of the noisiest South Koreans you've ever heard! The seats on the bus were tiny! We only just got on them and the Koreans were much bigger than us!
3 hours later we arrived at Ha Long and boarded a tender vessel which took us to our ship, Calypso 2. This ship is incredible and the staff are all amazing!
The ship has 20 bedrooms and can carry 48 passengers but there's only 6 of us on it this time!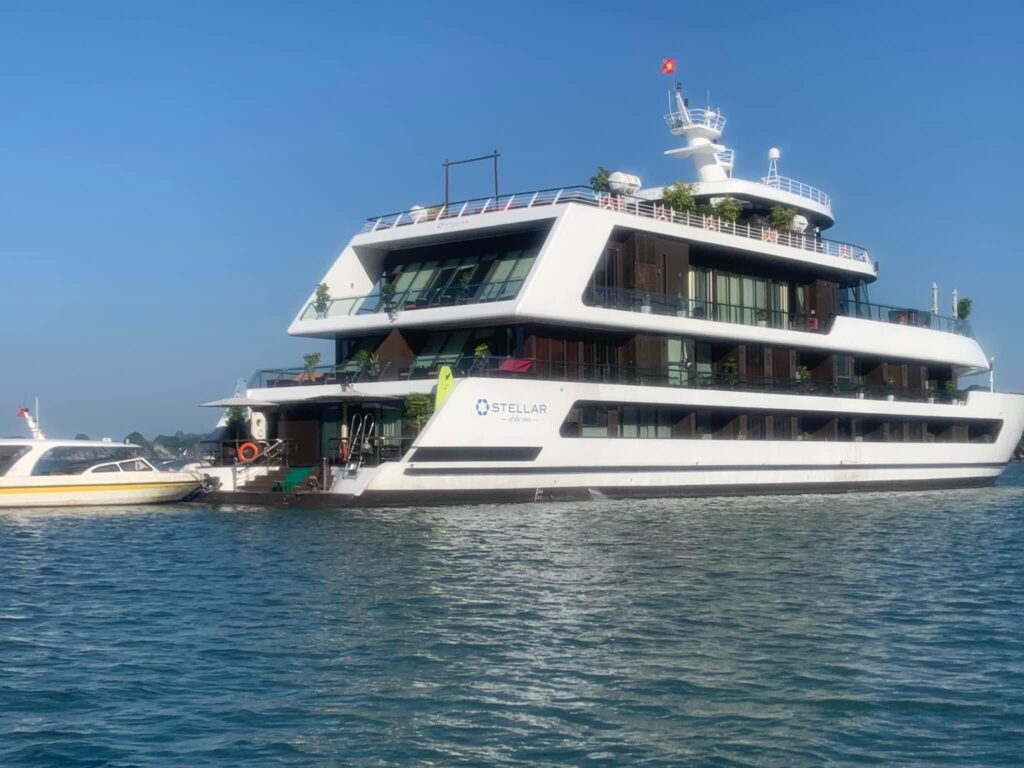 We had a lovely lunch then a bit of chill time before we were offered a spot of kayaking. This was the best activity ever. We had so much fun despite it being Kerri Leslie Summers first time in one!
We kayaked around a half an hour, through a cave to an inner lake then came back just in time for happy hour!
We've been chatting all evening with the other passengers and some of the crew on the top deck under the stars.
Tomorrow is Tai chi at 6am! That's not going to happen though is it?
Thursday
We had THE best nights sleep on the big boat last night! I'm not sure if it was the gentle rocking or the 3 Mai Thai's we'd had!
Anyway…..we actually did make the 6am sunrise Tai Chi session but ducked out of the kayaking today in favour of chilling in the sunshine!
Breakfast was lovely & lunch was another 8 courses same as yesterday! Most was edible but some was a little suspicious!
The bus bought us back to the city then we went out walking. We saw Train Street first then walked round the beautiful lake in Hà Nội before getting some waffles & ice cream.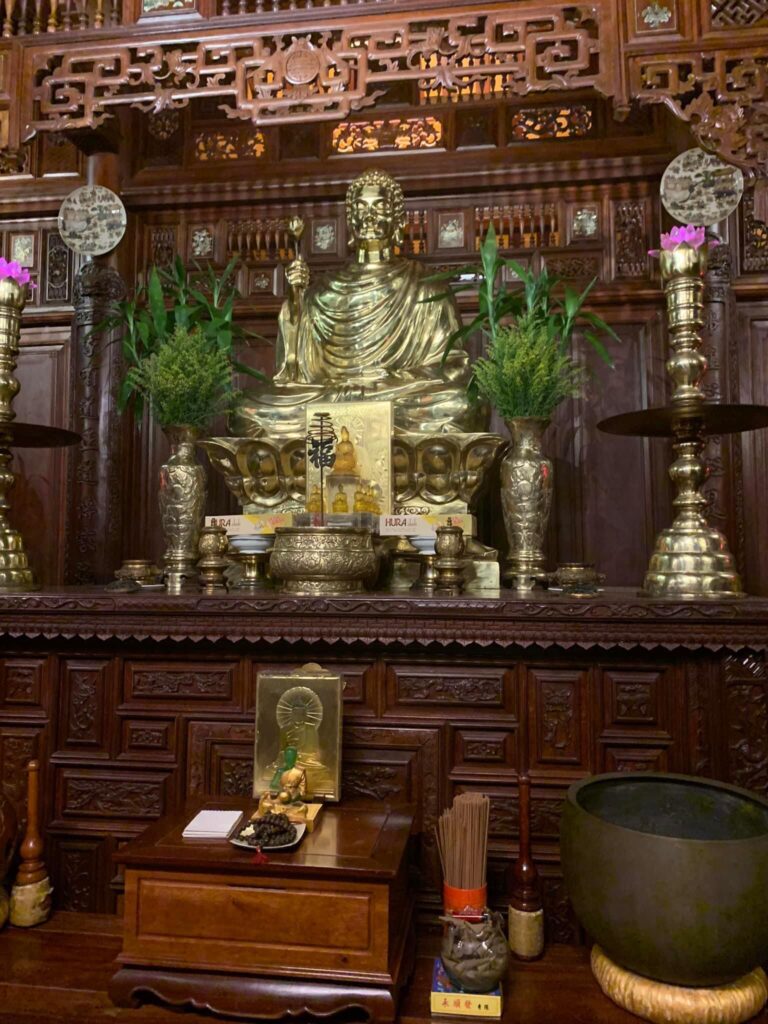 We had booked tickets for the water puppet show which was this evening. I'm not quite sure what we expected but it wasn't this! It was amazing! Totally in Vietnamese but it was entertaining & funny.
Our last jaunt was a massage at a place next door to our hotel, Golden Silk Boutique Hotel. Mine was lovely but Kerri said hers was rough.
We're all packed up ready for our penultimate flight tonight so it's ciao for now Vietnam, you've been a blast, we've done some fantastic things, met some amazing people & experienced some incredibly different ways of life with you.