Last year (2021), Amy was kindly gifted tickets to attend Cattow's farm's Halloween Farm and their premium attractions. Along with her, Gabe (her partner) and Rosie (their dog), Adam and myself went one rainy Saturday at the beginning of October. Growing up, we never really did Halloween, so this was a first for me. Amy and Gabe had been before and had specifically chosen Cattow's Farm as the closest to us which allowed dogs.
Although it had rained that morning, it didn't put us off and away we went. We arrived and were directed to a car parking space in a large field. It wasn't too busy and we were close enough to the entrance. The entrance was easy enough, with the staff scanning the tickets and letting us in.
Inside Halloween Farm
Once getting through the entrance, there were plenty of wheelbarrows to use and plenty of signs directing us to where we needed to go. There were also two photo opportunities at the entrance in the forms of a giant chair and a columned arch welcoming us to Halloween Farm.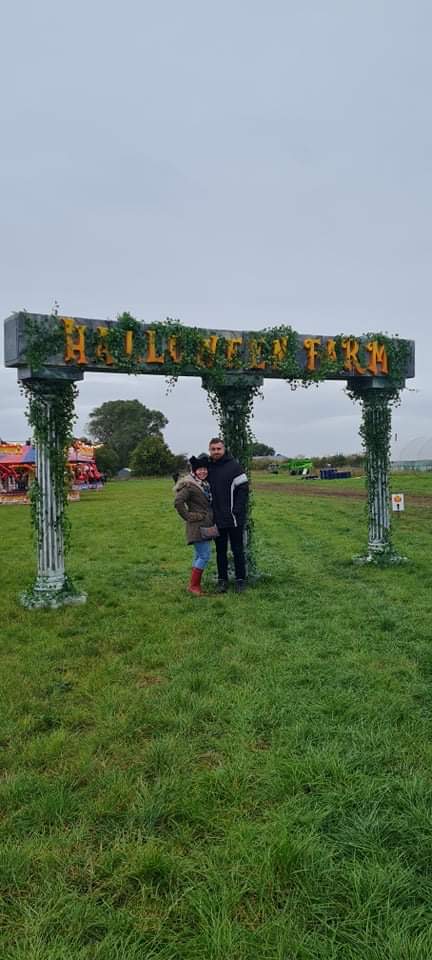 To the left of the entrance were fair ground attractions which were not included in the ticket price. As we'd got tickets for the other attractions, we gave these a miss and so am unsure how much these rides cost.
Pumpkin Picking
To the right of the entrance was the main path through to the pumpkin picking fields. From here, you could bypass the fields and go directly to collect any pumpkins you had previously reserved online. We were here for the full experience so followed the path to the fields. On the way were plenty of other photo opportunities including a pumpkin wall, tractors and trailers, and a giant inflatable pumpkin arch.
Tea Room
On the way through to the pumpkin patch, we passed the Cattow's Farm Tea Room which looked quite busy. We spoke about how it would be nice to visit here on another occasion as it looked cute and cosy inside. More information, including menus and the opportunity to book, can be found here.
Pumpkin Patch
There were plenty of pumpkins to pick and we spent a good while here looking for the best pumpkins possible. We put them into our wheelbarrow and continued back along the path around the pumpkin patch.
On the way around, we stumbled upon a small cabin where a woman was allowing people to hold an owl. As I am not the biggest fan of birds, it took some persuading for me to hold the owl but the lady had a thick glove for the owl to sit on and the owl was very calm. Amy, Adam and I all held the owl and the woman commented on how calm the owl was with us as the owl had started preening itself whilst sitting with us. This was an additional cost and totalled £9 for the three of us.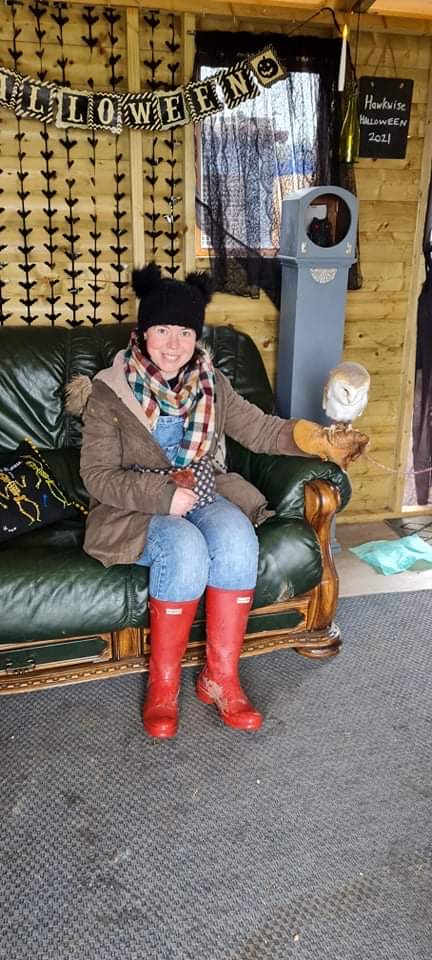 We then came to a sheltered area where there were large boxes containing small white, green/grey and orange pumpkins as well as ornamental gourds. There were also more photo opportunities here with displays set up and plenty of hay bales to sit on.
We then had to go into a large shed to pay for our pumpkins. Again, plenty of photo opportunities in here and plenty of spooky lights and music to set the mood. We paid for our pumpkins using contactless and were actually quite surprised at the value. We were then given a card to show to the staff on the way out to show that we had paid. As we still had the premium attractions to go in to, we decided to take our pumpkins back to the car now and then come back in. There was another exit/entrance for this so that we didn't have to get back into the queue.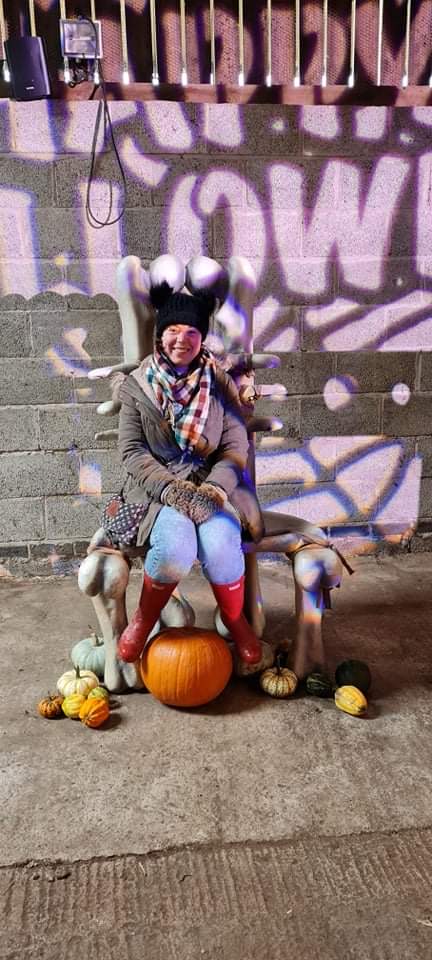 Premium Attractions
Time for the premium attractions. The website had said that dogs couldn't go into these, so Adam and I stayed with Rosie and lined up to get food, whilst Amy and Gabe went into the big tent where the attractions were situated. On the way in, Amy asked about dogs. They said that they could come in so Adam and I left the food queue and went to join Amy and Gabe.
Trick or Treat Street
The first part of the premium attractions was Trick or Treat Street. Here, people dressed up as different characters hid behind houses with doors and windows which opened when people knocked. They then had baskets of treats to give out. This was quite busy, especially with children so we did miss quite a few of the doors and windows.
Plants vs Zombies
Next was Plants vs Zombies. Much like the well known game, zombies were attacking and it was our job to be the plants. We were given buckets of soft orange balls to throw at the zombies to stop them from attacking. This was good fun although I wasn't the greatest at throwing the balls!
Maize Maze
The last of the premium attractions was a maize maze. At the entrance, we were greeted by Dorothy and her ruby slippers, who asked us to find her friends who had got lost in the maze. We set off on the look out for the Tinman, Scarecrow and Cowardly Lion. We quickly found the Tinman and he gave us some directions to help find his friends.
The weather took a bit of a turn whilst we were in the maize maze. The staff started to bring wooden sheds into the maze to keep the characters sheltered. This helped us to find the Scarecrow easier than we would have had it not started raining. Although us and the staff struggled to find the Lion at first. We ended up finding the Scarecrow again before finding the Lion. Although when we did, he ended up scaring me after jumping out of the hedge! I think my scream helped the staff find him with the shed as well though!
Food
With the weather taking a turn, we were keen to get back home sooner rather than later, so instead of staying to have some proper lunch, we had donuts and hot chocolates from the food vans. There were other food vans serving things such as burgers and chips, and pulled pork cobs but opted for the sweeter option.
This Year
As I'd gone with Amy last year, I decided I wanted to go again this year as it's a memory I share with her. This year, we've waited to go closer to Halloween. Adam and I are taking my other sister Jess this year. We are also meeting Adam's family there too.
On social media, Halloween Farm has been advertised as bigger and better. They have added additional premium attraction including The Lost World (an exciting inflatable experience for under 14s) and The Spooky Halloween Circus as well as keeping Trick or Treat Street, the maize maze and the funfair from last year.
They have also added more photo opportunities. This was one of the main things we enjoyed when we went last year. Especially now that Amy is no longer with us, it's been lovely to look back on all the photos we took and memories we made together last year.
More information and tickets are available here. There are still limited tickets available for the remainder of the time Halloween Farm is on. There is also a closing party on the 31st October.
Prices have gone up this year depending on which day you book to go, especially as all the premium attractions came as one ticket last year, where as each attraction has a separate ticket this year. Personally, I think it's worth the price we've paid but know some people have found it a bit steep. I'd suggest that if you do decide to go next year, that you looked to go earlier in October as this is when prices were lower. You also don't have to do all of the premium attractions and there is plenty to do without them anyway.
Coming Soon
Watch out for our review of Halloween Farm from this year – Coming Soon!