Nothing makes me feel more Christmassy than visiting a Christmas market and I try to visit at least one every year. All the sights, sounds and smells really helps me get into the Christmas spirit! But with Christmas markets more popular than ever which one should you head to this year? Well, we're here to help you decide! Keep reading to see our list of the best Christmas markets in the UK!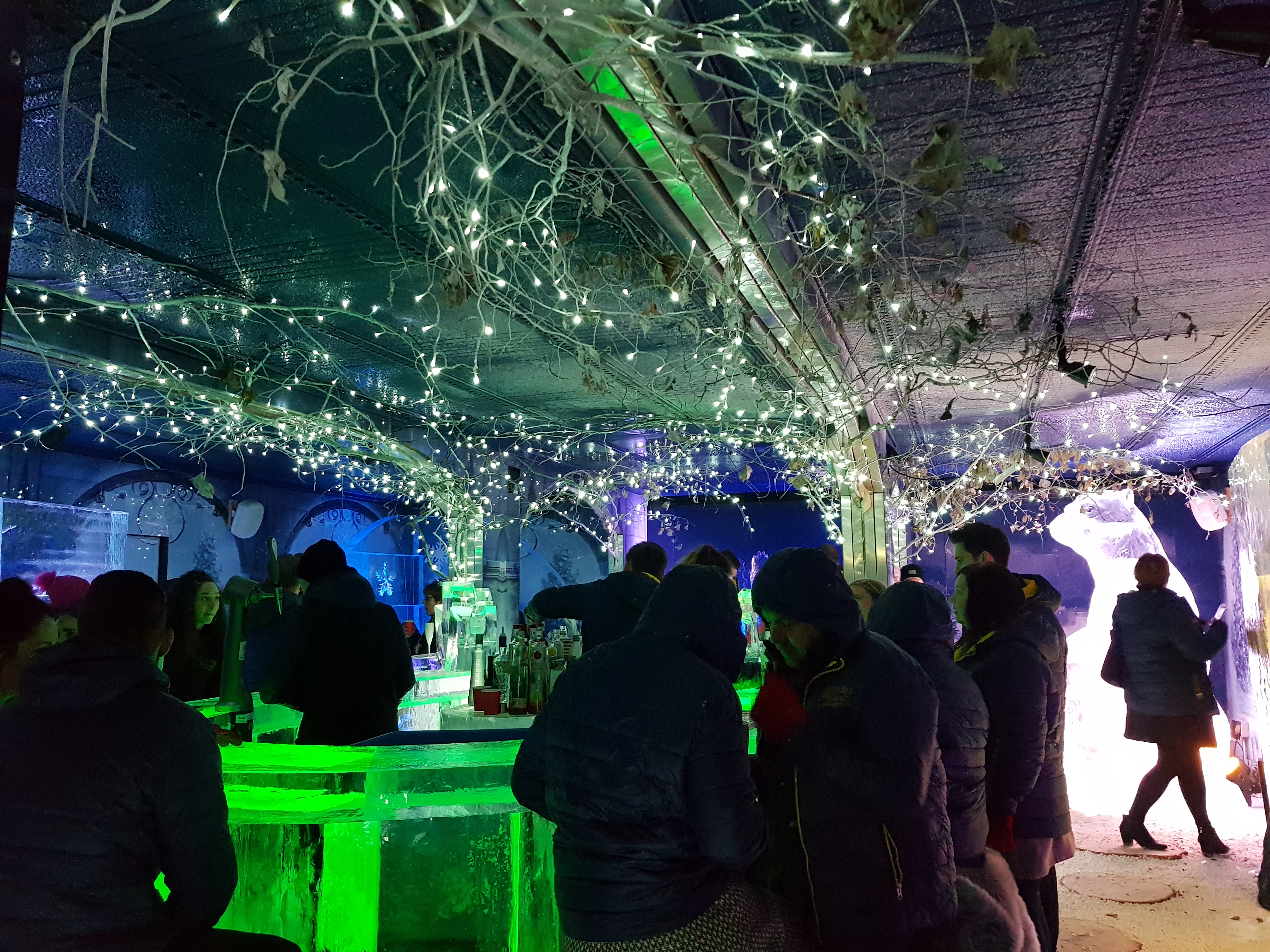 Nottingham
Now I may be a little biased when it comes to Nottingham Winter Wonderland being on this list as it is the city closest to my home town so is very easy for us to visit every year. However, I do honestly think that Nottingham has one of the best Christmas markets in the UK. Whilst it isn't as big as some of the other markets in the UK, it has so much to do that it more than makes up for it and all the stalls are unique. Nottingham Winter Wonderland is modelled after the Christmas markets that can be found in Bavaria with wooden chalet stalls and plenty of Germany sausages.
As well as the market stalls, you will find an open-air ice rink, a ski lodge bar, several rides and even an Ice bar. Last year we visited the ice bar and whilst it is a little expensive, it is well worth it to see the life-size ice sculptures and bar counters carved from solid ice. Each year the bar gets a new makeover with a different theme with this year's being Narnia. On top of the Ice bar, Ski lodge bar and Helter Skelter bar, there are plenty of places to grab a bite to eat too. With everything from halloumi wraps to honey roast ham to crepes to hot dogs in the Continental food hall, there's plenty of food to try even for the fussiest of eaters.
The market usually starts around mid-November until the end of December and we find the easiest way to get there is by train as Nottingham is a very central location although there is plenty of parking in the city. As for the stalls themselves, there are plenty of things to look at. There are around 70 specially chosen stalls in total covering food, drinks, plants, clothing and home decor. My favourite are the cheese stalls which sell fresh British cheeses from local companies. Each year the market grows and changes so it's worth visiting every winter to see what is new. If you visit Nottingham for the market, there are plenty of other things to see and do in the city too.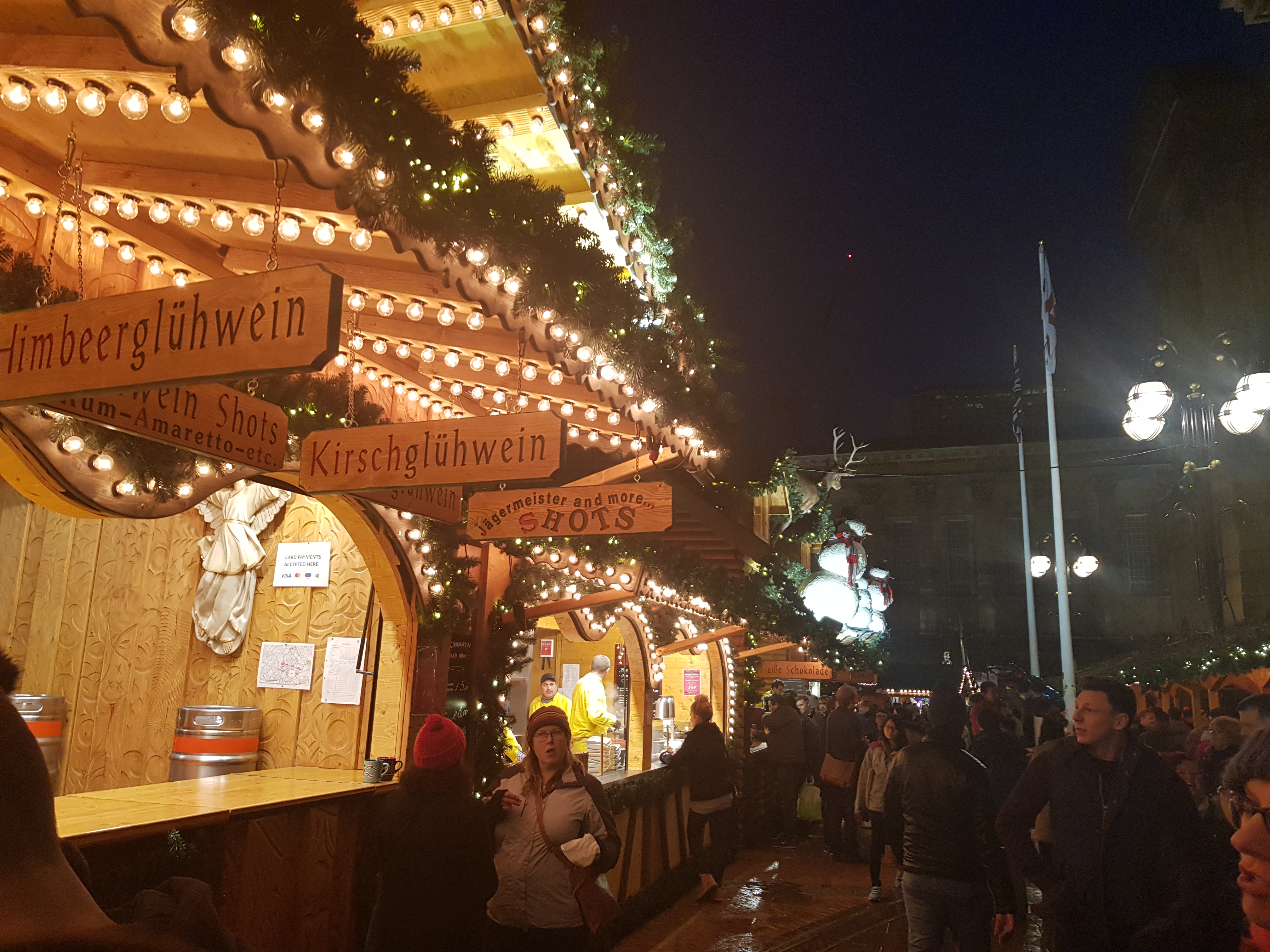 Birmingham
The Frankfurt Christmas Market in Birmingham is the largest authentic German market outside of Germany or Austria which is why it deserves a place on this list of the best Christmas markets in the UK. It runs from the middle of November until just before Christmas with the main part of it in Victoria Square and stalls running the length of New Street. The market covers a huge amount of space so when we visited we found it quite difficult to find each other but since it's only one large street it is difficult to get lost there. There are plenty of stalls selling ornaments, decorations, toys, jewellery, confectionary, furs and much more besides however I did find that many of the stalls are repeated so you don't need to walk the whole length of the market to see it all. There is also a heavy emphasis on drinking at the Birmingham Christmas market with many bars along the length of the area. These bars are pretty much all the same and sell different alcohol including German beers plus some non-alcoholic options like hot chocolate. Another nice touch is that they have mugs unique to the market that they serve drinks in although you do have to pay a £5 deposit in case you don't give it back. On top of the drinks, there are plenty of food options including traditional German pretzels, schnitzels and bratwursts.
Lincoln
Lincoln Christmas Market is one not to miss. Normally taking place on the first full weekend in December, Lincoln Christmas Market runs from Thursday afternoon through to Sunday evening. Thursday afternoon and evening is normally classed as resident's night as fewer people travel in for it on that day and is the least busy day, with the market hitting its peak on the Saturday. The market is organised well with drop off buses from Lincoln showground but local places also open up their car parks and often charge a small fee to park there. This year we parked in Bishop Grosseteste's car park, which was a short walk from the market, who were charging £5 but offered a £1 off voucher for their restaurant which served Starbucks and the money they took in from the car park was being donated to charity.
As for the market itself, we visited on the Sunday and had a pleasant time. Uphill Lincoln is one of my favourite places in England and even more so when it's decked out for Christmas! There were plenty of stalls to visit with a large variety of choice. Although slightly busy, it wasn't as busy as I remember it being in previous years. They had a large selection of food and drink stalls, with plenty of free samples and options for everyone! We hadn't gone looking for anything in particular so only ended up buying food and drink but if you were looking for Christmas presents to buy, you'd definitely have a whole host to choose from!
You also can't visit the Lincoln Christmas Market without trying the ostrich burgers or at least buying some of the exotic animal burgers – this year we got venison, camel, ostrich and kangaroo – although this year we did also find a new favourite: warm scotch eggs and sweet potato fries!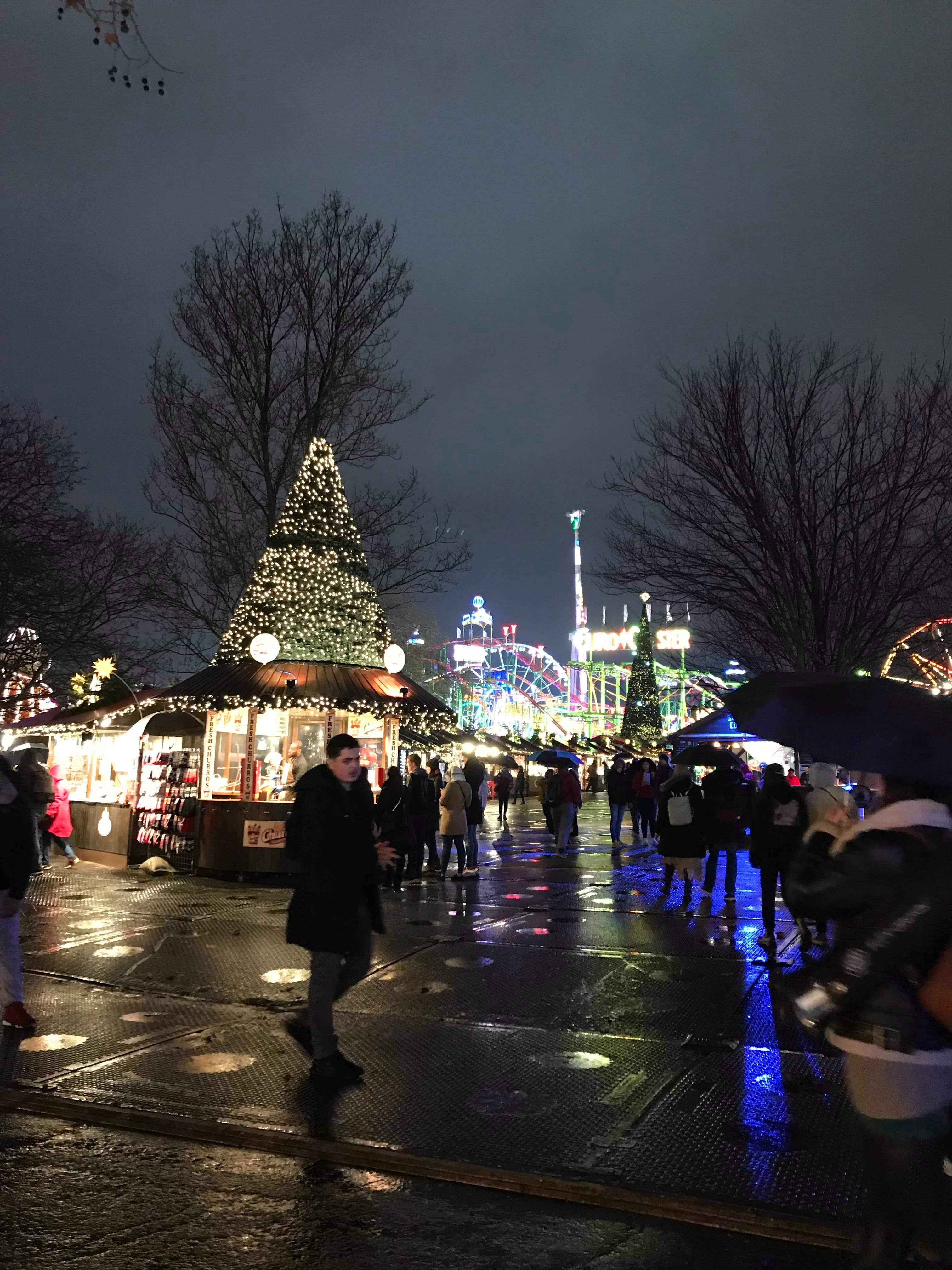 London Winter Wonderland – Hyde Park
Whilst Winter Wonderland isn't necessarily known for its Christmas market, it is worth a small mention in this list of Christmas markets. Inside Winter Wonderland there's a little market town with lots of different stalls, ranging from food, clothes, crafts and even fake snow. In terms of other Christmas markets, it's quite small and a lot of the stalls actually repeat themselves so there's not as much choice as it may seem. I imagine this is because it's quite easy to get lost around the park, there are lots of different paths and lots of different areas… I got lost a couple times trying to find one specific stall and when I did find it, it turned out I found a second version of the same stall anyway! There are quite a few niche markets with unique gifts ideas so it's worth a look around if you're in the area.
Local markets
Don't forget about local Christmas markets in the UK too. Many small towns, country houses and churches hold their own small markets each with their own charm. Every market is unique so it's worth checking out any that are local to you. To find these, check out the facebook events tab or google Christmas markets near me. Some of the smaller markets local to the Nottinghamshire and Derbyshire area include the Mansfield Christmas market, Chatsworth House Christmas market and the Matlock Christmas market.
Like it? Pin it!