The Disneyland Paris FastPass system is a great way of making the most of your time in the parks so it's really worth knowing more about it. It may seem a little confusing at first but once you know what you're doing it's actually really simple to use. This Disneyland Paris FastPass guide will give you all the information needed to maximise your time there.
Edit: Beginning this summer, Disneyland Paris will no longer offer the free fastpass service that it previously had. It will instead be introducing a paid Fastpass called Disney Premier Access which will involve using the Disneyland Paris app to book a skip-the-queue ticket which will cost between €8 and €15 per person per ride. I will update this post when more information becomes available about this new service.
*Disclosure* This post may contain affiliate links which means we get a small amount of commission on purchases made through our links at no extra cost to yourself. However, we would never recommend something we have not tried and loved ourselves and all opinions are our own.
What is the Disneyland Paris FastPass?
FastPass at Disneyland Paris is a system designed to allow guests to make the most of the visit by accessing shorter queues for some of the busier rides. You receive a ticket with a return time of a half-hour slot where during that time you can skip all or at least the majority of the queue. It is essentially like making a reservation for a ride and is totally free to use so is worth making the most of during your trip.
Which Disneyland Paris rides have FastPass?
Peter Pan's flight,
Flying Carpets over Agrabah,
Buzz Lightyear Laser Blast,
Star Wars Hyperspace Mountain,
Rock 'n' Roller Coaster (now closed for renovations to become an Iron Man themed ride),
The Twilight Zone Tower of Terror,
Big Thunder Mountain,
Star Tours: The Adventure Continues,
Indiana Jones and the Temple of Peril and
Phantom Manor.
How does the Disneyland Paris FastPass work?
If you're used to some of the other Disney parks around the world, the Disneyland Paris FastPass system can seem a little different but it's really simple to use. To receive a FastPass at Disneyland Paris, you must be in the vicinity of the ride that you are wanting to go on. The first step is to find the FastPass station at the ride, which is normally located near the entrance. You will spot them by looking for a large sign above a covered area with a sign saying FastPass and clocks telling you what time the return tickets are for. At these stations, you will find a machine where you can scan your park tickets and they will give you a FastPass ticket in return. The FastPass ticket will have a half-hour slot written on them which is the time you can come back to skip the main queue at that ride. If you're a little late to your slot, the cast members will often let you in anyway but it is at their own discretion so try not to miss your slot.
When it reaches the time written on your FastPass, just head back to the ride and enter through the FastPass queue allowing you to skip past the majority of the main queue. Sometimes you skip the entire queue but usually, they merge together close to the start of the ride. You won't always get on immediately as others will have FastPass too but it can cut down your wait time substantially. You can get a new FastPass for the same ride or another either at the start of your return time or 2 hours after collecting your first one whichever comes sooner.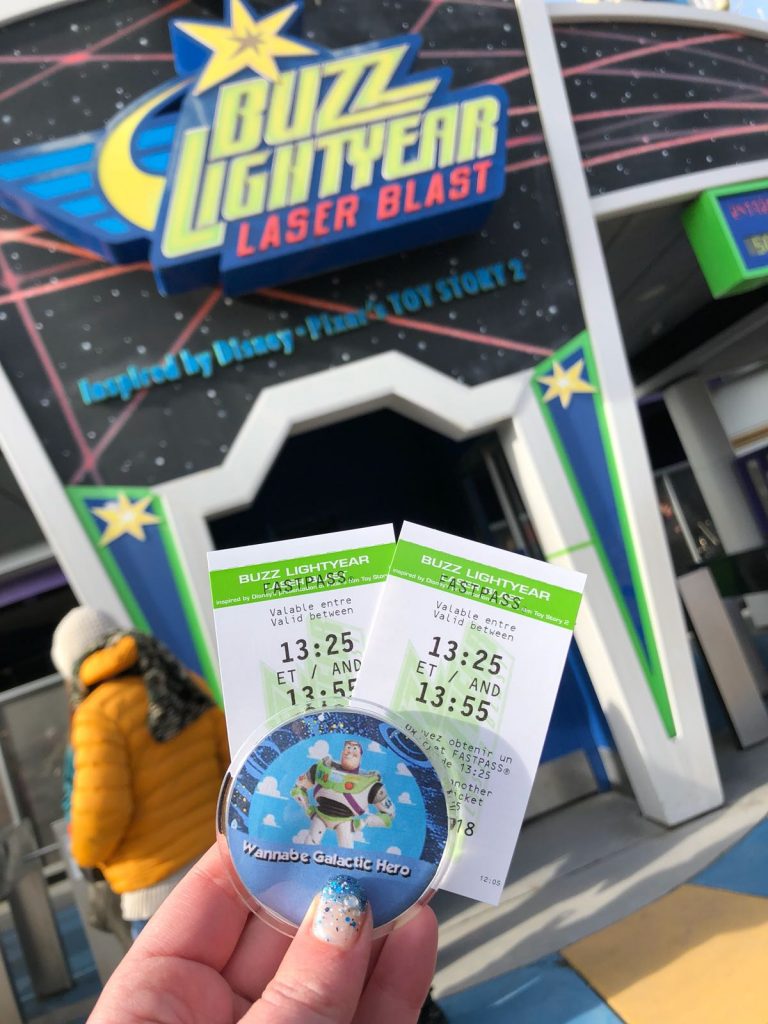 How to make the most of the Disneyland Paris FastPass.
Make sure to actually use it! Many people don't know that the FastPass system exists, don't know how to use it, think they aren't allowed to use it or think they have a limit on how many times they can use it. The Disneyland Paris FastPass system is a free service put in place for all guests to enjoy so be sure to make the most of it.
Get as many FastPass tickets as you can in the morning as they can often run out later in the day depending on when you go.
Ratatouille, Big Thunder Mountain and Peter Pan's Flight usually sell out quickest whilst Indiana Jones are the last to go.
If you're close to several FastPass rides, go for the one with the shortest time before the return slot so you can get a second FastPass quicker.
Space Mountain, Peter Pan's Flight, Buzz Lightyear's Laser Blast, Ratatouille and sometimes Star Tours are open during Extra Magic Hours so if you're staying onsite you can avoid long queues by doing these rides in this time instead of getting FastPass tickets for them. Space Mountain and Big Thunder Mountain are normally quieter during the evenings too.
Certain rides FastPass queues are better than others. Big Thunder Mountain gives you the best advantage, dropping you right at the station with Peter Pan's Flight coming in a close second. Space Mountain and Buzz Lightyear's Laser Blast are the worst only skipping around half the queue so unless it's very busy the FastPass is usually not worth it.
You can hold more than one FastPass at a time. You can collect a second FastPass either two hours after you got your first one or at the start of your return time. Collect a new FastPass before you go on the first ride so you can get the earliest possible time slot for the second. You can also hold one FastPass in each park at the same time if you are willing to keep traveling between the two.
Super and Ultimate FastPass
If you're visiting at a particularly busy time you may want to upgrade to the Super or Ultimate FastPass. These are paid services but offer more flexibility as you don't have to fetch a FastPass ticket from outside of the ride, can use them at any time and don't have to worry about the free FastPasses running out.
The Super FastPass costs £26.39 during low season and £39.58 during high season. This option allows you one-time FastPass access to three rides at any time throughout the day. There are two versions of the Super FastPass depending on which rides you want to go on. The first gives you access to Family attractions, Ratatouille: The Adventure, Peter Pan's Flight and Buzz Lightyear's Laser Blast whilst the second gives access to Big Thrill Attractions, Star Wars Hyperspace Mountain, Rock 'n' Roller Coaster (currently under refurbishment and during this time will be replaced with Phantom Manor) and The Twilight Zone Tower of Terror, three of the best rides in the park for adults. This is perfect for if you're visiting Disneyland Paris without kids.
The Ultimate FastPass gives you access to all 6 of these rides plus Big Thunder Mountain, Star Tours: The Adventure Continues and Indiana Jones and the Temple of Peril. There are two options for this type of FastPass. The first allows you to ride each one time which costs £52.77 in low season and £79.16 in the high season whilst the second allows you to ride each one an unlimited number of times and costs £105.54 in low season and £131.93 in high season. The high season tends to be all weekends and school holidays while low season is any other time.
Personally, even during school holidays I have never had an issue getting on all the rides that I wanted to without buying one of these FastPasses but it could be useful if you're only there for a short period of time or in an especially busy time such as when a special event like Halloween is on. If you have some extra money, the unlimited Ultimate FastPass would definitely help you to get on a lot more rides than normal but whether it is worth the price is something you would have to decide for yourself. You can find more information about the different options of paid FastPass on the Disneyland Paris website.
Hotel and VIP FastPass
If you choose to stay onsite in one of the Disneyland Paris Hotels, there are often some perks included with this. One of these is that certain rooms include FastPass tickets with your package. The Disney Hotel FastPass tickets are available for guests staying in Hotel New York Empire State Club rooms, Sequoia Lodge Golden Forest Club rooms or Newport Bay Club Compass Club rooms. The Hotel FastPass can be used at any time but only once per day. The Disney Hotel VIP FastPass is unlimited and can be used at any time on any attraction. This is available for guests staying in Suites or Castle Club rooms at the Disneyland Hotel, Hotel New York, Sequoia Lodge or Newport Bay Club.
Orange and Green Passes
Although these aren't really FastPass tickets they work is a similar way. Green Passes are for those with permanent disabilities while Orange Passes are for those with temporary injuries or are pregnant. These are designed for guests who may need extra assistance, specially adapted access or struggle to stand in queues for a long period of time for whatever reason. The Green Pass is a Priority Card allowing the guest to go straight onto the ride (or at least only have a very small wait) through a specially adapted disabled entrance whilst the Orange Pass is an Easy Access Card which enables the guest to get a return time similar to a FastPass before returning through the disabled entrance. These Passes are not something that I have personal experience with, however, I know Disney really goes above and beyond to make sure everyone has a great time there. You can find more information about Disability services on the Disneyland Paris website.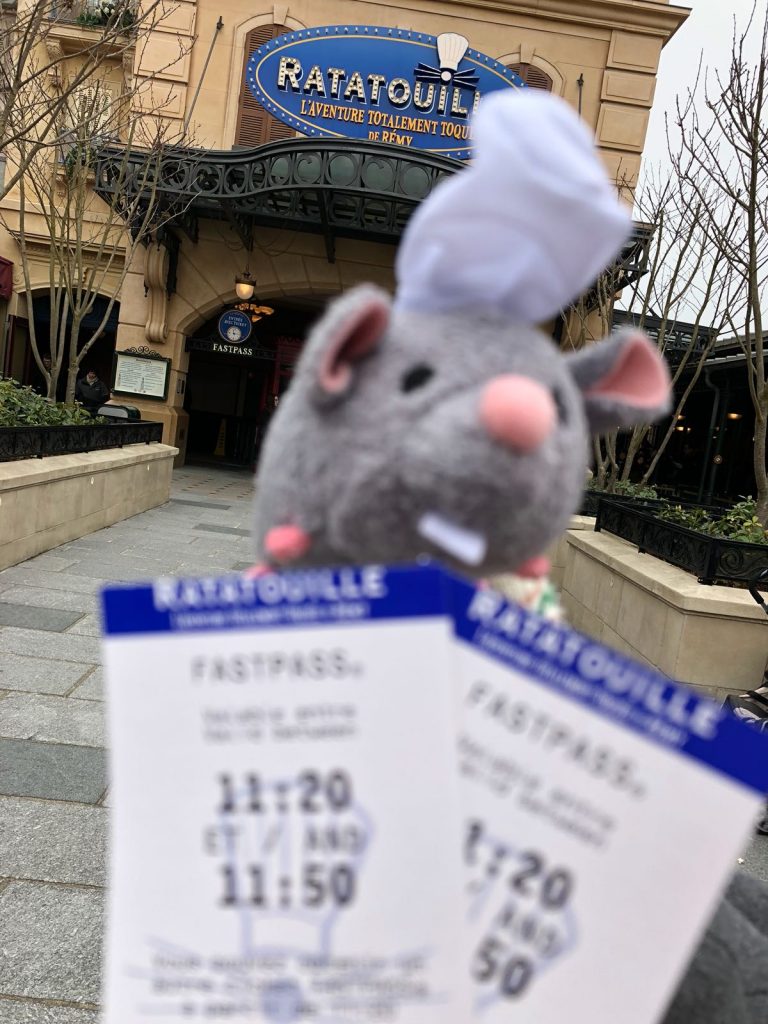 FAQs
Does Disneyland Paris have FastPass?
Yes, Disneyland Paris has a free FastPass system that is included with all park tickets as well as FastPasses that you can pay for which will give you more flexibility.
Are Disneyland Paris FastPasses free?
Yes for the basic FastPass system or hotel FastPasses included with certain rooms but you can also pay to get a higher tier of FastPass.
Is FastPass included with all Disneyland Paris tickets?
Yes, no matter what type of park ticket you get you can use the FastPass system totally free of charge.
Where do you get FastPasses at Disneyland Paris?
FastPasses can be found just outside the ride they are for usually under a covered area with a sign saying FastPass Tickets and stating the current return entry time.
How many Disneyland Paris FastPasses can you get per day?
You can get as many FastPass tickets that you want throughout the day however for some rides and if the park is busy they sell out quickly and once they're gone they're gone. You can only get one FastPass per person at a time and can pick up a new one either at the return time for your current pass or two hours after you received the first whichever comes first so you are limited to how many passes you can get within this time frame.
How much do Disneyland Paris FastPasses cost?
Basic FastPasses are totally free and included with all park tickets. If you want to upgrade you can buy the Super FastPass (one time access to three rides) for between £26.39 and £39.58 depending on whether it is high or low season or the Ultimate FastPass including nine rides either one time for £52.77-£79.16 or unlimited times for £105.54-£131.93.
If you're ready to start planning your trip to Disneyland Paris, check out the official Disneyland Paris website for deals and packages or The Walt Disney Travel Company as prices can sometimes vary. To find the best flights to Paris, take a look at Skyscanner where you can compare prices from different airlines, airports and on different dates. There are some restrictions in the Disneyland Paris parks right now so be sure to check their official page for all up to date information. All bookings direct with Disney currently have no booking, cancellation or change fees so you can have peace of mind when booking.